by Tom Gaylord
Writing as B.B. Pelletier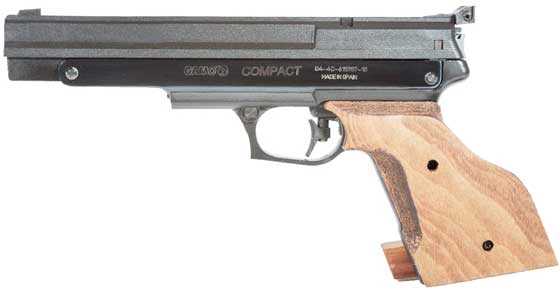 Gamo's Compact single stroke target pistol is back.
This report covers:
The sights
Qiang Yuan Training pellets
Gamo Match pellets
H&N Finale Match Pistol pellets
RWS Hobby pellets
The rest of the test
Summary
Today is accuracy day. We get to see what the Gamo Compact target pistol can do to a target at 10 meters. Let's get right to it.
I shot the pistol at 10 meters with the gun rested on a sandbag. Since a single stroke pneumatic has no recoil, this is the best way to check the accuracy. I know there are some who believe the gun has to be held in a vise to check accuracy, but in the European factories they test the guns hand-held.
The sights
Remember that I adjusted the width of the rear sight notch in Part 2. It turned out that I got the width just about right for my eyes, so it was very easy to hold on-target. I pulled just one shot out of 40, and I will tell you which one when we get there.