by Tom Gaylord
Writing as B.B. Pelletier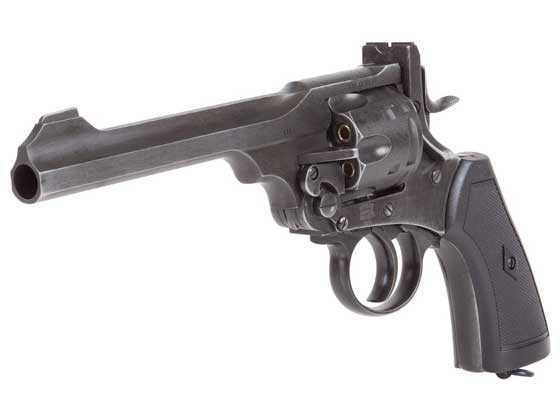 Webley Mark VI service revolver with battlefield finish. This one is rifled and shoots pellets.
This report covers:
Zulu!
Velocity test
CO2
The test
JSB Exact RS
RWS Hobby
Sig Match Ballistic Alloy
Air Arms Falcons
Velocity is increasing
And then…
Not finished testing yet
Shot count
H&N Finale Match High Speed pellets
Trigger pull
Summary
Zulu!
"Front rank fire; rear rank fire! Advance! Rear rank fire! Advance…!" So goes the volley fire scene in the epic movie, Zulu. That movie is based on the true story of the British Army defending Rorke's Drift (a ford in a wide stream) in January of 1879, when 3,000 to 4,000 Zulu warriors attacked just more than 150 British and colonial troops and tried to wipe them out. Just the day before at the Battle of Isandlwana, 20,000 Zulu warriors had killed over 1,300 British troops. read more