by Tom Gaylord, a.k.a. B.B. Pelletier
Announcement: Pyramyd Air's Big Shot of the Month for February is Albert Kong. He'll receive a $100 gift card. Congratulations! If you'd like a chance to be the next Big Shot, you can enter on Pyramyd Air's Facebook page.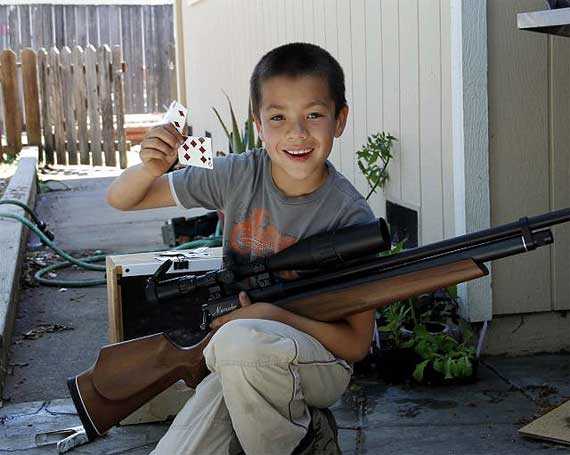 Albert Kong is the March Big Shot of the Month on Pyramyd Air's facebook page.

This past week, I was in Ft. Smith, Arkansas, the home of Umarex USA, to participate in some of the filming of the new American Airgunner television show. The show will start airing on the Pursuit Channel in July, and from what I saw during the filming, it's going to be very fast-paced and interesting. They selected Rossi Morreale as the host, and I don't think they could have made a better choice. Rossi's resume includes hosting shows like Belly of the Beast, NBC's Escape Routes and my favorite — Junkyard Mega-Wars. A former wide receiver for the Arkansas Razorbacks, he's just as nice and genuine off-camera as he is on, and he really puts a lot of energy into his work.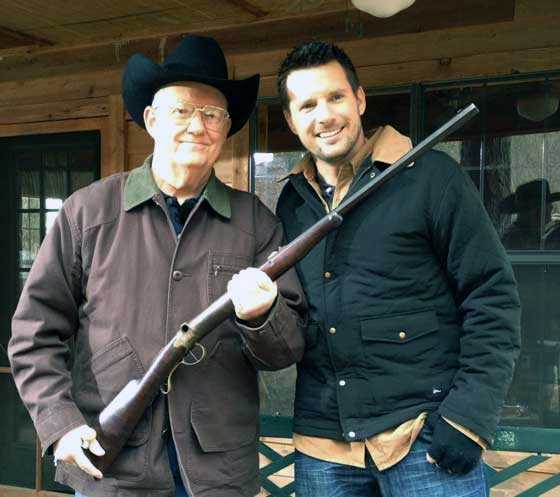 Rossi and I filmed some outdoor show segments at the cabin in the hills above Ft. Smith.
Rick Eutsler and Jim Chapman joined me for the filming, so we all got to hang out and talk airguns for several days. I love this job! On camera, the three of us participated in something called the Round Table, which will be a regular show segment. Our perspectives on each topic are different, and it was nice to hear what the other guys had to say about the issues.
We also toured the facility while I was there. I got to see their warehouse (which they've now outgrown), their quality control facility, their technical department (where all your questions get answered), the offices of their corporate staff and last — but far from least — their indoor firing range.
The warehouse is "just" a warehouse, except that it has narrow aisles with cables laid beneath the floor to guide electronic pickers through the maze. The one thing that impressed me was the cleanliness and high level of light in these spaces. They're growing so fast that they had to expand the warehouse into other space that was originally reserved for manufacturing. Because large shipments pass through the warehouse all the time, things have to be maintained shipshape and organized — and believe me, they are!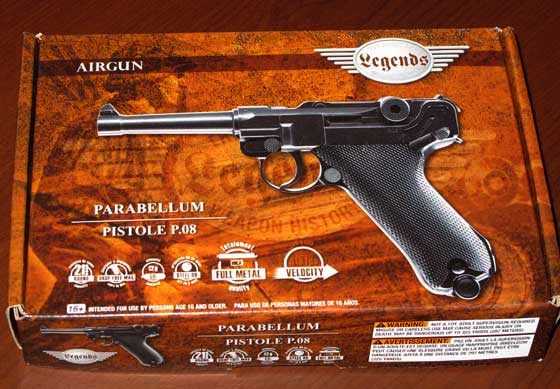 Marketing director Justin Biddle showed me the lithographed box for the P-08 BB pistol I recently tested for you. The P-08 joins the Makarov in the Legends line marketed by Umarex.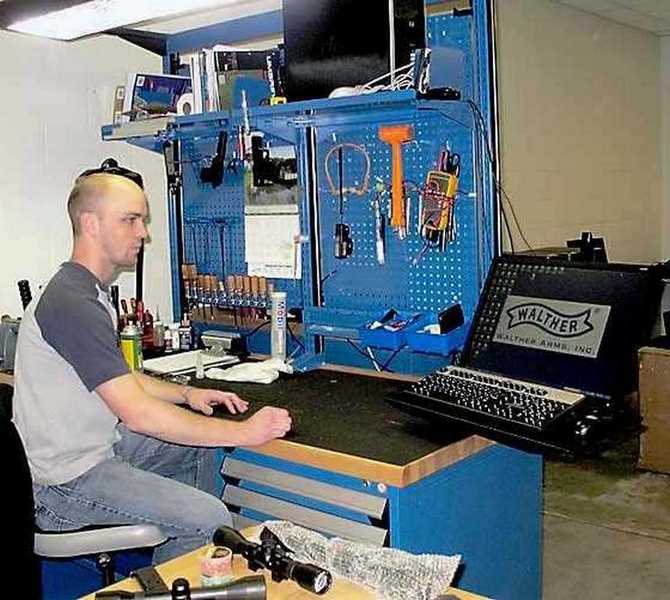 Quality technician Rustin Bates is responsible for testing the quality of all products that pass through the doors. He pulls samples from incoming shipments and inspects them to make sure they meet corporate quality standards.
Quality control at Umarex USA is an ongoing task, not just because they continually receive products from many manufacturers that must be checked, but also because they watch for product changes that might not have been announced. They do plan on manufacturing at Ft. Smith in the future, so the QC space is much larger than even the current high traffic volume demands.
Besides the QC lab, they also have a large space reserved for returns from commercial accounts. Large customers, such as the big discount chains, have varying policies regarding returns, and Umarex USA has to take all this product back. Some companies allow returns for any reason and spend no time looking at them before shipping them back. They just return them for credit. Other chains have stricter policies, plus they do some evaluation of the returns before sending them back. But whatever comes back must be checked — whether or not it was ever opened.
Everything that comes back from the commercial accounts flows through the returns department, where it's restored to new condition and repackaged by service technicians. I don't know about you, but I hate putting a gun back into the box exactly the way it came from the factory, and these guys and gals have to do it with dozens of different guns hundreds of times each day.
The consumer side of the house
After seeing the commercial side of their operations, we were taken through the consumer side. This is where all of you interface with the company; and after seeing it, I have great confidence that you'll be well-served.
Our first stop was in the service department, where the technicians work on customer repairs and modifications. Department head, Glenn Seiter, showed us through his shop.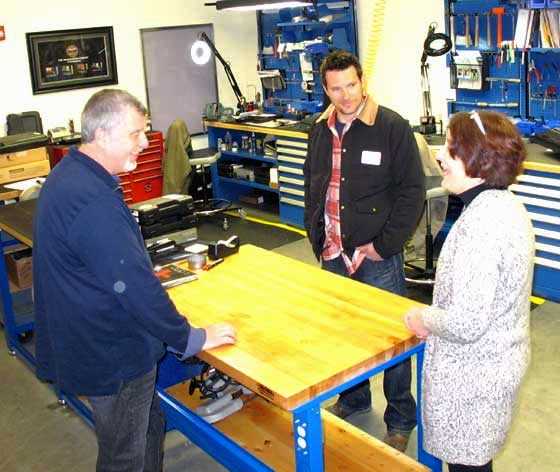 Janice Raab, Walther's Director of Marketing for Competitive Shooting, talks with Jim Chapman (left, and Rossi) in the Umarex repair shop.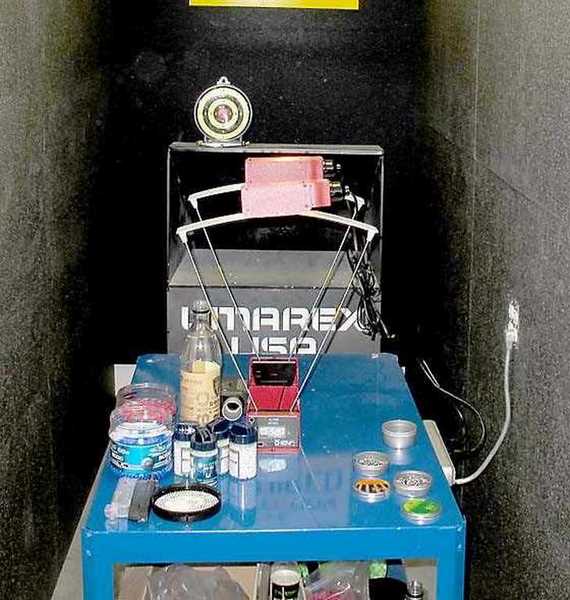 One of two chronograph ranges in the repair shop. This one is for pellet guns and airsoft. The other one is for firearms and has a snail bullet trap and an expensive air filtration system.
Glenn then took us to his call center, where the technicians handle all the service calls. He monitors every call for the time it takes to answer, the time spent resolving the problem and so on. Those statistics are displayed for each technician on a large monitor in the hall outside the call center offices so everyone can see how they're doing. Glenn uses this information to know that his shop is keeping pace with demand or if he needs to add a person to maintain turnaround time.
Also in the hall is a large cabinet with every model gun currently in the Umarex/RWS inventory. When someone calls with a question, the technician can go get the same gun the caller has, so they can talk about it in detail. That's a wonderful idea!
The indoor range
The tour ended at the company's indoor range, where Rick Eutsler and I were offered the opportunity to shoot several Umarex airguns, BB guns and Walther firearms. The range has two 50-yard lanes with automatic target carriers, so we each took up a position and opened fire.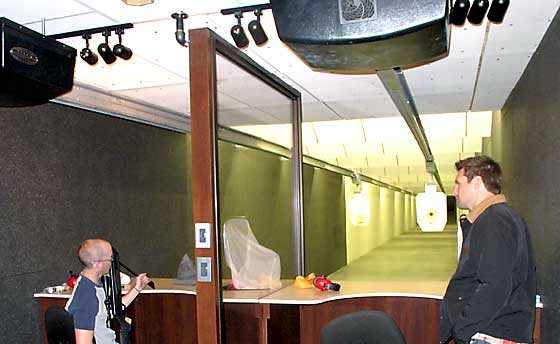 Rossi looks on as Rustin checks the lane for us. Before the range went hot, we all donned safety glasses and hearing protection.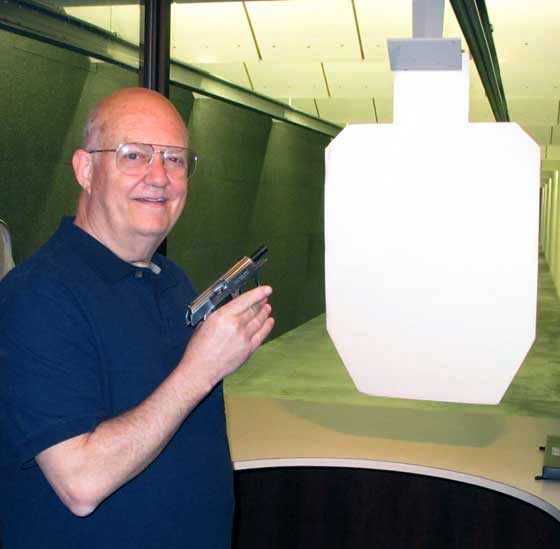 Would I like to shoot the new Walther .22 rimfire PPK/S? You betcha!
Rick and I spent considerable time on the range while Rossi traveled to a cabin in the hills to film more segments for the show. I made sure Rick got to try the new Walther LGV rifle, and he liked it just as much as I.
We both enjoyed shooting Walther's new 9mm PPQ and PPX pistols. I found them both to be as accurate as my 1911s, plus they recoil about the same even though they're a pound lighter because of their synthetic frames.
Things yet to come
At dinner one evening, I sat next to Martin Wonisch, a managing partner of Umarex. When I thanked him for bringing out the P-08 pistol this year, he asked me what other guns I would like to see in their Legends lineup besides the Makarov. I mentioned the C96 (Broomhandle) Mauser, and he told me that it's in the works. He also confirmed that it will have blowback.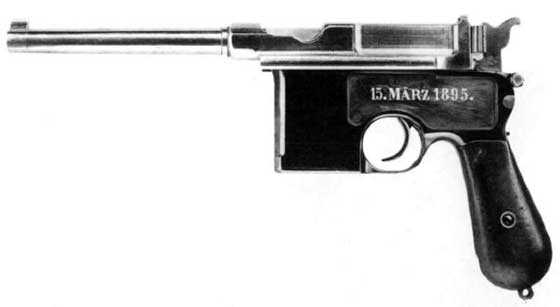 The C96 (Broomhandle) Mauser pistol is coming. It will have blowback!
Then, I said the Colt Single Action Army, and we discussed the challenge of doing that. The SAA grip is too short to accept a 12-gram CO2 cartridge, but I mentioned that the Colt 1860 Army grip is a half-inch longer and might work in its place. He said they would look into it. But did I have any more iconic handguns I'd like to see?
I thought for several moments and started to suggest things most of you wouldn't recognize — like the S&W Triple Lock and the Colt New Service revolvers. Then it hit me — the most iconic double-action revolver of all — the Colt Python! Because Umarex can now put a mirror finish on their pellet guns, I felt they could nail the Colt Royal Blue finish found on many of the Pythons. So, I spoke for all of you and recommended they look at producing the Python soon. I know I will buy one!
Wrap-up
The trip to Ft. Smith was a success in all respects. We got a tremendous amount of film in the can because of the super-professional film crew from 5-Star Productions, and I got to work with some wonderful people both on- and off-camera. The tour of Umarex USA was an eye-opener for me, plus it gave me a number of ideas for future articles and blogs.
Best of all, I was able to communicate my appreciation for the new Walther LGV rifle. I told them I was prolonging the test(s) of the new rifle until the first shipments arrive for U.S. sales (so they will sell me the test gun) and was told they would be here in about one month. It won't be that long before some of you can join me in celebrating the best new spring gun of this century.
by Tom Gaylord, a.k.a. B.B. Pelletier
Photos by Earl "Mac" McDonald
The SHOT Show is not a gun show — though that is what many attendees call it, and the mainstream media that doesn't attend also calls it that. Instead, it's a happening — to use a 1960′s term. Or it's a Middle Eastern open market. The big booths house the recognized names like Colt, Winchester and Crosman. Their booths are two stories tall with signs hanging from the ceiling that you could see a mile away if there weren't other signs hanging in front of them.
But the real drama of the show isn't at those booths. People already know what to expect in those places. It's the little out-of-the-way booths hugging the walls that have the surprises. I always set aside some time just to cruise the aisles, looking for some rocks to turn over.
I'll be walking along a narrow aisle and someone will step out to stop me. Then, in a conspiratorial tone, he leans over and says something like, "Don't you just hate it when your ice cubes melt and dilute your drink? Cold Bars have solved that problem forever. These are sanitized stainless steel bars that retain the cold almost as well as water, plus they're reusable forever. Put three of these in your scotch and soda, and it'll be as fresh and strong after 20 minutes as when it was poured. When you finish the drink, just pop them in the freezer for 10 minutes…and they're good to go again. While you wait, you use the second set of three bars in your next drink! Nothing could be easier."
This guy is serious! You look at his spartan booth and realize that he has poured everything into this venture because at some point watery drinks pushed him over his tipping point. When he bounced the idea off his wife and friends, they all agreed it was the next big thing. They had no idea he would mortgage the house and put his life savings into it!
So, here he is, in a narrow aisle of a large trade show, hawking his brains out to people who, for some reason, just don't seem to get it. Who doesn't want cold, undiluted drinks?
Think I'm exaggerating? Attend a trade show and walk the aisles some time.
Why do I plod through these pathways of personal misery? Because next to the stainless steel ice cube booth there 's the G+G Airsoft booth that has the best action target I've seen in a long while. It's a lighted rubber hemisphere that's computer-controlled to react to being hit by an airsoft BB. You can turn the light on or off, depending on how you have programmed it.
They call it the MET Unit, which stands for multifunctional electronic target. It can exist as one single target or they can be strung together in up to 25 targets for a prolonged target array.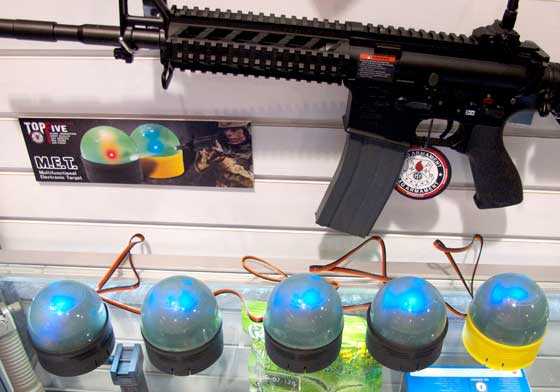 The MET Unit is from 1 to 25 programmable lights that turn off or on when hit by an airsoft BB.
The wires between targets can be up to 50 meters in length, which allows them to be set up in a tactical course and either light up at some random time until hit or stay on for a programmed time and go off after the time is up or when hit. Two competitors can shoot at the same target and change the color of the lights when they hit it, establishing a duelling target.
The individual target will sell for $66 or 5 for $250. It looks like a great way to have fast-action fun with airsoft guns. They can take hits from AEGs shooting 0.20-gram BBs at up to 450 f.p.s. Naturally, they're not robust enough for even the lowest-powered steel BB or pellet guns.
Umarex
Umarex is now branding airguns under their own name. This year, there are three new long guns: the Octane is a breakbarrel with a Reaxis gas spring and SilencAir, which is a baffled silencer; the Surge is an entry-lever springer breakbarrel; and the Fusion is a CO2 pellet rifle, and it also has the SilencAir noise dampener. We've seen the Fusion before, branded as the Ruger LGR, but Umarex tells me the Fusion is a Gen 2 upgrade and quite different. I never got the chance to test the LGR, so I'm looking forward to testing the new Fusion as soon as possible.

The Fusion is a new CO2 single-shot rifle from Umarex that sports a 5-chamber noise dampener.
Leapers
I spent an hour at the Leapers booth this year. The most important thing I wanted to see was the new scope with an internal bubble level. It's a 4-16x in a 30mm tube, and it looks exactly like what the doctor ordered for those long-range targets we love to shoot. They're working hard to get it to market this year, but it won't go out until they're certain of the quality. Putting a bubble level inside scopes on a production line is apparently quite a challenge…but one I'm sure Leapers will do correctly.
The entire line of scopes have been upgraded with finer adjustments — many of them 1/8-minute adjustments — and greater repeatability. They have a broad range of adjustment in both directions, and their production models are even exceeding the maximum limits they established! All leaf springs have been replaced with coil springs to increase adjustment precision and repeatability.
But the WOW factor comes on the stuff you can see. How about a 3-9x scout scope (10-inch eye relief) with a wide field of view? That is the big trick for scout scopes, and I saw a beauty mounted on an M1A — though it would be just as correct on a Mosin Nagant.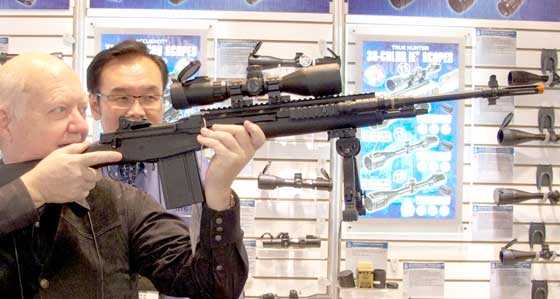 Leapers new scout scope has a full field of vision — something scout scopes are not known for.
Another surprise from the folks in Michigan is the smallest tactical laser I have yet seen. I asked Mac to photograph it next to a quarter for scale.

Leapers new laser is the smallest I have yet seen. That's a quarter next to it.
Crosman
Back to the Crosman booth to show you what the new Benjamin pump looks like when the handle is raised. I didn't expect the huge reception this pump got when I showed it the first time this year. Please note that it has not one but two pump tubes. This is a 3-stage pump — the same as the current pumps, but this one compresses a bit more air with each stroke. I'll have more to say about it when I test it.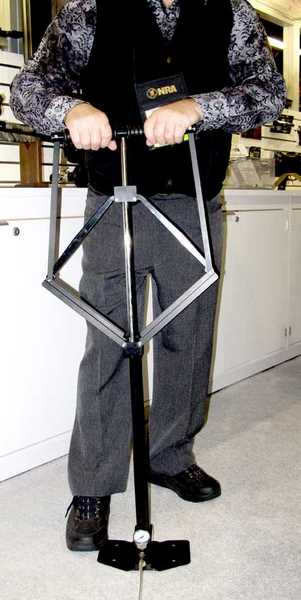 Maybe this view will help you understand how the new Benjamin pump magnifies the force you put into each pump stroke.
Hatsan
I'll close with a last look at the Hatsan booth. They have the AT-P carbine and AT-P1 pistol…and both are precharged pneumatics. They'll come in .177, .22 and .25 calibers that each have hunting levels of power. These are repeaters with circular clips and adjustable Quattro triggers. The sights are fiberoptic, and there are provisions for scopes. The air cylinders remove, and spares will be available as options.
For those who are looking for hunting air pistols, I think these two should be considered. I'll work hard to review them for you as soon as possible.

The Hatsan AT-P2 Tact (left) and the AT-P1 are exciting new PCP airguns.
Leaving the show
As Edith and I left the show we passed by one final booth. The guy is selling Instant Water for survivalists. Just drop one of his pills in a bucket of water and — Presto! — instant water. Why I can't think of things like that?
by B.B. Pelletier

The Ruger Mark I pellet pistol is a powerful spring-piston gun.
Before I begin, here's a followup to yesterday's blog on the importance of stock length. I discovered, thanks to blog reader Mike, that the No. 4 SMLE has both a long and a short stock. Apparently, when there are complaints that the rifle kicks, the stock is always a short one. I tested that at the range yesterday with a friend of mine. He had a hard-kicking Mark III and, sure enough, it has a short stock. But my No. 4 stock is at least .75 inches longer and feels like a mild 30/30 when shot.
Okay, on to today's blog.
There's a lot of interest in this pellet pistol, and I've learned a lot more while testing it. Before I did this report I read as many reviews of this Ruger Mark I pellet pistol as I could find — both on this site and on others. I discovered something while doing that. There's a sharp difference of opinion about the gun that divides around the age and airgun experience of the person writing the review. Those who are either young or have little experience with airguns say the Ruger is hard to cock and not very accurate, but they all praise the power they think it has. But veteran airgunners who own chronographs have learned that the pistol isn't as powerful as advertised, but it's easy to cock (very easy for the power, if you use the cocking aid) and also relatively accurate. So, come with me today while I show you what the Ruger can do.
I shot the gun for accuracy at 10 meters, because most of the reviews I read talked about shooting at distances from 25 feet to 10 meters. In the end, 10 meters turned out to be exactly the right distance for the gun.
I shot off a bag rest with both hands holding the pistol out just past the bag, so there was no contact between the bag and the gun. My forearms were resting on the bag. The sights are fiberoptic; but when held at arm's length, the front sight just fills the rear notch perfectly. It's possible to get a precise sight picture that can be repeated with every shot.
Trigger and cocking effort
The trigger-pull is very heavy — to the point of being a distraction. Blog reader Victor asked me to report on the trigger-pull and cocking effort after this test; I guess because he wanted to see if there was any change during break-in. After this accuracy test was completed, the gun had a total of about 140 shots on it. The trigger-pull measured 5 lbs., 13 oz., and the cocking effort with the aid installed is 26 lbs. That's a pound higher for cocking, and the trigger is a half-pound heavier than the last time I checked. Both numbers are probably just due to how they were measured and no real change has occurred.
Accuracy
The nice thing about testing a gun with open sights is that it's usually on the paper right out of the box, where a scope can be almost anywhere. This pistol was shooting high and left, but it was on the paper at 10 meters. It took a little elevation reduction and a lot of right adjustment to get the pellet to land in the bull. I sighted-in with RWS Hobbys. Then, I shot the first group of 10.
The first group surprised me, but that was when I realized that many of the reviews had been written by new shooters. I say that because the Ruger Mark I is an accurate air pistol when you use the correct holding technique. You hold the pistol firmly but do not try to prevent it from bouncing around in recoil. It's not as accurate as a Beeman P1 or an RWS LP8, but it's accurate, nonetheless. But only the experienced pistol shooters will know how to get this pistol to perform its best.
Ten RWS Hobbys grouped in a 1.073-inch group at 10 meters for me. The group is open but also nice and round. It was a lot better than I'd expected.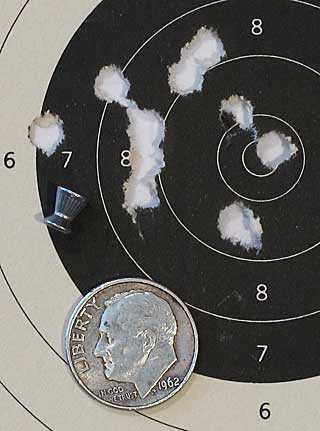 Ten RWS Hobby pellets made this nice round 1.073-inch group at 10 meters.
Following the Hobbys, I was in the right frame of mind for all further shooting. Next up was the JSB Exact RS domed pellet. We know from past experience that this pellet often does well in lower-powered springers, though I don't think I've tried it in a pistol before now.
This time, the RS pellet did very well, indeed. In fact, it was the most accurate pellet of the three I tested. Ten made a group measuring 1.059 inches between centers. Though this group isn't much smaller than the Hobby group, the smaller holes made by the domes make it appear smaller.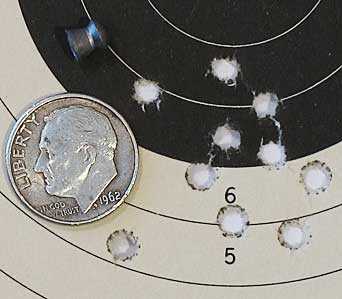 Ten JSB Exact RS domes made the best group of the test. It measures 1.059 inches between centers.
The last pellet I tried was the Gamo Match wadcutter. Sometimes, they surprise me by being the very best pellets in a gun, but this wasn't one of those times. Ten pellets grouped in 1.595 inches between centers — hardly in the running with the first two pellets.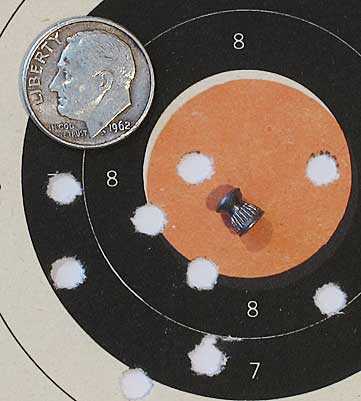 It only looks like nine holes because two pellets went through the same hole next to the number 7 at the bottom of the bull. Gamo Match pellets were not in the running, with this 1.595-inch group.
At this point in the test, my trigger finger was hurting from the weight of the pull, and I was concerned that further shooting would be affected by it. So, I ended the test. It sounds like it shouldn't have hurt, but the pull is so long that it really does hurt.
The bottom line
If you want a powerful spring pistol at a budget price, I don't think you can do any better than the Ruger Mark I. It demands good shooting technique and rewards it with decent accuracy. The power is respectable, and the cocking effort is low for the power generated. The trigger is heavy and the sights aren't perfect, but they do adjust and the pistol does respond to them very well.
Most shooters will like the shape of the grip, which is reminiscent of the Luger. The Ruger Mark I is just about right in the weight and balance department and encourages plinking with its surprising accuracy.
by B.B. Pelletier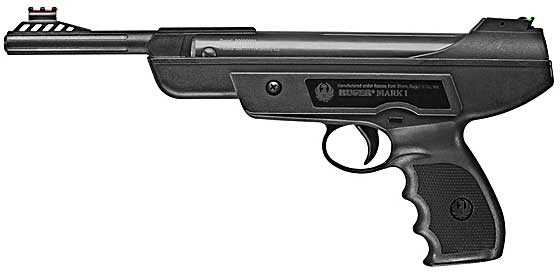 The Ruger Mark I pellet pistol is a powerful spring-piston gun.
Several readers indicated an interest in the Ruger Mark I pellet pistol, and we had one warning to watch the plastic frame for cracks. I'll do that throughout all testing; but I can say that after today's shooting, everything is still sound.
Dieseling
One reader commented that his pistol was the worst-dieseling airgun he had even seen. He may have said dieseling, but I think he really meant detonating, given what I see with the test gun. The test gun detonated several times at the beginning of testing, then settled down to just a diesel with every shot. But because of the type of oil or grease the factory used, there was a lot of smoke with every shot.
In this respect, the test pistol acts identical to the B-3 underlevers I tested back in the 1990s. It's grossly over-lubricated at the factory and will continue to smoke and smell like frying bacon for a long time. As a result of this over-oiling, we have to look at the velocities with a certain skepticism.
Cocking
Once again, I must report that this pistol cocks easily for its power. It's definitely meant to be used by an adult male, but you should be able to cock and shoot it several hundred times in one session without a problem. The cocking effort with the cocking aid installed measures just 25 lbs. — BUT — you can easily get a much higher number when measuring this pistol. It's obvious when cocking that the mainspring isn't lubricated very much, if at all. So, as the gun is cocked the spring crunches and pops as its coils slip into the piston skirt and over the spring guide. When that happens, the scale can go up above 30 lbs. pretty fast. The secret to cocking the gun with the least pressure is to use all the mechanical advantage that's available and to cock the gun quickly and smoothly. Don't hesitate during the cocking stroke, or the mainspring will hang up and the effort required will increase.
A proper lubrication of the powerplant with some spacers to take up what feels like excess space around the mainspring would reduce the cocking effort to exactly 25 lbs. each time. I doubt that it will get any lighter than that, even with extensive break-in, as long as this mainspring remains in the gun.
Trigger
This gun has a heavy two-stage trigger. The trigger is adjustable for the length of the first-stage pull, but the pull weight cannot be adjusted. The advertised pull weight is 5.5 lbs., and my test pistol averaged 6.7 lbs. over 10 pulls. It does feel as though the trigger is breaking in, so that weight may decrease with use.
While this is a heavy trigger, it isn't too heavy for good shooting. You want a heavier trigger on a handgun to help control the gun. That's accomplished when the pistol is drawn into the web of your shooting hand by the force of pulling the trigger. This one goes way beyond what's required for stability, but not so far as to be excessive.
Velocity
I started by testing the gun with Crosman Premier 7.9-grain domed pellets. The first shot went 409 f.p.s., then the next five were all above 500, with one going 596 f.p.s. Then, the gun calmed down, again, and shot this pellet at an average 456 f.p.s. This string ranged from 451 to 462 f.p.s., and the pellet produced an average 3.65 foot-pounds of muzzle energy.
Next, I tried the RWS Hobby pellet. Although the gun was still smoking on every shot, this time it didn't seem to detonate as much. It was just dieseling, which is expected, but not detonating.
Hobbys averaged 473 f.p.s. and ranged from 466 to 486 f.p.s. There were no impossible velocities in this string, so I think the gun has calmed down. At the average velocity, this pellet produces an average 3.48 foot-pounds of energy at the muzzle.
The last pellet I tested was the Beeman Kodiak — a heavy .177 pellet that's out of profile for use in a pistol of this power. Even though it won't be used, it's good to see where the boundaries of the gun lie, and the performance of a heavy pellet is one of the things you have to look at.
Kodiaks averaged 360 f.p.s. and ranged from a low of 348 to a high of 366 f.p.s. Like the other two pellets, they're reasonably consistent. At the average velocity, they averaged 3.05 foot-pounds of muzzle energy.
Umarex advertises this pistol to shoot at two different velocities — 500 f.p.s. shooting lead pellets and 600 f.p.s. shooting high-velocity non-lead pellets. So far, the fastest we've seen from lead is one shot at 486 with Hobbys, so I thought that it was important to also test this gun with the high-velocity, lead-free pellets. Shooting 5.2-grain RWS HyperMAX pellets, the pistol averaged 554 f.p.s. with a spread from 542 to 574 f.p.s. That's an average muzzle energy of 3.54 foot-pounds of muzzle energy.
I wondered whether seating the pellets deep in the breech would affect the outcome, so I shot a second string with the pellets seated deep, using the Air Venturi Pellet Pen and PellSet. These pellets really popped into the breech, so the resistance their skirts provided was significant. Set deep, they averaged 567 f.p.s. with a spread from 562 to 573 f.p.s. That's an average 3.71 foot-pounds of muzzle energy. So, the average speed increased and the spread tightened, even though the maximum velocity did not change.
Power
I read many reviews of this air pistol — both on the Pyramyd Air website as well as other places. Some have compared it to the Beeman P1, the RWS LP8 and the Browning 800 Express. Apparently, they think this pistol is in the same power category as those three, but it isn't.
For what it is, the Ruger Mark I is a consistent spring-piston air pistol that's relatively easy to cock and produces reasonable power. The shot-to-shot consistency is very good. When taken as a whole, we must also consider the heavy trigger and the accuracy that hasn't been tested, yet. It's too soon to make any pronouncement about whether or not this is a good air pistol. It's certainly very smoky to shoot and does need the cocking aid. But none of that will matter unless it can also group.
One final thought. One customer review I read said the shooter was grouping from five meters. I will test the pistol at 10 meters unless there's a compelling reason not to. A pellet pistol with a rifled barrel ought to be able to shoot that far with some level of accuracy if it's to be considered for anything.
by B.B. Pelletier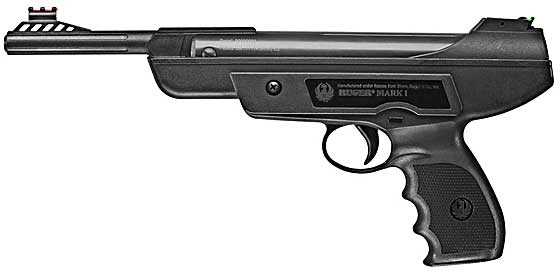 The Ruger Mark I pellet pistol is a powerful spring-piston gun.
I first saw this air pistol at the 2012 SHOT Show, though it had been selling in Wal-Mart for about six months before that. The Ruger Mark I pellet pistol is a breakbarrel spring-piston single-shot pellet pistol that seems normal in every way. The velocity claimed for the gun is 600 f.p.s. with non-lead pellets and 500 f.p.s. with lead, which means it's both powerful and also somewhat difficult to cock. A cocking aid is supplied with the gun and slips over the muzzle to increase the leverage.
I'm a handgunner at heart; and whenever there's a new handgun to test, I really want to try it out. I was delighted when the Wal-Mart exclusive elapsed earlier this year, and this pistol became available to the rest of the airgun world. The Ruger Mark I air pistol is available only in .177 caliber at this time.
For the record, I'm testing pistol number 00030570.
Not that hard to cock
I read the customer reviews on the gun before taking the gun from the blister pack. Many said it's hard to cock. I disagree. What you have to do is learn where to put your hands, and this pistol cocks easily enough when the cocking aid is installed. Keep the gun close to your chest when cocking to keep the leverage as optimum as possible. If you want to see an air pistol that's hard to cock, try a Browning 800 Express or, better yet, a Walther LP III. Those guns will put hair on your chest! This one just takes some getting used to.
One person said he left the cocking aid on the gun when shooting. Good idea! I did the same, and it seems to work well. I suppose I ought to test it for accuracy with the aid both on and off the gun.
Trigger
Several people commented about the long trigger. The second stage is quite long and slightly creepy, but it isn't the worst trigger I've ever used. In fact, it's a lot nicer than some other air pistol triggers I have tried. And the creep can be adjusted out, as I soon discovered.
The first-stage pull length is somewhat adjustable. I tried to make it as long as possible, which should shorten the second-stage pull. It seemed to work, though there was still a lot of stage-two travel present. But the creepiness seemed to be abated. I think I can get used to it.
The sights
The sights are fiberoptic, of course. That part I don't like, as all precision goes away. But the front red tube is bright enough indoors to aim with, and that's important. The rear sight is adjustable in both directions, and there's an arrow for elevation and a scale for windage. One owner stripped the elevation screw because he said his gun was shooting too low and he tightened down the rear sight screw (?) as far as it would go. Of course, he should have adjusted it up, because the strike of the pellet moves in the same direction as the rear sight.
There's a short 11mm dovetail cut directly into the spring tube for an optical sight, but it needs to be one with a very short base. And there's no provision for the scope stop that this pistol definitely needs. So, if you want to use optics, think BKL.
First impressions
The firing behavior is quick and free from vibration. There's a definite forward jump when the gun fires. Your hand will rock forward on its own. You'll have to adopt an artillery hold to get any accuracy from this air pistol.
The chisel detent that holds the barrel closed is very aggressive, and the cocking aid needs to be slapped to break open the barrel. It locks up tight and gives a great feeling of confidence. If the barrel is rifled well, I bet this pistol can shoot.
This gun smokes like a teenager at the mall! It's been over-oiled at the factory and will not require any oiling for some time. This will also make the break-in period longer, and you'll have to get used to the smell of frying bacon.
The pistol balances very well in the hand. The use of synthetics puts the bulk of the weight above the web of your firing hand, and that gives the gun a very neutral balance.
The barrel is nicely rifled with 12 shallow lands and grooves. It's jacketed with a synthetic sleeve that has four large flutes; but since you'll probably leave the cocking aid on, the barrel will look longer.
Ambidexterity
The grips are contoured to fill your hand, and they're completely ambidextrous. The only feature that favors right-handed shooters more is the safety that's a button that pops out on the right side of the frame when applied. It's pushed in (to the left) to make the pistol ready to fire. It's not automatic, so you can leave it alone and just cock and shoot the gun. This safety blocks the trigger and can be applied at any time — even when the gun is uncocked.
Use of synthetics
This gun has a lot of synthetic parts. The grip frame is actually a subframe that houses the spring tube. It's entirely synthetic, but the spring tube is a conventional steel tube. The barrel is a thin steel tube housed in a synthetic jacket that includes the base block. The synthetic trigger blade is fat and nicely curved. The cocking aid is also synthetic; so except for the spring tube, most of the outside of the pistol is plastic. But it doesn't look bad or out of place.
Finish
The gun is mostly matte black. Only the spring tube is polished steel, and the level of polish is just one step better than matte. So this is a black gun with a matte finish.
So far
Thus far, this pistol hasn't been in the hands of many airgunners. It was sold through Wal-Mart, with no way of knowing how well it was received. But now that it's in airgun market channels, it'll be time for a thorough evaluation. How does it hold up against other powerful spring-piston air pistols?
I'm so glad this is a pellet pistol and not a BB gun, because there's a good chance for accuracy. It holds well, the sights seem usable, and the trigger isn't that bad. Cocking is easier than many have said, and I am hoping the pistol will continue to surprise me downrange.
by B.B. Pelletier
Announcement: Mark Barnes is this week's winner of Pyramyd Air's Big Shot of the Week on their facebook page. He'll receive a $50 Pyramyd Air gift card! Congratulations!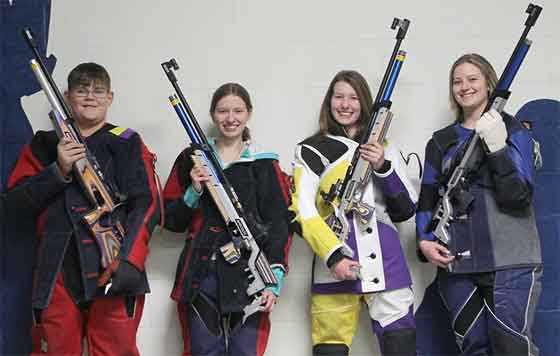 Mark Barnes submitted the winning Big Shot of the Week. This is the varsity air rifle team at Lathrop High School in Fairbanks, Alaska.
Photos by Earl "Mac" McDonald
You all seemed to enjoy hearing about the 2012 SHOT Show, even though I went into some pretty great detail, so today we'll do Part 3. Hopefully, this will keep us busy this weekend!
More on Media Day
The Boulder City gun range, where Media Day was held, is a huge facility with dozens of individual ranges that stretch at least half a mile. Now that I've been there, I recognize the ranges in all the Pawn Stars episodes with shooting.
The thing that most impressed me were the long-range ranges (yes, that's plural) that could easily have gone out for miles if the shooters so desired. As it was, getting distances of a thousand yards was a trivial task. Only on tank gunnery ranges have I seen the equal of this openness.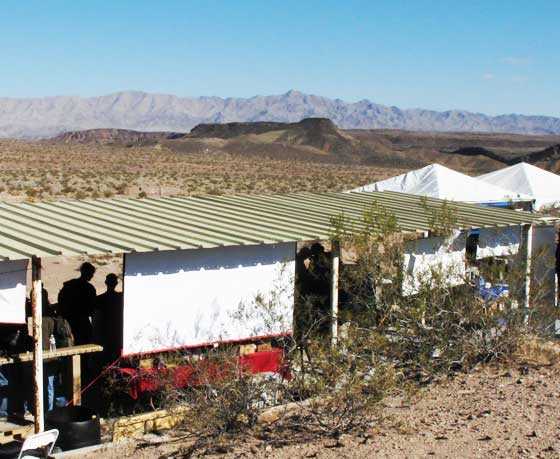 This is a small portion of the long-ramge ranges at the Boulder City gun range. The horizon is miles away, and the targets are out at a thousand yards for big rifles like the .50 BMG and .338 Lapua.
Safety first!
As the media representatives got off the busses and into the registration line, we were each given a range bag that included safety glasses and hearing protection. Mac and I brought our own electronic earmuffs to be able to hear, but the shooting was so continuous (10-50 shots each second the whole time we were there) that the earmuffs were permanently suppressed. We would have been fine with normal earmuffs, as that is how our electronics sounded all the time.
After a couple hours of what sounded like the biggest firefight ever fought, Mac observed that despite thousands of people shooting continuously there wasn't one accident or even an unsafe act that we could see. Of course, each range was monitored by the company running it, and there were plenty of orange-vested range safety officers patrolling the line; but it was the shooters who made the difference. These were people who knew guns and also knew to keep their muzzles pointed downrange and their fingers off the triggers until it was go time. I used to run ranges in the Army; and in all my time at hundreds of ranges, I never saw anything as orderly and disciplined as this!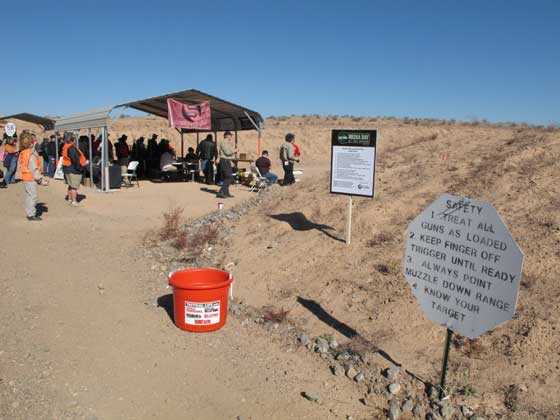 Here is one of dozens of handgun ranges that go out 50-200 yards. Notice the high berms between them. Look at the safety sign and the two range safety officers in orange vests. With thousands of people shooting and hundreds of thousands of rounds fired, there was not one accident or even an unsafe act observed! The red bucket is full of free water bottles packed in ice — provided all day long.
I avoided Media Day in the past when it was a small event; but after attending this one, I'll make it my mandatory first stop at each SHOT Show in the future! Now, let's go back to the show.
Umarex
At the Umarex booth, I was pleased to meet Anna Dalton, who works in the service department. She showed me around the booth and answered every question I had.
Besides the two PCP rifles and the Morph III that you've already seen, there were three interesting new air pistols on display. I'm seeing more and more air pistols these days, so something is definitely up.
The first of the guns is a low-powered breakbarrel modeled after the Browning Buck Mark .22 and called by the same name. The sign says it shoots pellets at 260 f.p.s., which some may scoff at, but I think there's a real need for guns of this power. Just look at how popular airsoft guns can be, and you'll realize that sometimes people just want something for plinking. The Buck Mark appears to be it!

The Browning Buck Mark breakbarrel air pistol appears to be a pellet plinker's dream. Can't wait to test one!
Another new air pistol from Umarex is the Browning Hi Power Mark III. This one is a CO2-powered BB pistol that mimics the firearm prototype exactly. It puts me in mind of the Walther P99 Compact or perhaps the Walther PPK/S.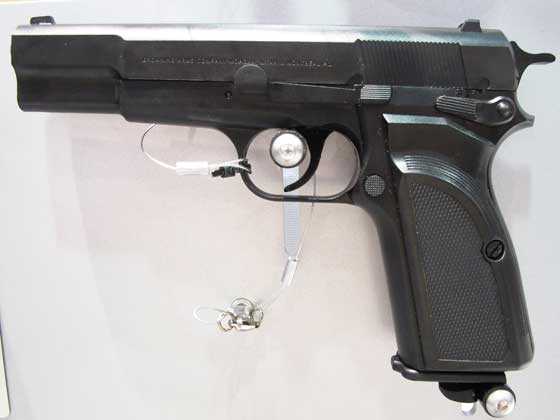 Browning's new Hi Power Mark III BB pistol is a new lookalike from Umarex.
I also met Janet Raab, the Umarex Director of Sales and Marketing for Competitive Shooting. Janet has a long history in competitive shooting and holds the Distinguished Rifleman's badge. I'll be talking to her about the Umarex and Walther competition models in the months to come.
On to Gamo
And here comes the part of the report I bet you weren't expecting. Nor was I, until I walked into the Gamo booth and saw for the first time that they're making a concerted effort to reach out to their customers with something other than velocity. Style is still their strong suit, but it appears they have discovered what the end user really wants and needs to know.
If you recall what I said in Part 2 about some companies were struggling to understand the customer, Gamo was one of them. But this year, I see signs that they're getting it. Four educational displays in the booth impressed me the most.

This demo of the Gamo Smooth Action Trigger allowed me to cock and fire the trigger repeatedly. I don't know if the trigger will feel the same with the full force of a mainspring on it; but if it does, Gamo has finally built a winning trigger!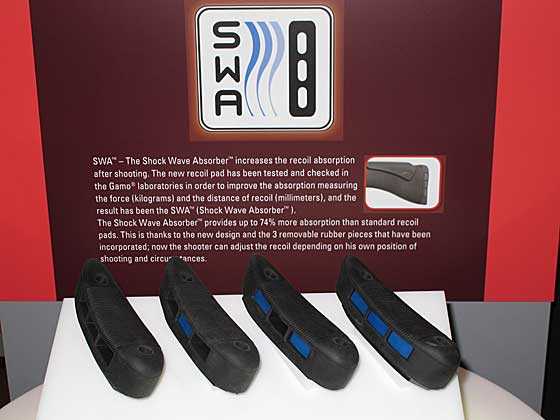 Gamo's Shock Wave Absorber buttpad absorbs the recoil force transmitted by the gun upon firing. Since Gamo sells some pretty powerful springers, this is welcome!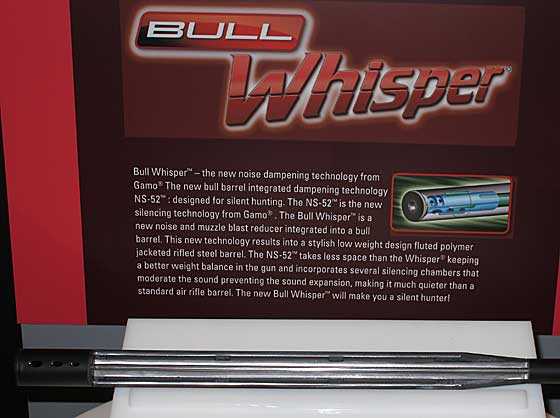 Gamo's new Bull Whisper shroud is a fluted polymer barrel jacket that incorporates a baffled shroud to silence the muzzle report. It's smaller and thinner than the current Whisper muzzlebrake.
Gamo is very dedicated to hunting, of course, so much of their emphasis is directed that way; but it looks like they're now trying to educate their potential buyer as well as impress him with numbers. This is a significant new direction for the company that, if they follow it, will make Gamo a customer-centric business. Seeing the new trigger and the Bull Whisper shroud was exciting, because it means they're talking about the customer in their design meetings.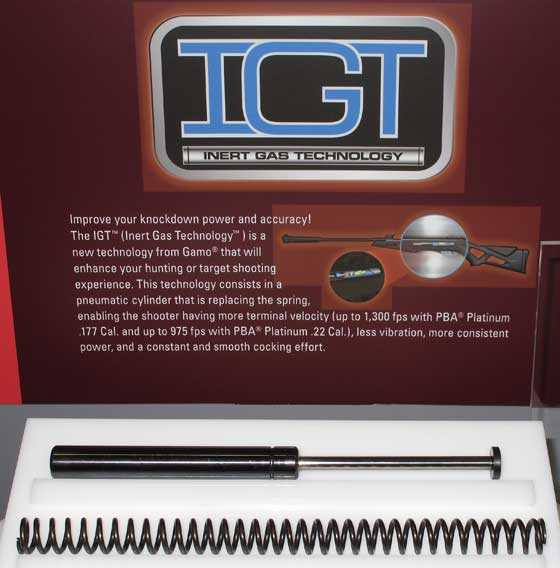 Gamo's Inert Gas Technology gas spring signifies that the company now thinks of their product in the same way that the shooters do. This bodes well for their future.
When Gamo decided to build their own gas springs many, including me, thought they just didn't want others to modify their guns. The new trigger is the same sort of thing. But what I see now is a company that wants their guns to be as nice as they can make them. As far as I'm concerned, Gamo just threw their hat into the ring as a company that can innovate. I hope they'll continue in this direction and build the kind of airguns that put fear into the other manufacturers.
Unfortunately, there weren't any Gamo representatives in the booth to show me their new products this year. So, I took photos of some of the new rifles, and I'll have to wait for the year to unfold.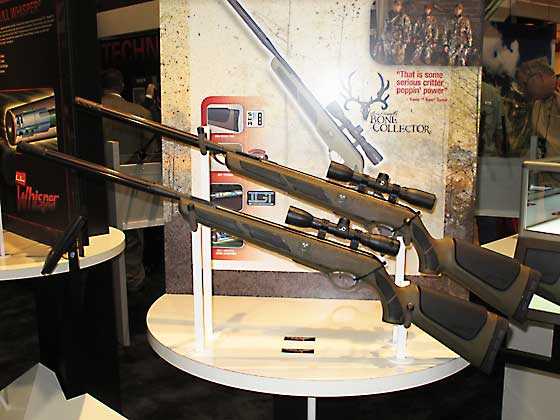 These new breakbarrels were shown under the Bull Whisper name. Whether that is the name of the model or just the silencing technology wasn't clear, but it was obvious there will be some new guns coming from Gamo this year.
Back to Hatsan USA
I went back to Hatsan USA several times during the show just to see more of the new rifles. Like Gamo, they have a new trigger called the Quattro and also a new shock isolation system; but unlike Gamo, they didn't have the interactive educational displays to show them off. I'll have to withhold my judgement on both items until I can test them on a gun.
Mac thought the trigger blade came up too far when it was pulled to the rear; but with the guns in the rack, it was impossible to tell for sure. Hatsan also has a new recoil pad that appears quite similar to the one Gamo is touting. I'll try to get to one of them as soon as possible.
The underlever rifles I showed you back in Part 1 are apparently all from the Hatsan Torpedo line, which — as one reader mentioned — has a unique-looking breech. He likened it to an RWS Diana 46 breech, but I think it's different than that.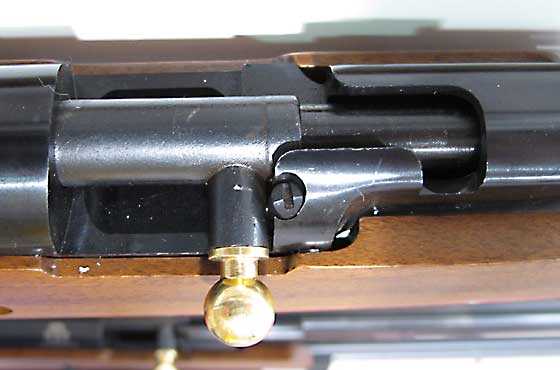 It looks like the bolt goes forward in this Hatsan Torpedo to expose the breech for loading. I want to test one!
AirForce
I don't have any AirForce pictures for you because I've been testing the guns for you all along. There's nothing new gun-wise that you don't already know about. In fact, my TalonP pistol test was in the SHOT Show issue of Shotgun News that was given out free at the show.
This is the last report on the SHOT Show. There is a thousand times more, but I think I got the airguns pretty well.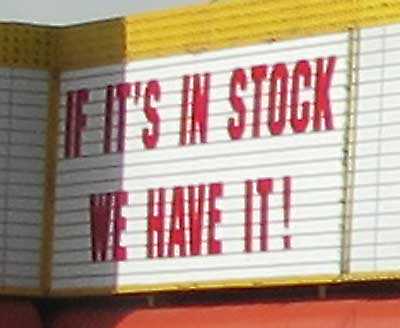 The last photo I took at the SHOT Show sums up business in Las Vegas this year.
by B.B. Pelletier
Announcement: Timothy Burman is this week's winner of Pyramyd Air's Big Shot of the Week on their facebook page. He'll receive a $50 Pyramyd Air gift card! Congratulations!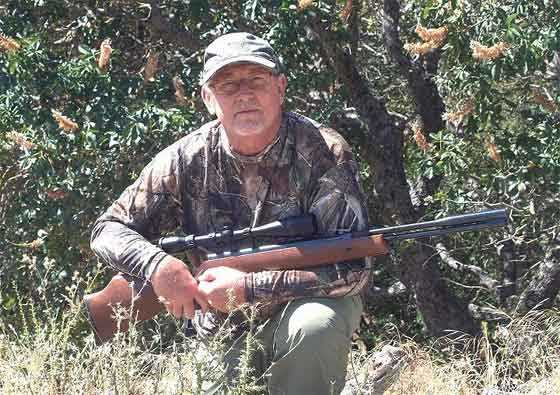 Timothy Burman is the Big Shot of the Week. He's holding his HW97K in .20 caliber.
The day before the SHOT Show opened this year was a special day set aside for the media to sample all the new guns at a range in Boulder City. There were 1,200 official registrants and another couple hundred who got in after the registration ended, plus about 500 personel running the ranges. So, for 2,000 people, each of whom fired 100-1,000 rounds, there was a whole lotta shootin' going on!
Only two air gun ranges were running — one by Crosman and the other was Pyramyd Air. At the Crosman range, I got a chance to sample the new AR-16 upper that converts your lower to a PCP target rifle. It has a Lothar Walther barrel and is a repeater that loads via the charging handle. Whatever sort of lower receiver you attach the upper to is what determines the kind of rifle you have, so the one that designer Scott Pilkington let me sample was quite nice.
But it was the 9mm Conquest (yes, it's both semi-auto and full-auto) rifle that thrilled me most. Maybe it was because I was repeatedly hitting the silhouette target at 200 yards with a rifle the first time I fired it! That's hard enough to do with a centerfire rifle right out of the box, but this gun did it the first time.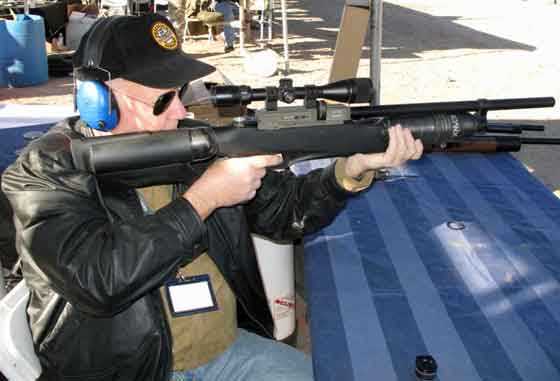 Tom shoots the 9mm Evanix Conquest at Media Day.
The 9mm is not ready for the market yet, and I still have the .22 report to finish; but it's being developed, and we already know that it works. As it gets closer to being a reality, I'll get into the particulars — but at least you know it's coming.
The show started the next day, and I saw a number of interesting new things right off the bat. I'll start with Hatsan USA. The company has stepped out on its own and will do business under the Hatsan name from now on. The designs that have been driven by other companies will no longer encumber the Turkish designers. We already know they make great firearms, and we hope that will spill over into the airguns they bring.
I saw two new things that need to be tested. They offer a new Quattro trigger that's extremely adjustable, according to president Blane Manifold, who referred to it as a match trigger. I'll withhold judgement until the first test, but here's hoping he's right!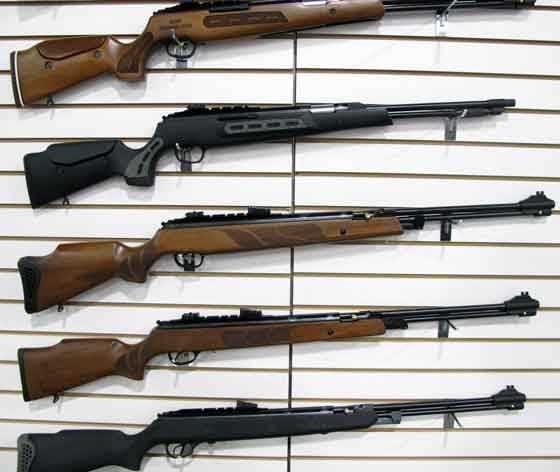 Hatsan's new rifles carry their name. Hopefully, their features will be fresh and sharp.
They also have a shock absorber system (SAS) that they say will isolate the shooter from the powerplant buzz. I hope the guns won't need to use it much because they're inherently smooth to begin with, but again, only a test will tell.
Over at Crosman, there are so many new products that if I were to tell you all of them it would take more room than this blog can dedicate. But one new product caught my eye over the others — the new butterfly hand pump. Those who read my report of the Benjamin 392 pump-assist gun will understand that applying the same technology to a hand pump means easier pumping to maximum pressures.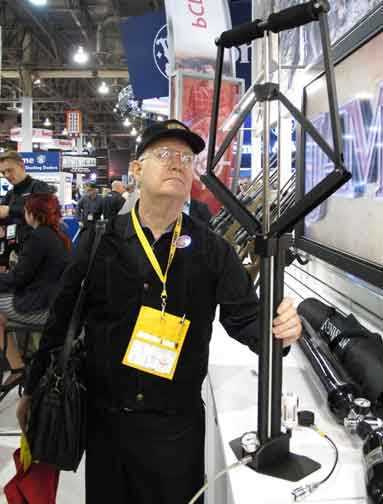 The new hand pump looks like a radio tower when the handle is extended. The butterfly design amplifies your energy to reduce the effort required to pump.
The new pump is in development and, no doubt, will require more time before we see it for sale…but it is in the works. With Crosman's stake in the pneumatic world, I think they need to fast-track this one!
At Umarex USA, there was another cornucopia of products, but once again something special caught my eye. This time it was two Hämmerli rifles — one a sporter and the other an affordable 10-meter target rifle.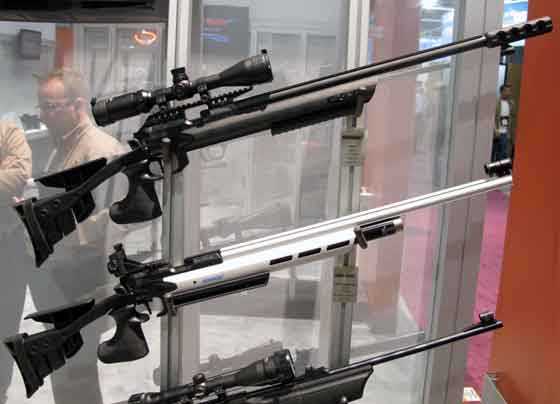 Hämmerli's sporter and affordable 10-meter target rifles will be the topic of our tests this year.
While there are many attractive attributes to these rifle, I do have a couple concerns for the 10-meter rifle. First, the max fill pressure is 300 bar, which is close to 4,500 psi. Not many U.S. shooters have air at that pressure. The guns can be filled to 200 bar, of course, but the shot count is reduced.
The velocity for the 10-meter rifle is 780 f.p.s. — way above what the other target rifles generate. I know Walther (Umarex owns both Hämmerli and Walther) would never dare field a target rifle that shoots that fast, so I'm curious to learn why they thought this one would be okay. Perhaps, it was just marketing copy written by someone unfamiliar with competition and was obtained with a non-lead pellet that would never be used in the real world. I certainly hope so — because in all other ways, this rifle has a lot going for it.
Another very interesting gun at Umarex was the Morph 3X — a BB gun that changes from a pistol to a rifle to a shotgun. I've got to test this one as soon as I can, because I've never seen anything like it. Okay — maybe in some cartoons or when the Joker pulls a revolver with a 6-foot barrel out of his waistband to shoot down the Batplane — but never in the real world!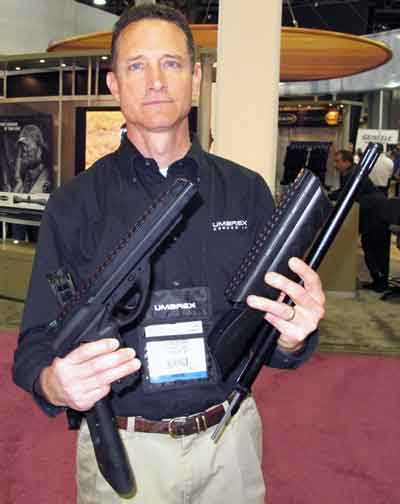 Glenn Seiter of Umarex USA holds the parts of the amazing Morph 3X — a one-gun-does-it-all for BB-gunners.
I'll end this part of the report at the AirForce booth, with the Spin-Loc air tank attachment system. How many times have I heard people say they wish AirForce tanks had a pressure gauge? This is it, and it allows the shooter to index the tank in any position or rotation he desires. The tanks also have a new adjustable buttplate that allows you to not only adjust the rotation, but also the length of pull.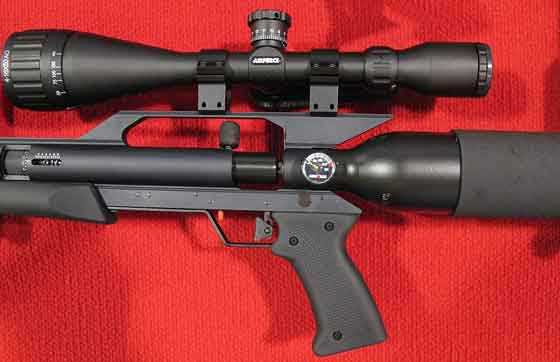 The new Spin-Loc air tank attachment system gives the shooter the in-tank pressure gauge shooters have been asking for.
On the opposite side of the tank, there's a male quick-disconnet fitting, so the gun can be filled while still on the gun. This is another feature that's been requested, and it makes sense to put it on with this new fill system.
I have taken a lot more pictures than I'm showing here, and of course there will be a more detailed report after I return from the show. I'll try to make sense of some of the rumors you may have read. Til then, chew on these new toys and let's hear what you think.