Posts Tagged 'H&N Field Target Trophy pellets'
by Tom Gaylord, a.k.a. B.B. Pelletier
Today's report is a guest blog from reader Paul Hudson. It It's his evaluation of the Crosman 622 repeater.
If you'd like to write a guest post for this blog, please email me.
Over to you, Paul.
The Crosman 622
by Paul Hudson
The Crosman 622 is a rarity — a slide-action CO2 repeater.
The Crosman 622 is a repeating slide-action CO2 pellet rifle. It was produced from 1972 to 1978 in .22 caliber only. It uses the familiar 12-gram Powerlets and has a rotary clip that holds six pellets.
There have been only a few other slide-action repeaters available in the recent past — the Gamo Extreme CO2 and the Shark roundball repeater made in Argentina are two examples. The Gamo uses an 88-gram cartridge, and the Shark is a bulk-fill gun.
This particular 622 belongs to my brother-in-law's friend. It had not been fired for many years and was in need of a resealing. The old factory lube had turned to hard wax, and several hours of cleaning was required to get everything in working order.
Due to its design, the 622 did not develop a reputation for durability. The valve body is made of two parts held together with a single screw and is prone to breakage. A second bolt or pin can be added to the bottom of the valve body to greatly strengthen the assembly. Another problem was the tendency for the gun to jam with certain pellets; this can happen if the muzzle is elevated when the slide is cycled. Some pellets (depending on their shape) can back out of the clip enough to prevent it from rotating. Keeping the gun pointed down will help prevent this. Possibly due to this problem, Crosman added a lever to the receiver of later 622s to aid removing stuck clips.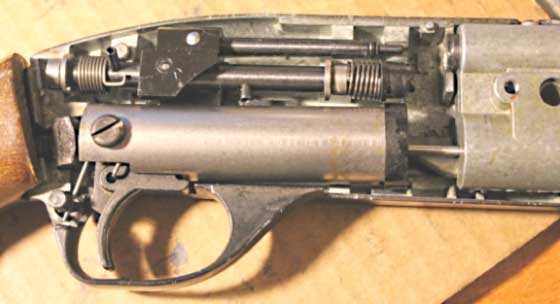 There are many parts in the 622′s receiver. The large, rectangular casting on the right is the valve body, and it's prone to breakage. The probe is near the top of the receiver and is in the rearmost operating position. In the middle is the rotating rod that advances the clip. The large cylinder on the bottom houses the striker.
The 622 is large enough not to feel like a toy. It's 40.5 inches long with a 13.5-inch length-of-pull, so it's adult-sized. The blued barrel is 23 inches long, and the gun weighs 6 lbs. without a scope. A square post front sight and a square notch rear sight come from the factory, and they're entirely suitable for the ranges at which the gun would be used. The painted receiver is made of two die-cast pieces and is grooved for mounting a scope. While the paint isn't the greatest finish, no complaints can be made about the blueing on the barrel and gas tube. It's very well done for a low-priced gun. Both the stock and forearm are made of varnished hardwood that has a very straight grain. The receiver is only about an inch thick, and the gun does not feel bulky; combined with the light weight, it's a perfect plinker and can be carried for hours.

The rear sight is a simple square notch and is adjustable for elevation and windage.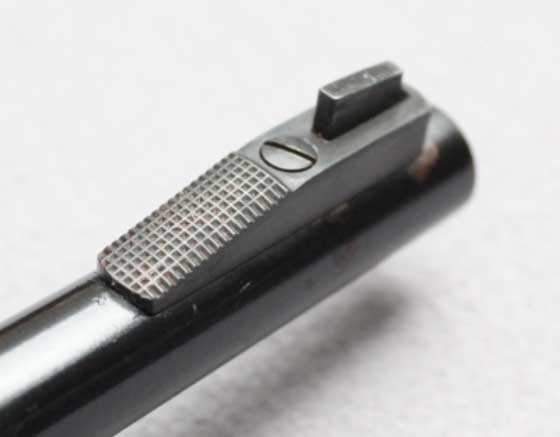 The front sight is a square post. The ramp is textured to prevent glare.
A manual safety is mounted behind the trigger; it's very similar to the unit on many other Crosman models. The single-stage trigger was a pleasant surprise. It isn't adjustable…but it's fairly smooth, mostly creep-free and breaks at a consistent 2 lbs., 2 oz. For an inexpensive airgun, it's quite good. Holding down the trigger while cycling the action lets the striker travel forward with the slide; it will not fire the gun.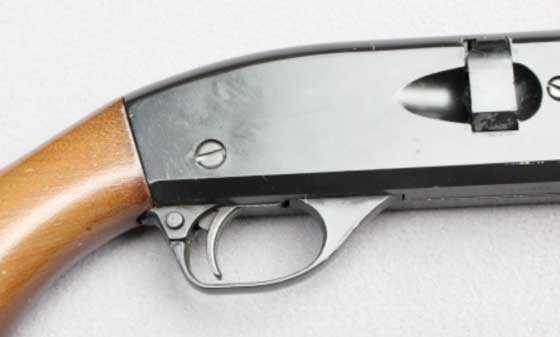 The trigger features Crosman's typical cross-bolt safety and is surprisingly good.
The rotary clip
The 622′s 6-shot rotary clip is easy to load and fits entirely within the receiver; it will not interfere with a scope or catch on anything during handling. Unfortunately, the clip accepts pellets with a max length of 0.275 inches. This prevents longer domed pellets and pointed pellets from being used. All wadcutters fit, and most cycle fine.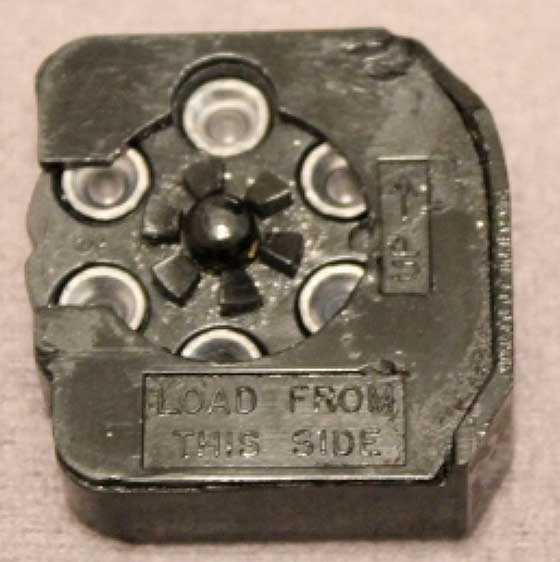 Rear view of the clip. Pellets load easily from this side.

The thin clip will not accept pellets over 0.275 inches long. The Baracuda Hunter is about the longest pellet that fits.
To charge the 622, the end cap of the lower tube is removed. A CO2 cylinder is dropped in nose-first (don't forget a drop of Pellgunoil on the tip), and the end cap is replaced. As the cap is tightened, a slight hiss will be heard as the cartridge is pierced. Further tightening should not be needed. Since the CO2 cylinder seats against a flexible seal, it should be removed after shooting. A single cylinder was good for 36 shots, or 6 full clips. A two-cylinder lower tube, similar to that of the Crosman 160, was available for a time; but this was an aftermarket part not supplied by Crosman.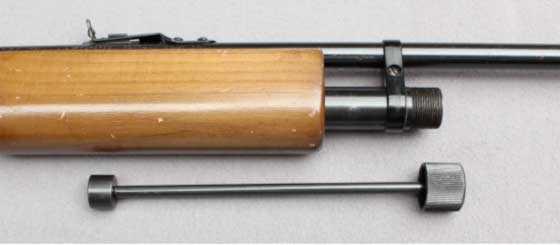 A single CO2 cartridge is used in the long gas tube.
Performance
The 622 was rated by Crosman at 450 fps; this gun exceeded that rating with all tested pellets. The temperature was around 90 degrees during shooting.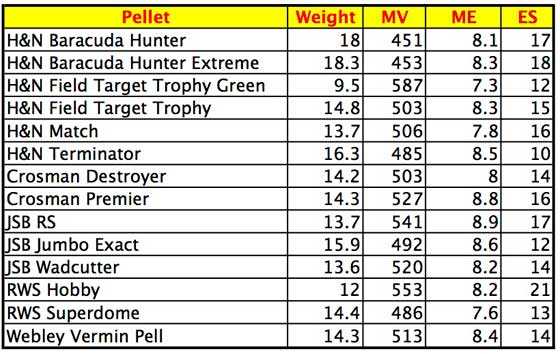 MV=muzzle velocity (fps), ME=muzzle energy (ft-lbs), ES=extreme spread (fps)
Getting the best accuracy from the 622 is a bit of a challenge. The forearm uses a single operating rod and can slightly rotate around the lower tube. This allows the gun to move upon firing if it's held by the forearm. For best accuracy, support the 622 just ahead of the receiver by holding the gas tube. This is really a minor point; the 622 is not a long-range target gun — it's a plinker, and one of the most entertaining ones at that.
10-meter groups with open sights
All pellets tested were more than accurate enough at 10 meters for plinking and informal shooting. Groups are 6 shots since that's the magazine capacity. Here are a few of the best performers: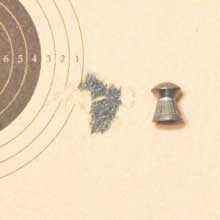 The RWS Superdomes gave a nice, round 0.31-inch group at 10 meters.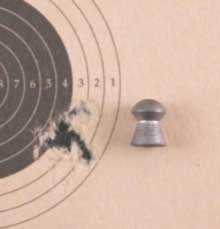 The 15.9-grain JSB Exact Jumbos made this 0.27-inch group at 10 meters.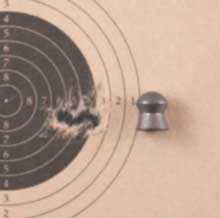 At 10 meters, the Beeman Field Target Specials produced the best group at 0.24 inches.
25-yard groups with a scope
The factory open sights just aren't precise enough to produce the best accuracy at 25 yards. I mounted a simple 4x Leapers scope for these groups. Most pellets gave groups in the inch to inch-and-a-half range. There were a few standouts, however: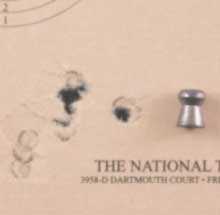 Six H&N Baracuda Hunters made this 0.84-inch group at 25 yards.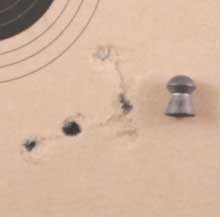 The 15.9-grain JSB Exact Jumbos also performed well at 25 yards with this 0.79-inch group.

The most accurate pellet at 25 yards was the Crosman Premier. Six pellets made this 0.57-inch group. There are three pellets in the lower left hole, two on the right, and one high and left.
Summary
While the 622 isn't the best engineered or most accurate airgun Crosman ever made, it's still an interesting piece. There have been only a few slide-action airguns produced; and for plinking, the rapid-firing provided by a slide-action really ups the fun factor.
Many 622s are still in circulation, and they regularly show up at airgun shows and on auction sites. Lack of attention from collectors has kept the price reasonable. One caveat is to make sure the gun includes the clip — they fetch about 25 dollars apiece. It's possible to load the rifle singly, but it's tedious.
by B.B. Pelletier
Part 1
Part 2
Part 3
Part 4
Part 5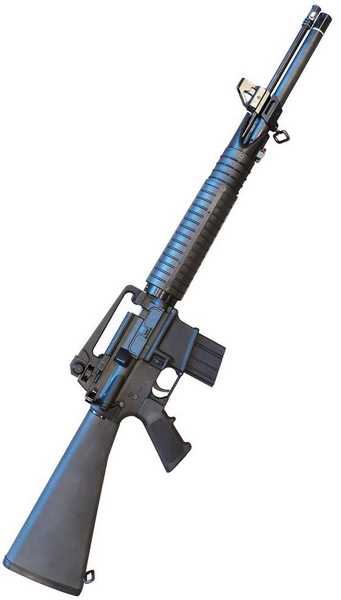 Crosman's new MAR177 upper is big news!
Today's test is shooting the Crosman MAR177 at 25 yards, both with and without the magazine. We'll also shoot it with the best wadcutter target pellets and the best domed pellets to see what differences there are.
Rather than shoot the rifle myself, I let Mac shoot it this time. He is the better rifle shot between us, and I just wanted to see what the rifle would be like in his hands. He shot it off a bag rest at 25 yards indoors. Ten pellets were shot from the magazine, then another 10 of the same pellet were shot using the single-shot tray. Mac tested both domed and wadcutter pellets, so we get to compare the relative accuracy of both today. And the results did not turn out as I expected.
Magazine
I'd noted in an earlier report that the particular 10-shot magazine I've been using has two chambers with tight entrances. Mac found the same thing without being prompted by me. I had him use the same magazine as I did so I could compare his results with all other variables remaining the same.
You'll recall that I mentioned not liking magazine guns because of how they handle the pellets. So, today was also a test between the magazine and loading each pellet as you shoot. I'm not saying that all pellets have feeding problems, but that some magazines may have a problem. But when you load each pellet singly, you have less chance of damaging the pellet.
Single-load tray
That said, the MAR177 has a gap at the front of the single-load tray that can catch the nose of certain pellets and make it very difficult to load. The H&N Field Target pellets that were the most accurate in an earlier test had this problem and had to be exchanged for a different domed pellet. The H&Ns have a semi-wadcutter rim around the head that just catches in the gap on the tray and causes the pellets to flip up and possibly get damaged on loading. I substituted 7.3-grain Air Arms Falcon pellets that fed perfectly through the tray.
On to the shooting
Let's get right to today's test. First, Mac tested the domed pellets at 25 yards.

Through the 10-shot magazine, 10 Falcon pellets made this 0.667-inch group at 25 yards. This is very good!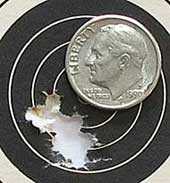 When the single-shot tray was used, 10 Falcon pellets made this 0.429-inch group at 25 yards. This is clearly better than the group made using magazine-fed pellets.
Mac tried the H&N Field Target pellets first, and they were very accurate, but a couple of them refused to feed through the magazine. But the Falcon pellets fed flawlessly, so we changed the test to use them as the domed pellet of choice. Once again, I want to say that in another magazine this pellet might have fed better, but this is a quirk you get with mags that you don't get when loading singly.
Clearly the single-loaded pellets are more accurate than those loaded by the magazine. That may not hold from magazine to magazine; but for this one mag, you're better off loading the pellets one at a time. Let's see how the rifle does with wadcutters at 25 yards.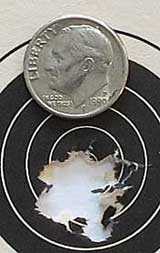 Using the magazine, 10 RWS R10 7.7-grain pellets (an obsolete weight for the R10) grouped in 0.484 inches at 25 yards. That's great performance.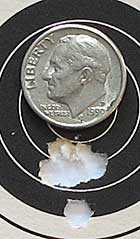 When each pellet was loaded singly, the R10s grouped 10 in 0.402 inches. This was the best group of the test!
The trend continued with the wadcutter pellets. The R10s grouped even tighter than the Falcons at 25 yards, and those that were loaded singly did much better than those that fed through the magazine.
What have we learned?
First, we've learned that some magazines do influence the accuracy of the gun with all ammunition — or at least with the pellet types used in this test. A different magazine might well give different results, but one thing it will never do is outshoot loading the pellets by hand, one at a time. As a 10-meter shooter, I knew this going into the test. But it was nice that we were able to demonstrate it so clearly.
Next, we see that wadcutters were more accurate than the domes in this test. Even though both pellets were very accurate, the wadcutters had the edge. That was the part that surprised me. I'd expected the domes to take over at 25 yards.
The bottom line
The Crosman MAR177 is a valuable addition to an AR and a wonderful target rifle in its own right. It was held back in this test by the use of an AR National Match trigger, which is by no means as good as a target trigger on an air rifle. Even so, we see accuracy that any 10-meter precision rifle would be proud of.
I think Crosman has made a winning rifle in the MAR177. And when they bring out more powerful versions of it in the future, it'll be all the greater justification for owning an AR! My thanks to Crosman for the loan of this MAR177 for both this test and for the feature article I am writing for Shotgun News!
by B.B. Pelletier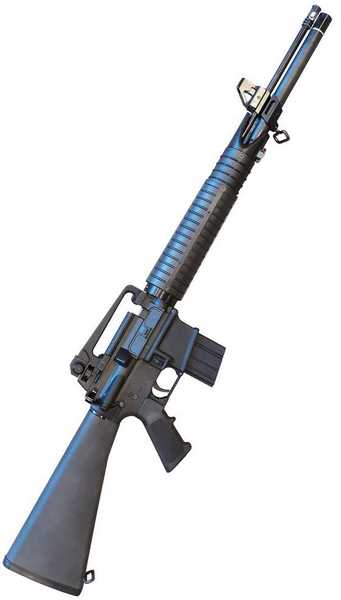 Crosman's new MAR177 upper is big news!
Today, we'll look at the Crosman MAR177 upper shooting domed pellets at 25 yards. I'll be using the 10-shot magazine, so we'll get to see that in action, as well. I'll tell you right now that today was a learning day that spawned another report that's still to come. Read on to learn what it is.
As you know, the Crosman upper receiver is attached to a lower receiver that I built on a Rock River Arms lower receiver shell. I used Rock River parts, and the trigger is an upgraded two-stage National Match trigger, also from Rock River.
National Match?
To the uninitiated, the term National Match sounds like the finest possible precision. Well, it isn't! A National Match trigger in an AR is about like a John Deere tractor — strong and effective, but as far from real precision as it is possible to get and still have a good trigger. My trigger has a light first stage and a crisp release in stage two, but it's not what any target shooter would call precision. The break point is right at 5 lbs. My Trapdoor Springfield, which was made in 1875, has a trigger just as nice. My 1879 Argentine rolling block's trigger is lighter and crisper, now that I have replaced the heavy service-grade trigger return spring. So understand that National Match does not mean the same as precision. You owners of Rekord triggers don't know how good you have it.
The National Match AR trigger is quite a bit better than the single-stage trigger that comes standard on a military or civilian AR, but it isn't a target trigger by any stretch. I tell you that so you'll understand what I had to deal with in this test.
10-shot magazine
The MAR's magazine is the same one that a .177 Benjamin Marauder uses. It's wound under spring tension as it's loaded and advances by spring power as the bolt is worked for each shot. Remember that on the MAR, the bolt is retracted by pulling back on the charging handle — the same as all other ARs.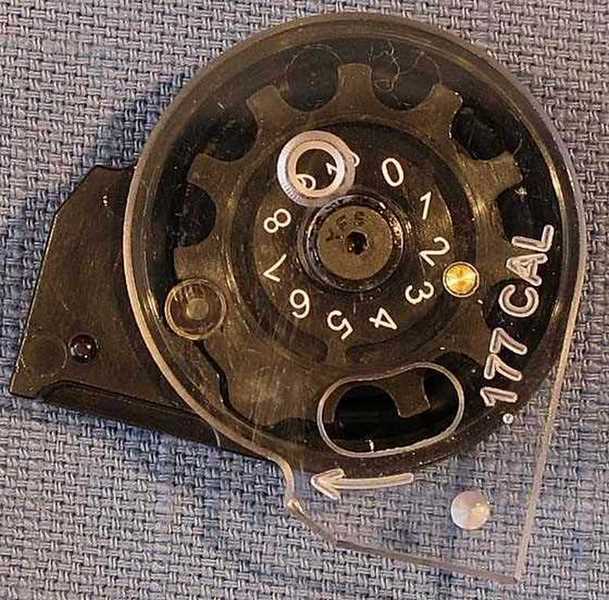 The 10-shot magazine comes from the Benjamin Marauder and is completely reliable, as well as quick and easy to load. Here the last shot is in the magazine, holding it in place. The clear plastic cover is rotated to drop in the other 9 pellets.

To cock the MAR the charging handle is pulled back.
The mag loads easy once you know the right procedure. A couple of the chambers were tight, so I used a mechanical pencil to push in the pellets. Once they cleared the lips of the tight chambers, they dropped into place easily. There were no feeding problems throughout the test, which entailed about 90 pellets, give or take.
The scope
I mounted a Leapers 4×32 mini scope on the rifle. It's not a scope that Pyramyd Air stocks, but it would be similar to this Leapers scope. You may criticize my choice for some lack of aiming precision; but when you see how good the little scope looks on the rifle, I think you'll understand why I went with it. It allowed me to use medium scope rings and still clear the magazine that stands proud of the receiver top. If I were hunting feral hogs with a 300 AAC Blackout or a .50 Beowulf cartridge, this is the scope I would use. No, it doesn't magnify as much as a good 3-9x scope, so we may have to take that into consideration when we look at these groups.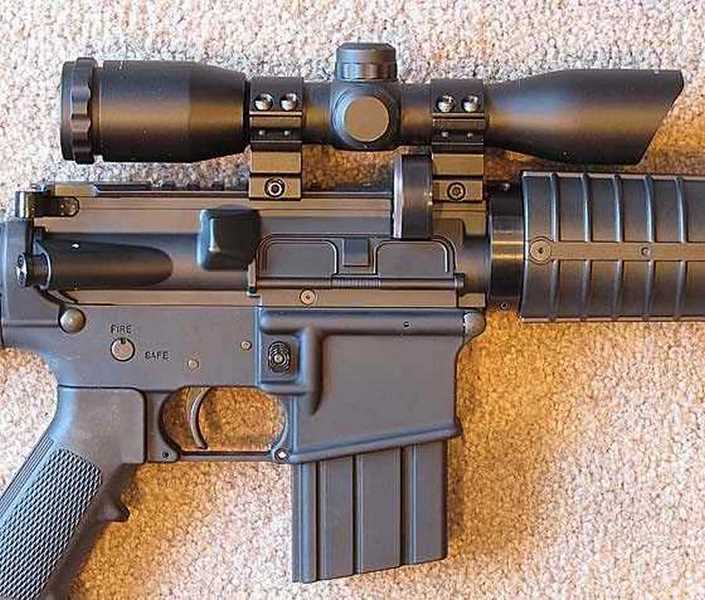 This mini-Leapers scope looks perfect on the MAR. The two-piece rings have to be close to each other because the scope tube is short.
Sight-in
I sighted-in at 12 feet, using my 10-minute sight-in procedure. If you haven't tried this yet, you need to. It took just three rounds to get on target; and although a bit of luck was involved, this sight-in procedure always cuts time from the front-end of my scope tests.
Air Arms Falcon
I used the 7.3-grain Air Arms Falcon pellet to sight in. The scope seemed right on for elevation, but off to the right. I dialed in some left correction and shot again. Almost there, but not quite. One more adjustment put me at 6 o'clock, as far below the aim point as the center of the scope was above the bore axis (approximately). I knew I was safe to back up to 25 yards and start shooting.
The next 7 shots made a group measuring 0.422 inches between the centers of the holes farthest apart. It was an auspicious beginning for the test!

Three shots to get on target, then a great 25-yard, 7-shot group of Air Arms Falcons.
It was also the best group I shot with the Falcons. The other two opened up to over three-quarters on an inch, so although they made a good first impression, Falcons were not the best domed pellet in the rifle I'm testing.
JSB Exact 8.4-grains
I also tried JSB Exact 8.4-grain domes. They put 9 pellets into 0.495 inches, but threw the tenth shot low and right, opening the group to 1.047 inches. I detected no reason for this wild shot, so I'll have to chalk it up to the pellets — maybe.
BSA Wolverine
Next I tried some BSA Wolverines. This is yet another JSB dome that sometimes out-performs anything else. But in the MAR, they were just satisfactory, putting 10 into 0.642 inches.
JSB Exact RS
Another tantalizing group was made by JSB Exact RS pellets. We've learned over many tests that the RS is one of the best pellets for low- to medium-powered springers, and the MAR177 shoots at the same velocity, so I wondered how well it would do. Nine shots went into 0.474 inches, but the tenth shot opened that to 0.874 inches. It was a second instance in which 9 shots were tight and the tenth was a flier. I cannot say where in the string the wild shots occurred, though, because the scope couldn't see the pellet holes as they were made.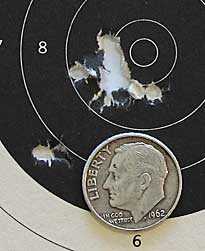 Nine were tight, then a tenth opened the group. JSB Exact RS pellets
H&N Field Target
Next, I tried H&N Field Target domes. A reader recently asked me why I don't try these, as he had good success with them. I responded that I had, and had not experienced the same success; but when I checked my pellets, I discovered that I'd been shooting H&N Field Target Trophy pellets. The Field Target pellet tin was unopened. See what confusion a small name change can make?

Best group of the day was shot with 10 H&N Field Target pellets. It measures just 0.441 inches across.
These 8.5-grain domes gave me the best 10-shot group of the test — a stunning 0.441 inches between centers! This is a pellet I will work into future tests, you can be sure. This also serves to demonstrate that although the scope only magnifies four times, that's good enough.
I was starting to tire from all the concentration, so this was the place to stop. I would say that the MAR177 made a good showing, but also raised some questions.
What comes next?
The performance of the rifle in this test was so intriguing that I want to reshoot the same test, only using the single-shot tray next time. Then I will know for sure whether or not the magazine has any influence over the group size. I've always had reservations about magazines in any rifle, and I really want to see if there's any discernible difference. If there is, I may have to do a lengthy test of magazines vs single-shot operations in PCPs.
The next test that will also offer an opportunity to pit wadcutter target pellets against the best domes at 25 yards. I've always maintained that 25 yards is about the maximum distance at which wadcutter pellets are accurate, and we even shot a segment on the American Airgunner TV show in which we put that to the test. The domes were clearly superior to wadcutters at 35 yards, so this test will be at a closer distance and indoors. It should prove interesting.
by B.B. Pelletier
Announcement: Around 10 or 11pm tonight (12/15/11) Eastern time, the server for all of Airgun Academy (including this blog) will be restarted. Hopefully, it'll be unnoticed and everything will march along just fine. If something does go wrong and everything goes offline for a while, please know that people are working on it.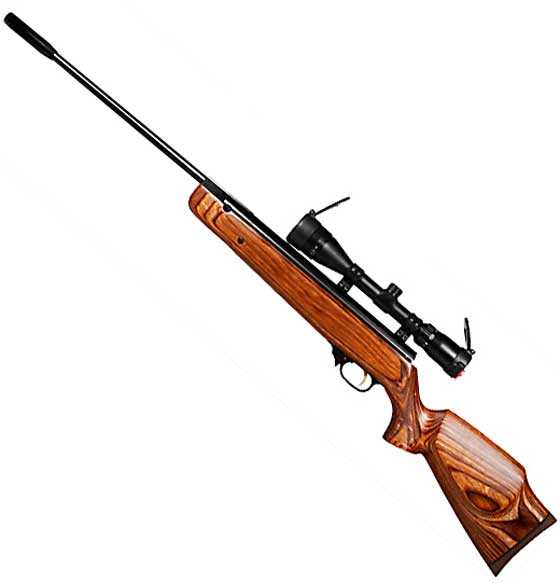 Beeman's RX-2 is a handsome air rifle. The brown laminated stock looks perfect.
Here we go! Today is accuracy day for the .25-caliber Beeman RX-2 Elite series combo air rifle. Before I start shooting groups, though, I thought I would adjust the trigger. In Part 2, blog reader SpringGunner commented that the screw inside the trigger blade is what determines the location of stage two. It's a very small Allen screw, and the one in the test gun is so deep inside its hole that it can't be seen.
I started by turning this screw counter-clockwise about a turn and a half, but all that did was lose the second stage for me. What I ended up with was a single-stage pull with lots of creep and an indeterminate and extremely light release. I came back clockwise on the screw about a third of the way and voila — stage two reappeared! When it did, I made certain that it was positive and repeatable before accepting the adjustment.
The trigger now breaks cleanly at 1 lb., 9 ozs. The second-stage creep is gone, and the trigger is much crisper now. While it's still not quite as good as a Rekord, it is much better than I reported in Part 2. It's more than adequate for hunting and occasional target work.
Sight-in
I noticed at sight-in that the rifle has a lot of barrel droop. Pyramyd Air had shimmed the rear scope mount, but I think I would want to use something like the BKL Drop Compensating mount to get the scope in the center of the adjustment range.
What's in a name
And before I move on, I would like to say something about product naming and why it's so difficult to find things on a website. BKL has named their mounts "drop" compensators, but the most common term among airgunners is "droop." Some people think that spelling or naming a product doesn't matter, but on the internet it matters a lot. When I searched for a BKL mount that compensated for droop, I entered the word droop in the search window and came up with all the drooper mounts except those made by BKL. Then, I happened to remember that BKL uses the term drop instead of droop, and I was able to find all their drooper mounts. [Note from Edith: I fixed it so a search for droop will now bring up the BKL drop-compensating mounts.]
Several years ago, I had an ongoing conversation with Crosman about the use of the term soft air for their airsoft line of guns. We went back and forth for five years about this until one day their VP of sales told me they just liked the term soft air better. So, I challenged him to do a Google search for airsoft and again for soft air. Soft air turned up just over three hundred thousand hits. Airsoft turned in over 15 million! Today they call all their current 6mm guns airsoft.
When the world is looking for something today, it uses an internet search engine. If you don't call your product what everybody else calls it, expect to be excluded from the party. End of sermon.
Back to the RX-2
Sight-in went pretty quickly, and then I up to the 25-yard line. The first pellet to be tried was the Benjamin dome that did so well at 50 yards in the AirForce TalonP pistol test. But in the RX-2 it didn't do as well. I tried a number of different holds, but the results were always the same — an open group. Since this rifle is difficult to cock, I decided to move on to the JSB Exact King.
Success with this new .25-caliber pellet was immediate. Among the four pellets I tested, the Kings were the best. The first group was very tight but had two pellets that went above the main group. I hesitate to call them fliers. They were due to a subtle shift in how I held the rifle, and the second time I knew the shot was going to move from the main group. I didn't know that it would group with the other stray, but I must have repeated the same hold for those two shots.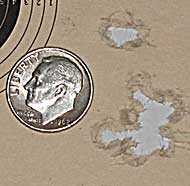 Eight pellets made the lower group that measures 0.563 inches between centers. These .25-caliber pellets make huge holes and the groups appear larger than they are. Notice that the other two shots are also tightly grouped.
This target showed me two very important things about the RX-2. The first was that the huge .25-caliber pellets make big holes in the paper — groups that appear larger than they are.
The second thing I learned is that the RX-2 is very sensitive to hold. It doesn't seem to want to be held as lightly as many other accurate spring rifles. But it does want to be absolutely "dead" weight in your hands. This means stretching the off hand out until the cocking slot is touching your palm. The rifle then sinks into your palm, and that pushes the buttpad back into your shoulder — you can't avoid it. It's a tighter artillery hold than I would normally use, but it works with this rifle.
More pellets tested
Next, I loaded some RWS Superdomes and noted that, of all the pellets I tested, these loaded the easiest. All other pellets were hard to push into the breech, with Benjamin Domes being hardest of all. But Superdomes went in rather easily.
Downrange, however, they scattered everywhere. No matter how I held the rifle, they never went to the same place twice. I was worried that I might shoot out of the pellet trap so I stopped. I think this pellet is better-suited to precharged rifles and not spring-piston guns — at least not the RX-2.
Then, I tried the H&N Baracuda pellet. These required a different hold than the JSB Exact Kings, but they showed some promise. However, as I was attempting to shoot a 10-shot group, I inadvertently held the forearm slightly wrong and blew the group with two shots. I think I got cocky because of the early success and didn't pay as much attention to the hold as I should have. Instead of shooting another group of these, I opted for one more round of JSB Exact Kings, which had already proven quite accurate.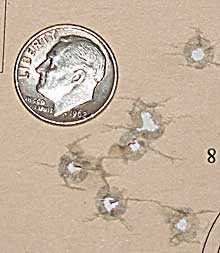 Five H&N Baracudas went into a nice cluster at 25 yards, then a small change of hold sent two pellets elsewhere. I decided to stop shooting this group and move on. The five closest holes measure 0.592 inches between centers.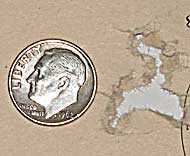 When the hold is applied correctly, the pellets all go to the same place. Group of 10 JSB Exact Kings measures 0.622 inches between centers.
One more pellet you should try with this rifle is the H&N Field Target Trophy. I didn't test them, but several readers mentioned that they are very accurate with this rifle. And, at just over 20 grains, they'll also have good velocity!
Another observation is that the rifle is starting to cock smoother, if not exactly easier. I think the RX-2 might be one of those rifles that needs a good period of break-in, which I have not provided in this test. Certainly from what I read on the internet, the owners of the gun seem to like it a lot and are very faithful to the model. It may even be that breaking it in will show a gain in velocity over the numbers you saw in Part 2.
The bottom line
The Beeman RX-2 is a big spring rifle that has good power. In .25 caliber, it performed better than any .25-caliber spring rifle I've tested recently. Part of that is due to the excellent JSB Exact King pellet, but part must also go to the underlying Weihrauch quality.
The trigger can be adjusted to a nice crisp let-off. Don't just use it as it comes from the box. Read this whole report and don't be afraid to experiment.
I don't know if all RX-2 rifles will droop like this one did, but you'll want to keep it in mind. If you get one that does, there are drooper mounts that will fix the situation.
Lastly, the RX-2 is primarily a hunting air rifle. Buy it in a large caliber (either .22 or .25) but don't think that you'll be able to plink all day. This is a rifle you can leave cocked and on safe as long as you hunt without worrying about the state of the mainspring — and that's the biggest advantage of a gas spring.