by Tom Gaylord
Writing as B.B. Pelletier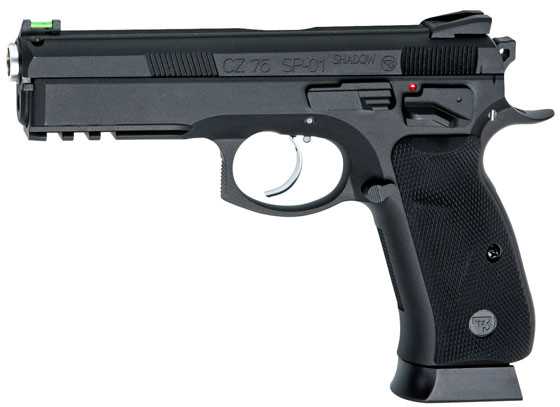 ASG's CZ 75 SP-01 Shadow BB pistol is large and heavy. The guns they are shipping have red fiberoptic sights in front, like those found on the firearm.
This report covers:
Rich history!
So what?
Anywhere?
The BB pistol
Adjustable rear sight
Front sight
Full blowback
Single action and double action
All controls are real
Grips
Summary
I recently started exploring using airguns as stand-ins for certain self-defense firearms. This has now taken a turn, and today I will start reviewing one that I am serious about — the ASG CZ75 SP-01 Shadow BB pistol. I will get to the description in a bit, but before I do, let's first look at the prototype firearm — the CZ75.
Rich history!
There are a few sidearms that stand out from the crowd. The M1911 is one, and the P08 Luger is another. And today's pistol, the CZ75, is right there with them. We start by recognizing that the 9X19mm cartridge that we know better as the 9mm Luger, is the most popular handgun cartridge in today's world. Nearly everything else is compared to it, and most successful semiautomatic pistols are chambered for it. read more