by B.B. Pelletier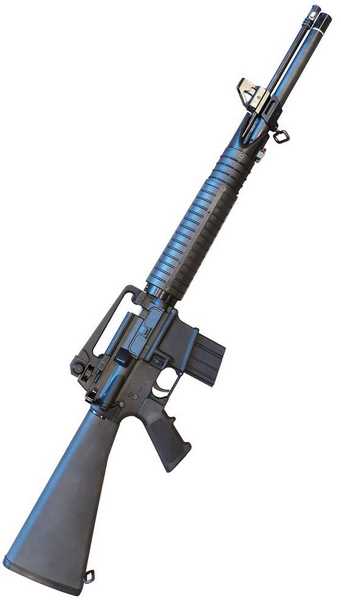 Crosman's new MAR177 upper is big news!
Today, we'll look at the Crosman MAR177 upper shooting domed pellets at 25 yards. I'll be using the 10-shot magazine, so we'll get to see that in action, as well. I'll tell you right now that today was a learning day that spawned another report that's still to come. Read on to learn what it is.
As you know, the Crosman upper receiver is attached to a lower receiver that I built on a Rock River Arms lower receiver shell. I used Rock River parts, and the trigger is an upgraded two-stage National Match trigger, also from Rock River.
National Match?
To the uninitiated, the term National Match sounds like the finest possible precision. Well, it isn't! A National Match trigger in an AR is about like a John Deere tractor — strong and effective, but as far from real precision as it is possible to get and still have a good trigger. My trigger has a light first stage and a crisp release in stage two, but it's not what any target shooter would call precision. The break point is right at 5 lbs. My Trapdoor Springfield, which was made in 1875, has a trigger just as nice. My 1879 Argentine rolling block's trigger is lighter and crisper, now that I have replaced the heavy service-grade trigger return spring. So understand that National Match does not mean the same as precision. You owners of Rekord triggers don't know how good you have it.
The National Match AR trigger is quite a bit better than the single-stage trigger that comes standard on a military or civilian AR, but it isn't a target trigger by any stretch. I tell you that so you'll understand what I had to deal with in this test.
10-shot magazine
The MAR's magazine is the same one that a .177 Benjamin Marauder uses. It's wound under spring tension as it's loaded and advances by spring power as the bolt is worked for each shot. Remember that on the MAR, the bolt is retracted by pulling back on the charging handle — the same as all other ARs.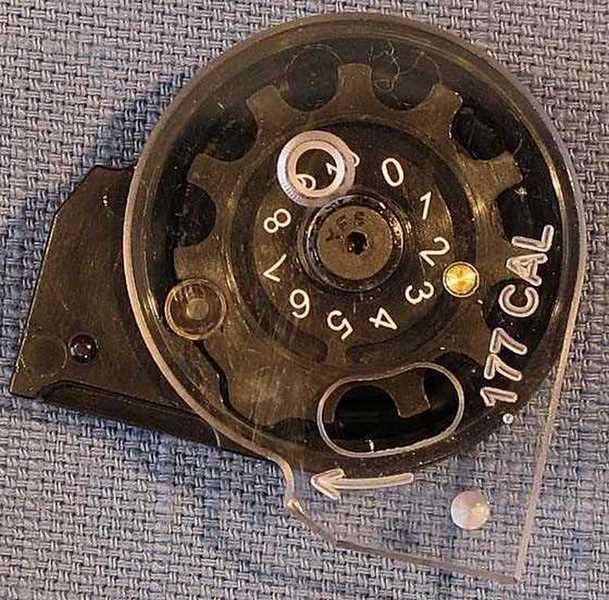 The 10-shot magazine comes from the Benjamin Marauder and is completely reliable, as well as quick and easy to load. Here the last shot is in the magazine, holding it in place. The clear plastic cover is rotated to drop in the other 9 pellets.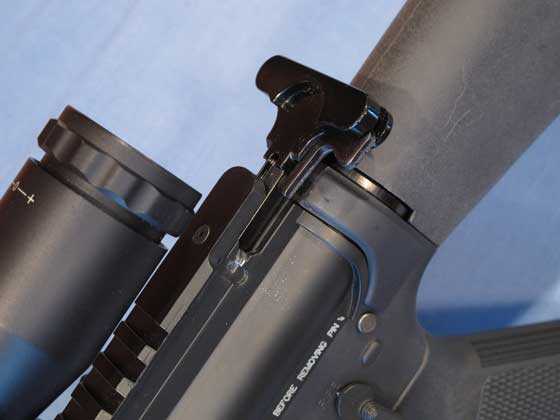 To cock the MAR the charging handle is pulled back.
The mag loads easy once you know the right procedure. A couple of the chambers were tight, so I used a mechanical pencil to push in the pellets. Once they cleared the lips of the tight chambers, they dropped into place easily. There were no feeding problems throughout the test, which entailed about 90 pellets, give or take.
The scope
I mounted a Leapers 4×32 mini scope on the rifle. It's not a scope that Pyramyd Air stocks, but it would be similar to this Leapers scope. You may criticize my choice for some lack of aiming precision; but when you see how good the little scope looks on the rifle, I think you'll understand why I went with it. It allowed me to use medium scope rings and still clear the magazine that stands proud of the receiver top. If I were hunting feral hogs with a 300 AAC Blackout or a .50 Beowulf cartridge, this is the scope I would use. No, it doesn't magnify as much as a good 3-9x scope, so we may have to take that into consideration when we look at these groups.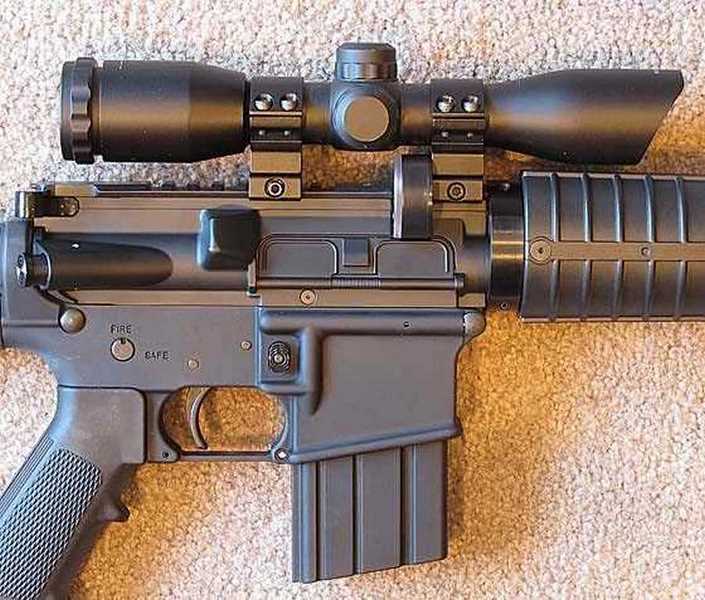 This mini-Leapers scope looks perfect on the MAR. The two-piece rings have to be close to each other because the scope tube is short.
Sight-in
I sighted-in at 12 feet, using my 10-minute sight-in procedure. If you haven't tried this yet, you need to. It took just three rounds to get on target; and although a bit of luck was involved, this sight-in procedure always cuts time from the front-end of my scope tests.
Air Arms Falcon
I used the 7.3-grain Air Arms Falcon pellet to sight in. The scope seemed right on for elevation, but off to the right. I dialed in some left correction and shot again. Almost there, but not quite. One more adjustment put me at 6 o'clock, as far below the aim point as the center of the scope was above the bore axis (approximately). I knew I was safe to back up to 25 yards and start shooting.
The next 7 shots made a group measuring 0.422 inches between the centers of the holes farthest apart. It was an auspicious beginning for the test!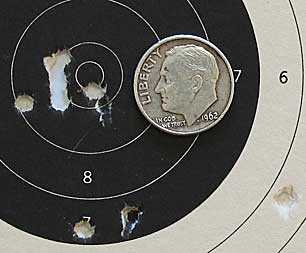 Three shots to get on target, then a great 25-yard, 7-shot group of Air Arms Falcons.
It was also the best group I shot with the Falcons. The other two opened up to over three-quarters on an inch, so although they made a good first impression, Falcons were not the best domed pellet in the rifle I'm testing.
JSB Exact 8.4-grains
I also tried JSB Exact 8.4-grain domes. They put 9 pellets into 0.495 inches, but threw the tenth shot low and right, opening the group to 1.047 inches. I detected no reason for this wild shot, so I'll have to chalk it up to the pellets — maybe.
BSA Wolverine
Next I tried some BSA Wolverines. This is yet another JSB dome that sometimes out-performs anything else. But in the MAR, they were just satisfactory, putting 10 into 0.642 inches.
JSB Exact RS
Another tantalizing group was made by JSB Exact RS pellets. We've learned over many tests that the RS is one of the best pellets for low- to medium-powered springers, and the MAR177 shoots at the same velocity, so I wondered how well it would do. Nine shots went into 0.474 inches, but the tenth shot opened that to 0.874 inches. It was a second instance in which 9 shots were tight and the tenth was a flier. I cannot say where in the string the wild shots occurred, though, because the scope couldn't see the pellet holes as they were made.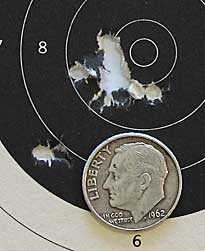 Nine were tight, then a tenth opened the group. JSB Exact RS pellets
H&N Field Target
Next, I tried H&N Field Target domes. A reader recently asked me why I don't try these, as he had good success with them. I responded that I had, and had not experienced the same success; but when I checked my pellets, I discovered that I'd been shooting H&N Field Target Trophy pellets. The Field Target pellet tin was unopened. See what confusion a small name change can make?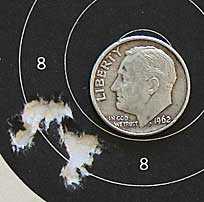 Best group of the day was shot with 10 H&N Field Target pellets. It measures just 0.441 inches across.
These 8.5-grain domes gave me the best 10-shot group of the test — a stunning 0.441 inches between centers! This is a pellet I will work into future tests, you can be sure. This also serves to demonstrate that although the scope only magnifies four times, that's good enough.
I was starting to tire from all the concentration, so this was the place to stop. I would say that the MAR177 made a good showing, but also raised some questions.
What comes next?
The performance of the rifle in this test was so intriguing that I want to reshoot the same test, only using the single-shot tray next time. Then I will know for sure whether or not the magazine has any influence over the group size. I've always had reservations about magazines in any rifle, and I really want to see if there's any discernible difference. If there is, I may have to do a lengthy test of magazines vs single-shot operations in PCPs.
The next test that will also offer an opportunity to pit wadcutter target pellets against the best domes at 25 yards. I've always maintained that 25 yards is about the maximum distance at which wadcutter pellets are accurate, and we even shot a segment on the American Airgunner TV show in which we put that to the test. The domes were clearly superior to wadcutters at 35 yards, so this test will be at a closer distance and indoors. It should prove interesting.