by Tom Gaylord
Writing as B.B. Pelletier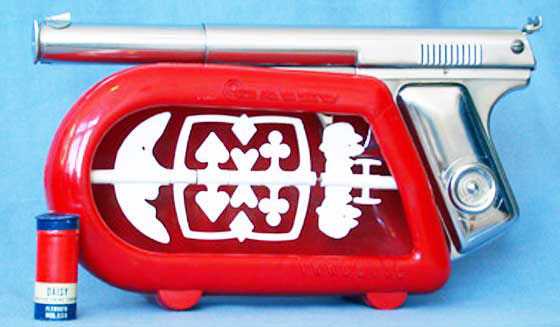 Daisy Targeteer shooting gallery.
This report covers:
Velocity
Ebay comes through!li>
Target
The test
First 10 shots
What about Daisy steel shot?
Bottom line
Today is accuracy day for the old Daisy Targeteer I'm testing. In Part two I showed you how I solved the feeding problem and got my pistol back to operational condition, though "operational" is a stretch. It's weak and there is nothing that can be done about it. Today I will show you how I made a target to test the accuracy of the Targeteer.
Velocity
This is just a reminder of what we are dealing with. I have to shoot either original Daisy steel BBs, which are collectable in their own right, or number 6 birdshot. The birdshot is easy enough to get, but it has to be sorted by dropping it through the shot tube. If you don't you'll get one stuck and have to deal with it. The Daisy BBs go about 120 f.p.s. and the birdshot goes about 105 f.p.s., so neither one is powerful enough to go through a paper target. I will address that in a moment, but first let me tell you what I did about the shot. read more