Posts Tagged 'Crosman Premier pellets'
by Tom Gaylord, a.k.a. B.B. Pelletier
This report covers:
• Lots of interest
• Mounted the scope
• The scope
• Initial accuracy
• Examine the baffles
• Back to Premiers
• Conventional artillery hold not right
• Found the secret
• Cocking effort
• Trigger
• Firing behavior
• Summary
Today is like one of those pregnant pauses in a movie. You know what you want the hero (that's either me or the Benjamin Trail Nitro Piston 2) to say, but he just won't say it. The poorer the actor, the longer you wait. Not today.
The Benjamin Trail Nitro Piston 2 works!
Oh, there's a lot to tell, and I'm far from finished with my evaluation, but that's how the story will end. I want to tell you about the rough and rocky road it took to get to that point — and we aren't quite there yet.
Mounted the scope
I'm going to start shooting for accuracy, so first I mounted the 3-9X32 CenterPoint scope on the rifle. Mounting was easy, and the scope aligned very well. Then, it was time to sight in the rifle. I always start at 12 feet from the target, so I know I'm on paper. I would start at 10 feet, but I have a door jamb at 12 feet, so there you go. The object is to get the pellet to hit in line with the center of the target and as far below the aim point as the center of the bore is below the center of the scope.
It took 3 shots to adjust the scope to the point that I knew the rifle would be close at 10 meters. Next, I set up a bench at 10 meters and proceeded to shoot several more shots — refining the zero. At 10 meters, I want to hit one inch below the aim point so the pellet will be on target at 20 yards. I'm going to shoot from 25 yards today; but as fast as this rifle shoots, it will be on the aim point between 20 and 30 yards, approximately, if I sight-in this way.
A couple more shots, and I was sighted-in. I went back to 25 yards and started shooting seriously.
The scope
Before we move on, I'll comment on the scope. While it does have clear optics, the parallax isn't adjusted for 25 yards; so, on 9x the bull was out of focus. One reader asked me for my observation and there it is. I think a scope for a rifle like this should have its parallax adjusted for 20-25 yards if the scope is going to have fixed parallax.
Initial accuracy
I began shooting with .22-caliber Crosman Premiers, as those are the pellets I felt might do the best in this rifle. The first couple shots went to my exact aim point, then they started dropping several inches below. I ended up with a nice group of 6 shots about 2 inches below the aim point and 4 more shots that ranged up to the aim point. All in all, not a very good group. I switched pellets.
I tried JSB Exact Jumbos next; but when the first 3 shots went into 1.50 inches, I stopped shooting. Next were Beeman Kodiak pellets. By shot 3, the group was already larger than an inch and a half, so I stopped. Finally, I tried some RWS Superdomes, and this time I stuck it out for 6 shots. They landed in 2-1/4 inches, and that stopped the whole show. Something was wrong!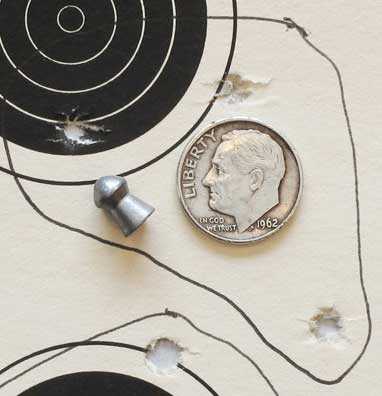 Three Beeman Kodiaks made this group that's larger than 1.50 inches. The shot at the bottom center is from another pellet shot at a different target.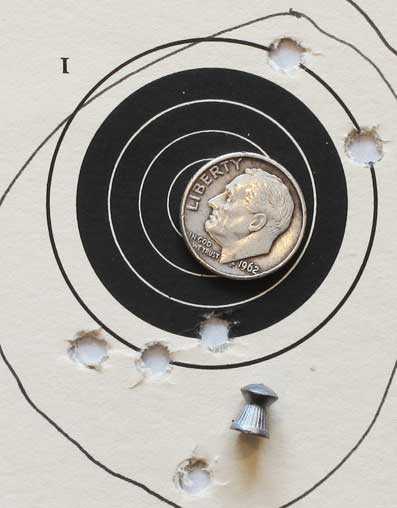 Six RWS Superdomes landed in 2-1/4 inches. Something was wrong!
Examine the baffles
Whenever I get wild or open groups like these from a gun that has baffles, I suspect the pellets are hitting the baffles or the end cap as they leave the gun. So, I shined a strong light down the muzzle and looked around all the baffles — looking for places where a pellet might have ripped off some of the plastic or left a gray streak. On aluminum baffles, a gray streak is what to look for, but these baffles are plastic, so I thought they might have been cut slightly.
But they looked perfect. They were completely round and there were no marks of any kind. I could see all the way down to the true muzzle of the gun, so I looked at the crown, to see if it was rough or out of round. And that's when I saw it. Or, rather, I didn't see it. I was unable to see the whole muzzle! Part of it was obscured by the last baffle! It was not in line with the bore!
The baffles are one cast piece of synthetic, and they're separate from the shroud tube. I showed them to you in Part 1. They have rubber o-rings on each end of the baffle tube to center the baffles inside the shroud tube. But here's the rub. The baffles, and not the shroud tube itself, thread onto the end of the barrel. The baffle tube has an end cap that holds tension against the shroud tube. Once the baffles are tight, everything is tight; but it's still possible for the shroud tube to rotate. If that happens, it's possible for the baffles to be misaligned with the muzzle of the barrel — or at least it is on my test rifle! All I had to do was rotate the shroud tube about 90 degrees, and then I could see the entire muzzle! It was time to shoot another group.
Back to Premiers
I went back to Crosman Premiers now that the muzzle was clear. The inside of the baffle tube looks like it has more than enough room for even a .25-caliber pellet to pass through without touching, so I figured it would be okay. This time, I shot a much better group of 10, with 8 pellets in 0.915 inches. The last 2 pellets opened the group to 1.748 inches, and they just looked wrong as I watched them fly to a different spot through the scope. Something was wrong, but I didn't think it was the pellets.

This first 10-shot group of Crosman Premiers has 8 shots within 0.915 inches, and 2 that open the group to 1.748 inches. Something isn't right.
Conventional artillery hold not right
I switched to H&N Field Target Trophy pellets. This time, they all landed in a nice 1.1357-inch group until the final 2 shots opened it to 1.704 inches. Clearly, something still wasn't right, but I didn't know what it was. However, I was starting to suspect that the conventional artillery hold isn't right for the NP2.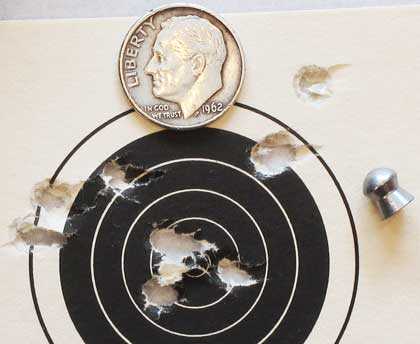 Ten H&N Field Target Trophy pellets went into 1.704 inches, with 8 of them going into a much smaller 1.135 inches. That's still not great, but it's more uniform.
I tried both Kodiaks and Superdomes, again — this time with the rifle rested directly on the sandbag. The results were about what you would expect when resting any breakbarrel springer directly on a bag — 3 shots scattering wide in 2-1/2- to 3-inch groups. Obviously, that's the wrong thing to do!
I found the secret
I shot another 10-shot group of Premiers and experimented with the hold as I shot. When I firmly held the pistol grip, the group tightened up. When I relaxed in a traditional artillery hold, the shots went wild. The group looks bad at 2.508 inches overall, but 7 of those shots are in 1.042 inches and 5 are in 0.802 inches.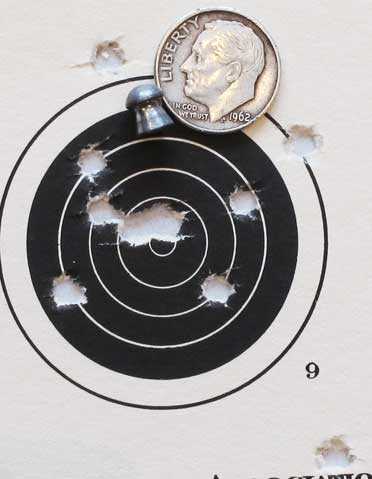 This group taught me what I needed to know. Hold the gun tight, and it groups. Hold it loose, and it scatters pellets everywhere.
Next, I shot another 10-shot group of Premiers, With the pistol grip held tight, 10 shots went into 1.207 inches, with 9 going into 0.835 inches. Eight shots went into 0.514 inches. It's not a smaller group overall, but there are more shots in the main group. I'm learning how to hold the rifle.

Now, we're cooking! 10 shots in 1.207 inches, 9 in 0.835 inches and 8 in 0.514 inches! This shows promise!
That was followed by another 10-shot group of Premiers. This time, 10 went into 1.178 inches, and 8 were in 0.721 inches. I was definitely learning how the NP2 wants to be held.

Ten in 1.178 inches, and 8 in 0.721 inches. I am getting to know the NP2.
Cocking effort
I said in Part 1 that the effort to cock the rifle was heavier than I remembered from the SHOT Show, and in Part 2 I gave the effort as 38 lbs. as measured on my bathroom scale. I also said in Part 2 that the rifle seemed to get easier as I tested the velocity, but testing it on the scale once more didn't bear that out. Well, after today's shooting, which added more than 70 shots to what was already on the gun, the cocking effort has dropped to 32 lbs. The rifle is getting into the area where it's worth taking notice! Do you remember that I said it probably needs to be broken in? I may have proven that in this test, but I need to test the velocity, again, just to show that lighter cocking doesn't also mean a loss of velocity.
After over 70 shots, I found myself tiring from the session, so I stopped; but the rifle didn't seem that hard to cock. This is a surprising and happy revelation.
Trigger
As I was shooting targets today, I found the trigger very heavy. I'll try to adjust it lighter next time. It's still smooth and crisp.
Firing behavior
The gun still shoots dead calm without vibration, but the two-way recoil is very noticeable. I had to tighten the ring caps after the scope slipped 3/8 inch from recoil in the first 15 shots. That was my fault for not tightening the screws enough to begin with.
Summary
These groups are not what I had hoped for, but they do show that there's a right way to hold the gun. I don't think I have that hold perfected, yet, but I'm closer than when I began. I actually believe the NP2 is capable of much better groups than those you see today because there are smaller groups that look wonderful in each of the final groups.
Crosman said they were able to get one-hole groups at 35 yards. I'm not there yet, but I'm certainly able to put 5 out of 10 into a single hole at 25 yards. Next time, I'll shoot only Premiers and will begin the test knowing how to hold the rifle. It should get better from there.
by Tom Gaylord, a.k.a. B.B. Pelletier
This report covers:
• Lots of interest
• Crosman's quality inspection
• Velocity testing
• Cocking effort
• Trigger pull. and adjustment
• Firing behavior
• Quiet
• Evaluation so far
There has been a lot of talk about the new Benjamin Trail Nitro Piston 2 since it showed up three weeks ago. Some of that talk has been critical of certain faults. And some of it has been the pile-on of people who just wait to say bad things about a company.
After the first part of this report went live, I received the following email from Jennifer Lambert — Crosman's vice-president of marketing.
"Tom, I have been reading and appreciating your reviews, the comments, and debate on NP2.  I just wanted to write and clarify some of your comments around the origin of NP2. In your review you imply that the NP2 guns are not made here and that is not accurate.
While it is true that we use a mix of domestically made and imported components in the gun, I can assure you that every gun is built and quality tested right here in the U.S. in our Bloomfield factory. I will snap and send you some photos of the line and would be happy to take you on a tour and personally introduce you to some of the workers on it. And as sales of the Trail ramp up and we bring out more new guns in the NP2 platform, the number of jobs based here will continue to grow
If you have any questions or would like to discuss further please let me know, and keep the analysis coming."


This is the wording that lead me to make my comment in Part 1.
I told Jennifer I would restate my initial report. You can see the wording on the side of the gun. When something is worded like that rather than saying Made in the U.S.A., it draws attention to itself. We know that the parts can be manufactured outside the U.S., then brought in and assembled here. Many airguns are made that way, and I was pointing out that apparently this is one of them. However, after rereading what I said in Part 1, I see that I did go over the line.
I stand by my statement that the phrasing on the rifle means that some of the parts are sourced from outside the U.S. I did not mean to imply that the NP2 was assembled in another country. If I gave that impression, then I want to set the record straight. I do believe that the NP2 rifle is being assembled in the U.S. from parts and assemblies that are sourced from a variety of places — some of which are in this country and others that are not.
Crosman's quality inspection
What Jennifer told me that I did not know was that Crosman does a quality inspection after assembly on each gun in their plant. I remember when they were launching the very successful Benjamin Discovery in 2007, Ed Schultz set up an assembly line in their New York plant that included a 24-hour pressure test for every gun they built. He said he did that until he was certain they were sealing the guns perfectly.
No company can afford to spend that much time on every airgun they make — it would break them. But when you're launching a brand new product that has the potential for huge sales and represents an important step forward for the company, you take such measures.
We did the same thing at AirForce Airguns when we launched the new Condor in 2004. I personally tested and recorded the velocity of the first 100 rifles until we were certain that what we produced would always exceed the performance parameters we advertised for the gun. When you're betting the farm on something, you take extraordinary steps to ensure your bet is a safe one!
Velocity testing
The first pellet I tested in the NP2 was the .22-caliber Crosman Premier, a medium-weight pellet. Ten shots averaged 793 f.p.s. with a spread from 767 to 807 f.p.s. So, a spread of 40 f.p.s. At the average velocity, this pellet produces 19.97 foot-pounds of energy at the muzzle.
The second pellet I tested was the JSB Exact RS dome. Since it weighs 13.43 grains, you'd expect it to go faster than the 14.3-grain Premiers; but these pellets averaged 752 f.p.s. in the NP2. The spread went from 741 to 764 f.p.s., so 23 f.p.s. At the average velocity, these pellets generate 16.87 foot-pounds of muzzle energy.
The third pellet I tested was Crosman's own SSP lead-free alloy pellet. At 9.5 grains weight, these are the pellets you'd expect to go the fastest. Crosman advertises 1100 to 1200 f.p.s. with alloy pellets for this rifle, depending on where you look. [Note: The box states 950 f.p.s. with lead, 1100 f.p.s. with alloy pellets. The Crosman website states 900 f.p.s. with lead, 1200 f.p.s. with alloy pellets.] In the test rifle, they averaged 949 f.p.s. and spread from 939 to 964 f.p.s. A 25 f.p.s. spread. At the average velocity, this pellet produces 19 foot-pounds of energy at the muzzle.
I know there will be a cry of "foul" on these numbers because of the advertised velocity, but in my opinion, this is exactly where I want this rifle to be. If it shoots this fast and is also accurate, the NP2 is definitely worth consideration. I'm on record as saying the same thing about the Walther LGV Challenger when I tested it back in 2013, so at least I'm consistent.
Cocking effort
I measured the cocking effort after publishing Part 1 and found it to be 38 lbs. But during this velocity test, it seemed like I was growing stronger. So I measured the effort again, and it still measures 38 lbs. What's different now is much of the cocking friction has gone from the stroke. It actually does feel lighter now than it did before.
How does that compare to other gas-spring rifles? The powerful ones cock with between 40 and 60 lbs. of force, so the NP2 is definitely on the lighter side. To put it into perspective, it cocks about like a Beeman R1 after break-in.
Trigger-pull
I said in Part 1 that the trigger-pull was creepy. So, I adjusted the single screw located behind the trigger. I unscrewed it about 2 full turns and the trigger became exactly like the one I tested at the SHOT Show. It now has a long first-stage pull that measures 3 lbs., 4 oz., then a crisp second stage that releases at 4 lbs., 4 oz. You can take up the first stage and just wait at stage 2 until you're ready to fire. Then, just one pound more fires the gun. I really like this trigger!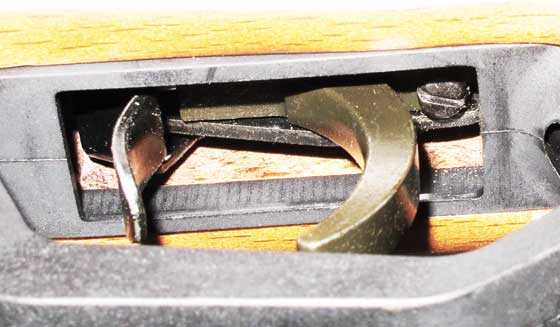 Turn the screw behind the trigger blade counterclockwise, and the first stage gets longer, while stage two becomes crisper.
Firing behavior
Experienced airgunners won't believe how smooth this rifle is. The pulse of the shot is strong (a strong two-way push), but there's no vibration. It's dead smooth! You would pay hundreds of dollars to get a coiled spring gun this smooth.
Quiet!
The test NP2 is very quiet! The shooter hears the noise through the stock against his face, but a bystander hears a much lower discharge sound. During velocity testing, I was also assaulted by the instant hit of the pellet in the trap in front of me. I suspect that when I shoot for accuracy, I'll get a better feeling for the sound.
Evaluation so far
I'm no longer at the SHOT Show. I'm in my office where I can control the testing and the evaluation. People are not telling me things — I'm finding them out on my own. And the Nitro Piston 2 I have is testing very well.
Sure you can make a big deal out of the velocity being lower than advertised. But I never wanted that advertised velocity to begin with. I wanted what this gun has — solid numbers in the 750-800s with practical .22-caliber lead pellets that I'll probably use.
The firing behavior and trigger are exactly as they were at SHOT, which is to say stunning for a gas-spring rifle of this power. Although the cocking effort measures higher than expected, it isn't bad for a spring rifle that shoots this fast.
Yes, there have been some quality problems in the first batch of guns that went out. There were cracks in some plastic parts and some scope bases fell off the guns. If that happened to you, you have every right to be angry; but the rest of the public should know that Crosman is doing something about it. Everyone who experienced a problem with their rifle will be taken care of by Crosman, and you can be sure that they're refining their in-house quality assurance program to correct future shipments. They want the NP2 to succeed because of how important it is to their business.
I want it to succeed for my own reasons. This is a $250 air rifle, and there aren't many of them around that have what this rifle has. We need a good gun in this price range, and I'm hoping the NP2 is it.
What remains to be seen is the accuracy. If this rifle is accurate, I will buy the one I'm testing because this is too important an airgun for me not to own.
by Tom Gaylord, a.k.a. B.B. Pelletier


The UTG stock is attached to the Croswman 2240 with the adapter and extended as far as it will go.
This report addresses:
• Crosman 2240 pistol is accurate!
• Sight-in reveals a tip!
• Accuracy testing
• Summary
Today, I get to shoot the Crosman 2240 air pistol as a carbine. Thanks to the adapter from R. Arms Innovations and the adjustable UTG 6-position Mil Spec AR stock, my 2240 is now a handy carbine. Allow me to explain why that's such a good thing.
2240 is accurate!
Many years ago, when I knew much more than I do now, I wrote an article for Shotgun News about some vintage air pistols — specifically the Crosman Mark I Target pistol and the Smith & Wesson 78G. Both vintage air pistols have superb handling and light, crisp triggers, not to mention their fine adjustable sights. I was writing about how the golden age of target air pistols had ended 30 years earlier, and I included a Crosman 2240 pistol in the article, just for comparison. You know — so people could see how far things had slipped over time. Imagine my chagrin to see the 2240 turn in the best results of the test, despite having a much cruder trigger and sights that were as simple as a door latch. I wrote the article that way, admitting my surprise that the current gun bested the two golden oldies, despite lacking all of their sophistication.
Sometimes, I think of myself as the Charlie Chaplin of writers. I'm always doing things my readers know will explode in my face, and I guess it's funny to watch — or, in this case, read. Anyhow, the Crosman 2240 rubbed my nose in it real good that time!
We now have a chance to let the 2240 sprint like the thoroughbred that it is. The peep sight that comes on the pistol could not be used when it was a pistol; but with this adjustable stock attached, it can now come into play.
One more thing I learned in today's test. I thought I had the stock adjusted perfectly when we began. It was set up for the Benjamin Marauder pistol that has a scope mounted on it, and what I didn't consider when switching over to the 2240 was how far my eye would be from the peep hole. Fortunately, the UTG stock adjusted one more click in, and then the peep sight was in the right place. That's why an adjustable shoulder stock is better than a stock of fixed length when you're trying different air pistols like I am.
Sight-in
One reason you read this blog is the occasional tip you get. Well, today's the day! The 2240 uses a standard rear sight that has a peephole on the same plate as the notch. Simply flip the plate over (you have to take it off the sight to do this), and the peep is available. It isn't a precision target aperture, but neither is the peep sight on a Garand, M1 Carbine or M16, for that matter.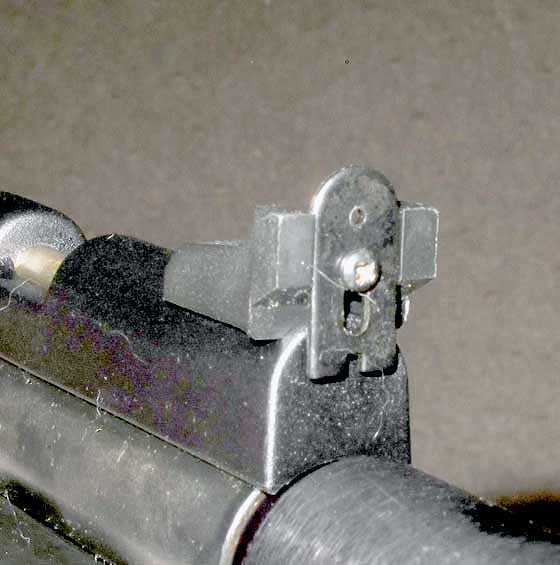 The rear sight has both a notch and a peep hole. They adjust in both directions, but the adjustments are somewhat crude. Loosen the screw and slide the plate up and down for elevation. For windage, the entire sight slides a little side-to-side.
You adjust elevation by sliding the peephole up and down — always moving in the direction you want the shot to move. There is also some sideways adjustment by sliding the whole rear sight side-to-side, but it's not much. On my gun, it didn't go far enough. This is where the tip comes in!
If you can't move the rear sight, maybe you can move the front, but on the 2240 the front sight is fixed. Ahh…but the barrel isn't fixed! So, you move the barrel instead of the front sight. Two Allen screws on the forward barrel band (one on top, the other on the bottom) are loosened, and the barrel is pushed from side to side. But there's a catch.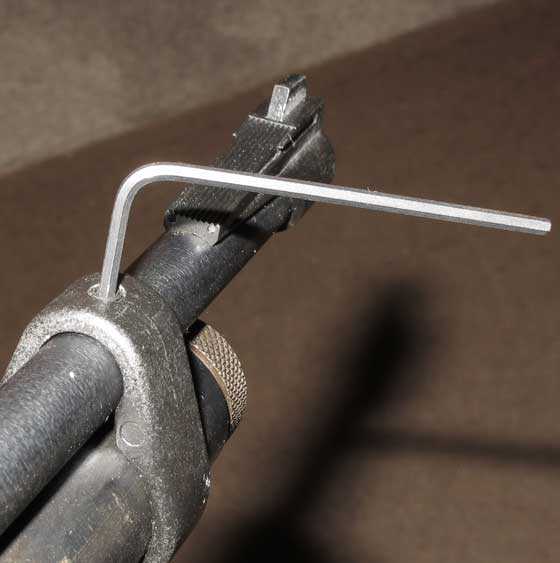 Allen screws at the top and bottom of the barrel band are loosened, and the barrel's pushed in the direction you want the pellet to move.
While you always move a front sight in the opposite direction you want the pellet to go, when it's the entire barrel that's moving, that gets reversed. Move the muzzle in the direction you want the pellet to move.
It took me 6 shots to get in the bull at 12 feet, then the sights (and the barrel band) were locked down. I moved back to 10 meters and started shooting. A confirmation shot was close to the center of the bull, so the sight-in went perfectly.
Accuracy testing
The first pellet I tried was the 14.3-grain Crosman Premier. As I was shooting the group, I could see that all the pellets were hitting inside the small bullseye. But after shot 6, the hole they were making became large enough to see from 10 meters. I know that 0.84 inches for 10 shots at 10 meters doesn't sound very good, but it looks better when you see the hole!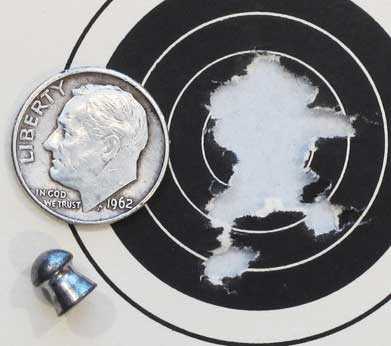 Ten Premiers went into this 0.84-inch group at 10 meters. The number is large, but the group looks good.
Next, I tried some RWS Hobbys. They usually do well in guns like the 2240; and on this day, they didn't disappoint. The first 8 went into a group that measures 0.462 inches between centers, but then the gas pressure started to drop. I could hear it happening, but I continued shooting. Shots 9 and 10 dropped below the main group, opening it to 1.043 inches. If only I'd stopped when my gut instincts told me!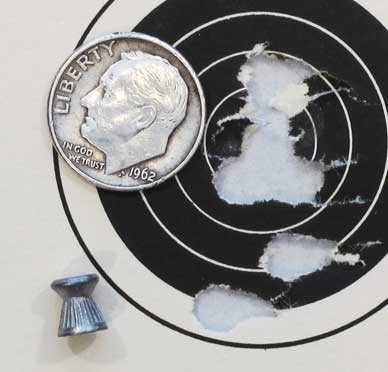 Eight Hobbys went into the main group that measures 0.462 inches. The final 2 pellets dropped below and opened the group to 1.043 inches.
This group made me mad because I knew that my 2240 uses CO2 pretty fast. In fact, I debated shooting the second 10-shot group because sight-in and confirmation had already used up 7 shots. I knew my gun had 25 shots on full power. I guess I just tried to scrape by, and this is what happened.
So, I changed the CO2 cartridge and started again. This time, I shot JSB Exact RS pellets, that I expected to do the best of all. And I think they did. Nine of 10 shots went into 0.497 inches, and one shot strayed to the left, opening the group to 0.698 inches. I don't actually know which of the 10 shots is off to the left because I never called it.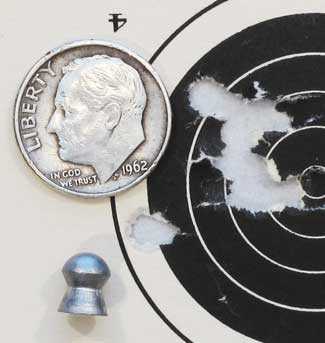 Nine JSB Exact RS pellets went into 0.497 inches, and that one on the left opened it to 0.698 inches. It's still the best group of this test!
Summary
The R.A.I. adapter and UTG 6-position adjustable stock were made for the Crosman 2240. I love this little air pistol, and these accessories turn it into a handy carbine. The sights are crude; but as these groups demonstrate, you don't need target sights to do a good job.
No, I'm not going to shoot this gun at 25 yards. Sure it can do it; and yes, the groups will all be larger. With a gun like this, 10 meters seems like a comfortable distance to me.
If you enjoy the 2240, and I know there are many who do, perhaps this adapter and stock are something you should consider. If you own several Crosman air pistols and have other family members who like to shoot, I think this adapter and stock are almost required.
by Tom Gaylord, a.k.a. B.B. Pelletier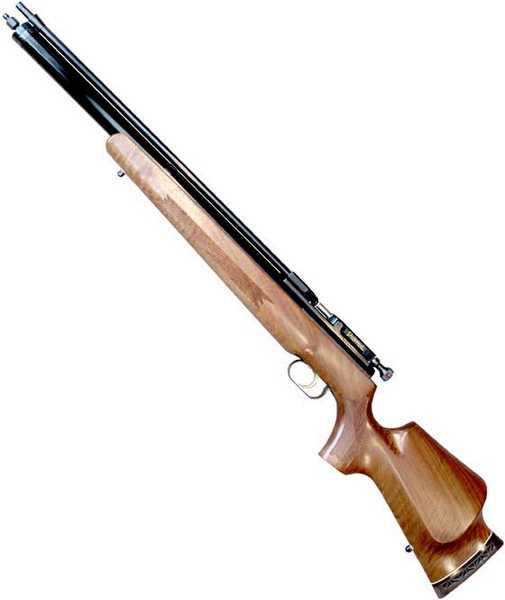 Air Arms Shamal is an attractive PCP. It was Air Arms' first precharged rifle.
This report covers:
• Trigger adjustments.
• Discovering the maximum fill pressure.
• Shot count.
• Velocity with various pellets.
• Discharge noise.
• Loading.
In this report, we'll discover the Shamal's pressure curve, which will be instructional for all who are new to precharged airguns. As I mentioned in the first report, this rifle didn't come with a manual; so when I got it, I had to discover the pressure curve on my own. I did, and it turned out the rifle wanted an initial fill pressure of 2,600 psi. That was on the gauge that was on the fill device that came with the rifle — the device that I no longer have. I need to find out where on the gauge of my carbon fiber tank the needle wants to be when the rifle is full. These small pressure gauges are not that precise, so the number could be off by several hundred psi. Also, the gauge on my carbon fiber tank isn't marked in hundreds of psi. There will need to be some interpolation involved.
More than a decade has passed since this rifle was mine. I'm not sure where it's performing today. So in all respects, this is a brand new air rifle to me. That will benefit you if you want to look over my shoulder while I do what needs to be done.
Trigger adjustments
Before I get into that, however, I first want to address the adjustable trigger. Shamals haven't been around for a long time and there isn't that much written about them. I want this report to serve as an owner's manual for all who get one in the future.
The Shamal came with two different triggers — a standard one that my rifle has and an Olympic trigger that sounds more adjustable, but which I know nothing about. My trigger has 4 adjustment screws. From the back to the front (holding the rifle on your shoulder) they are:
1. The sear engagement (clockwise to reduce).
2. The first-stage travel (clockwise to reduce).
3. The first-stage weight (clockwise to increase).
and in front of the trigger:
4. The second-stage weight (clockwise to increase).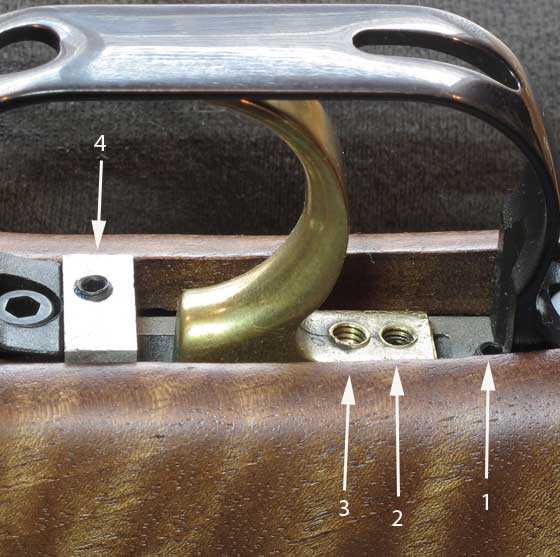 Trigger-adjustment screws: (1) Sear engagement, (2) first-stage travel, (3) first-stage weight and (4) second-stage weight.
When I tested the trigger with my electronic gauge, the firs-stage weighs just under 6 oz., and the let-off was between 12 and 14 oz. The first stage is long, which I like, and the release is as light as I like a trigger to be, so I'm satisfied with this trigger as it stands.
Discovering the max fill pressure
This is something that has to be done whenever a new gauge is used. I had data from previous tests that told me the fill pressure should be 2600 psi, so I filled from my carbon fiber tank to 2750 psi. That gave me the following velocities with the same 14.3-grain Crosman Premiers I used over a decade ago.
Shot Vel.
1     742
2    740
3    748
4    744
5    745
6    746
7    757
8    754
9    748
10   763
11   774
12  775
13   770
14   771
15   —-
16   772
17   —-
18   782
19   782
20   790
21   780
22   801
23   791
24   804
25   806*
26   793
27   800
28   799
29   801
30   —-
31   —-
32   782
33   788
34   778
35   775
36   775
37   769
*Fastest shot
The fill pressure at the end of this string was 1500 psi. This string tells me almost everything I want to know about this rifle. First, the fill pressure I used was way too high. I'll fill the gun again to a much lower pressure and see where that gets me.
Shot count
Next, there are just under 20 good shots on a fill — down from what I thought so many years ago. I like the velocity that runs from 780 to 806 — a spread of 26 f.p.s. Looking at the curve for Premiers, I should start with shot 18, although the shot before that didn't record, so I can't be certain whether it was any good or not.
If I end the string at shot 34, I'll get 17 full-power shots close to my desired range. What should the starting air pressure be? That's solved easily.
I'll guess that 2350 psi is the start point. I filled the rifle to that pressure and got the following results.
Shot Vel.
1     773
2     770
3     774
4     781
Okay, as the pressure inside the gun has decreased with each shot, the velocity has increased. The last shot was 781 fps, which is as low as I want the velocity to go on the power curve I'm willing to accept. The gun's reservoir pressure has now dropped to the maximum pressure that will give me a velocity on my desired power curve (781 fps).
The velocity of 781 is at the bottom of the power curve that I have identified for this rifle. Since my last shot was 781, the rifle is now on the power curve. The pressure in the reservoir is now at the highest it can be and still give me the velocity I want. From this point on, as the rifle's reservoir pressure drops, the velocity will either increase or remain stable. As long as it's at 780 fps or higher, the rifle is on the power curve I'm looking for.
Now I can find the ideal starting fill pressure for my desired velocity range. All I have to do is start to fill the airgun, again. When the needle stops moving fast, indicating the fill hose is full and the gun's intake valve has just opened, I stop the fill by closing the tank's valve and look at the needle. The needle is pointing at the air pressure that is in the gun's reservoir. I can see on the gauge that this rifle likes a starting fill pressure of 2250 psi!
To confirm that I'm right, I fired one more shot with Premiers. It went 781 f.p.s. Bingo! I'm right at the start of the power curve, with at least 16 more good shots in the reservoir.
I also discovered that the rifle performs very much the same as it did long ago. I'm using a different chronograph, yet the velocities from the late 1990s and today are within a few f.p.s. of one another.
The power curve I've accepted gives me an average velocity of 792 f.p.s., which is good for 19.92 foot-pounds of muzzle energy.
Other pellets
I will now test the velocity of other pellets, but I'm not going to shoot long strings and get the averages. I will shoot 2 of each pellet and take the lowest velocity of each pellet as the average for that pellet. While that's not exact, it's far faster than shooting whole strings and averaging. I know I'm on the power band for the next 16 shots; and if I use even fewer than 16 shots (4 pellets x 2 shots each = 8 shots), I can be sure that all of them are on the power band. The power band is the place where the velocity of any pellet will vary the least.
Eun Jin domes
This 28.4-grain Eun Jin dome pellet gave me velocities of 592 and 586 f.p.s. Taking the lower number as the average, I get a muzzle energy of 21.66 foot-pounds.
Beeman Kodiaks
The Beeman Kodiak pellet weighs 21.14 grains and gave me velocities of 683 and 680 f.p.s. That's very close to the "magic" velocity of 671, where the weight of the pellet in grains equals the energy in foot-pounds. Using the low figure of 680 f.p.s., this pellet gave an energy of 21.71 foot pounds at the muzzle.
JSB Exact Jumbo Monsters
Next, I tried JSB Exact Jumbo Monsters — a 25.4-grain pellet. They gave me velocities of 584 and 611 f.p.s. Using the lower number, that's a muzzle energy of 19.24 foot-pounds.
The bottom line is that this Shamal is a 20 foot-pound air rifle as it's operating now. That's what it was when I owned it in the 1990s. So, the rifle hasn't changed, but the gauges have changed and so has my perception of the total number of shots that are available. So, this update was important to the operation.
Discharge noise
I don't know what I was thinking when I reported the Shamal as a quiet air rifle before, but it isn't. It sounds exactly as loud as a .22-caliber Benjamin Discovery running at the same power.
Loading
Someone asked about the loading room at the breech, and on this rifle there's a generous amount. There's no loading trough, so it's easier to get your fingers behind the breech with a pellet. And all pellets load easily because there's no rifling at the breech. Rifling doesn't start until after the air transfer port, which is deep inside the breech. The bolt nose has a long probe that pushes the pellet past the air transfer port and into the rear of the rifling.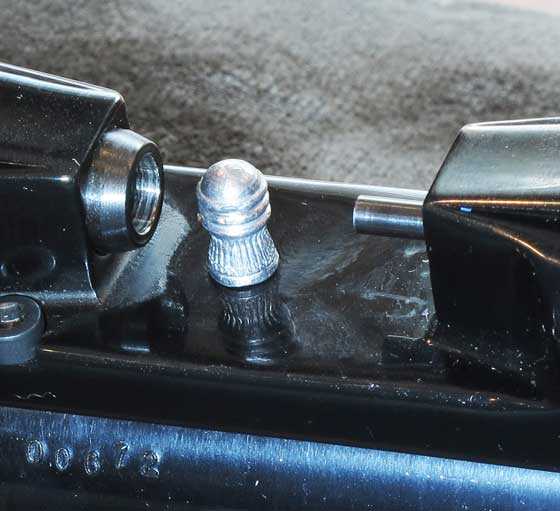 That's a 28-grain Eun Jin standing on the receiver. It's one of the longest .22-caliber pellets around. As you can see, there's plenty of room at the breech.
That's it for this look. Next time I'll scope the rifle and head to the range.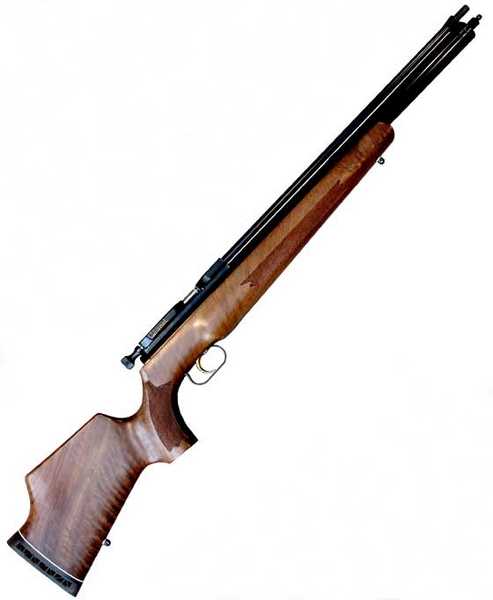 by Tom Gaylord, a.k.a. B.B. Pelletier
Part 1
Part 2
Part 3
Part 4
Part 5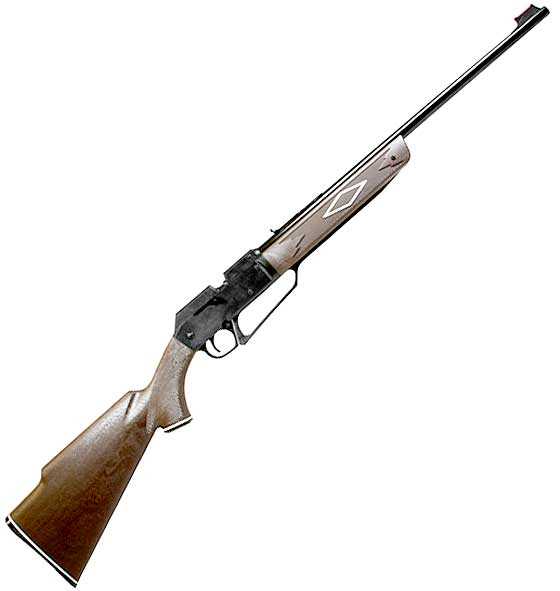 The Daisy 880 multi-pump is a classic.
This report addresses:
• Mounting the scope.
• Sighting in.
• Accuracy testing.
• Loading problems.
• Summary.
Today, we'll look at the accuracy of the Daisy 880S at 25 yards. As you may recall, Daisy sent this rifle to me to test after I had problems with the velocity of my old Daisy 880, and also with a brand-new one that Pyramyd Air supplied. We tested the velocity of this rifle in Part 4, and it was right where it should be, so we moved on to accuracy 10 meters. That was in Part 5. I showed you the targets Daisy sent, and then targets I shot. I managed to do a little better than Daisy, but on the whole my best targets were comparable to what they sent.
The rifle they sent is an 880S that has a 4X15 scope and rings included. I thought it was identical to the 880, but a sharp reader pointed out the 880S rifle doesn't have fiberoptic sights. If you want plain sights, this is the model to get. And the first step for today's test was to mount the scope.
Mounting the scope
I've had other scopes that were difficult to mount, but this one ranks right there with the worst of them! The small, thin clamping jaws gave me fits when I tried to attach them to the scope rail. It took me 15 minutes of repeated tries to get the scope to clamp to the rifle, and even then the scope was pointed off to the right. I remounted it and had the same problem. Up to this point the scope, was still clamped tight in the rings, which may have been the problem.
I loosened the scope tube in the rings and found that it really helped with positioning. Finally, after about 25 minutes, I managed to get the scope mounted reasonably straight. Loosening the rings was the key. However, even at its best, the scope was still pointed to the right.
Sight-in
I looked back at the velocity data for this rifle from Part 4 and decided that 6 pumps per shot would be best. That's a compromise between velocity and the time it takes to pump the rifle. When you shoot 10-shot groups, each group takes 60 pumps to complete. I was going to be shooting pellets that were mostly lighter than those used in the velocity test, so the rifle would probably be shooting just over 600 f.p.s.
Beeman H&N Match
I sighted-in with Beeman H&N Match pellets. No particular reason for this. From the 10-meter test, I knew that only RWS Hobbys were accurate enough (of those pellets that were used in the 10-meter test) for shooting at 25 yards, and they would be included — but I was almost out of them.
As most of you know, I sight in most airguns at close range, then back up to the target distance I want to shoot when I'm on paper. The first shot from 12 feet landed low and about 3 inches to the left. That's how far to the right the scope was pointed. If it was off that far at 12 feet, it would be several feet off the target at 75 feet (25 yards). I cranked in a lot of right adjustment; and by the third shot, the pellet hit below the bull at 6 o'clock.
Then, I cranked in a bunch of up elevation. The scope that comes with the rifle doesn't have click detents, so it was several turns of the adjustment screw. I knew I should now be on target, so I backed up to 25 yards before shooting again. Time to shoot the first target.
The first shot hit the target in the bull but very high up. That was okay, though, because in an accuracy test we don't care about hitting the center of the target — only in how close the pellets group. When the second shot went to the same place, I stopped checking the target with the spotting scope and just finished the first 10-shot group.
The first 10 shots landed in a group that measures 1.958 inches between centers. That's not what I was hoping for. I tried my hardest to shoot well; I shot off a rest and with a scope. This was the best I could do with this pellet.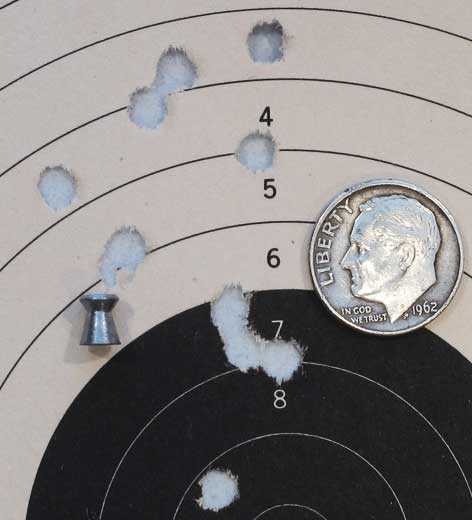 Ten Beeman H&N Match pellets went into 1.958 inches between centers at 25 yards.
RWS Hobby
Next up were the RWS Hobbys. These were by far the most accurate pellets at 10 meters, so they earned a spot in this test. Nine of them went into 1.154 inches at 25 yards, but the tenth shot opened the group up to 2.216 inches. It certainly wasn't a called flier; but given where the other 9 landed, I think Hobbys showed fair accuracy, overall.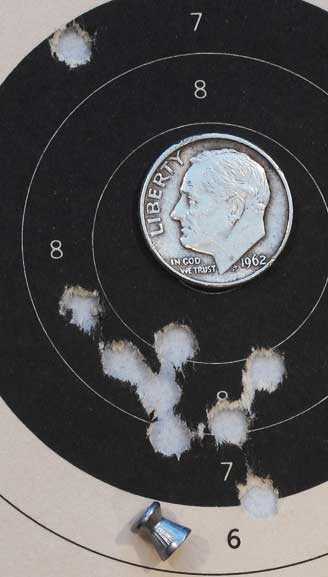 Ten RWS Hobbys made this 2.216-inch group at 25 yards, but 9 of them went into 1.154 inches, which is fairly good.
So far, the groups were only average or worse. Since I was pumping 6 times for each shot, this test wasn't going to continue much longer, but I felt the rifle deserved at least one more chance. This time it would be with a domed pellet of known quality — the Falcon from Air Arms.
Air Arms Falcons
The Falcon pellet has shown real promise in some airguns I've tested. I hoped that it would also shine in the 880. Since it was the only domed pellet I tried, and since 25 yards is about the maximum distance at which accuracy can be expected with wadcutter pellets, I hoped to see a real star.
Ten Falcons went into 1.482 inches at 25 yards. The group is reasonably round with no fliers, which tells me the Falcon is very stable in the 880. The group is actually the best of this test, though not as good as I'd hoped based on what people had said about their 880 rifles. But, I was shooting 10-shot groups, and they really point out the accuracy potential of an airgun in a way that 5-shot groups often can't.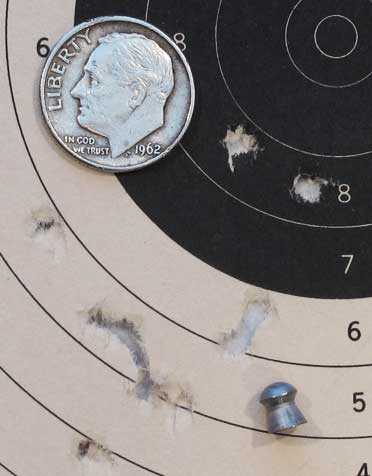 The Falcon group was the smallest of the session at 1.482 inches between centers. Of course, the holes are harder to see because this is a domed pellet.
Loading problems
I had two loading accidents with the Falcons that didn't occur with any other pellets. Two pellets fell back through the BB loading port and disappeared. They didn't tie up the gun, but it was disconcerting. Daisy warns about this possibility in the manual, and it happened to me twice in a row. If it happened just once, I'd say, "Shame on me." But two times in a row is the rifle's fault.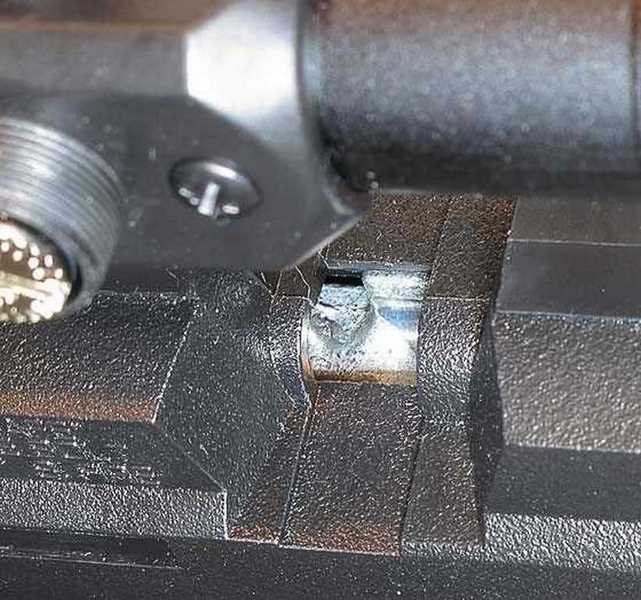 The BB feed hole at the back of the 880′s breech is so large that it swallowed 2 Falcon pellets.
Summary
No one can say this rifle didn't get a fair test! It turns out to be an okay plinker that's easy to pump and reasonably accurate at close range. I would not choose the scoped model, nor would I mount a scope on any 880 unless my eyes demanded it. A dot sight might be best for those who can't use the open sights.
The loading of pellets is a real problem area. It isn't easy under any circumstances, and it's all too easy to lose a pellet in the action because of the large BB feeding hole. Perhaps the 880 is a better BB gun than a pellet rifle for this shortcoming.
Given all the problems I had, I would have to put the 880 lower on the list of inexpensive multi-pumps than some other brands and models. I think it's a fine gun for those who appreciate it for what it is, but it's not a diamond in the rough. Taken for what it is, the 880 will satisfy a purpose and will be a good plinker and informal target rifle.