by B.B. Pelletier
Part 11
Part 10
Part 9
Part 8
Part 7
Part 6
Part 5
Part 4
Part 3
Part 2
Part 1
Before I start today's report, Joe B. in Marin and Duskwight were really impressed by that air bazooka I showed on the blog for Day 2 of the Roanoke airgun show , so today I included a picture of the ammo. Duskwight — all U.S. bills are the same size, so those projectiles are very large.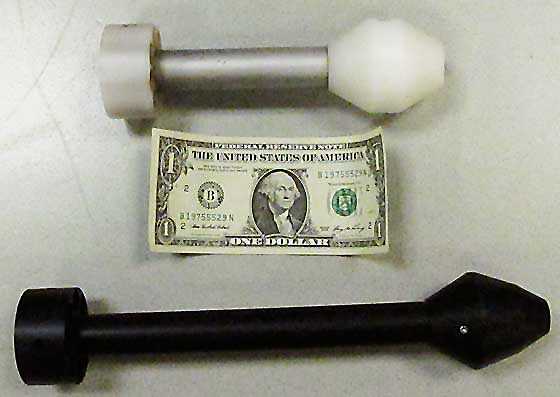 Two of the air bazooka projectiles from the Roanoke airgun show dwarf a dollar bill.
Well, this report has taken on a life of its own! I never intended for it to grow this huge, but things just kept popping up and I had to address them. Today was supposed to be my report about tuning my San Anselmo gun once again with the new Pyramyd Air piston seal, but something strange happened at the Roanoke Airgun show to change that.