by Tom Gaylord, a.k.a. B.B. Pelletier
NOTE: While I've been calling this a 16-shot gun, the owner's manual and Pyramyd Air's website state that it's a 15-shot BB gun. I could easily get 16 shots into the mag. Edith informs me that it's not uncommon for more shots to be loaded in airgun mags and that manufacturers sometimes understate the max rounds you can load.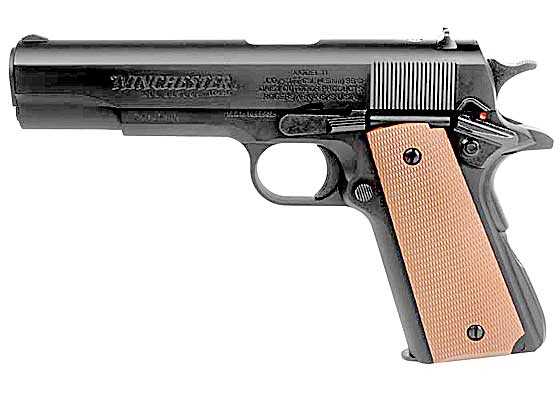 The Winchester semiautomatic BB pistol is an attractive M1911A1-style BB pistol.
Today is the day we look at the velocity of this Winchester 16-shot semiautomatic BB pistol. In Part 1, I looked at the design and noted that this is a realistic BB pistol with some of the controls of the firerarm it copies, but there are differences, as well. The two-hand requirement for the safety was a concern, as were the large number of words printed on both sides of the gun. But the heft and feel were about right. As I told you in Part 1, this gun has blowback, which means that on each shot the slide is blown to the rear by the force of CO2 gas. That cocks the hammer and readies the pistol for the next shot. The inertia of the slide imparts a feeling of recoil than many shooters like, including me.