Posts Tagged '10-meter shooting'
by B.B. Pelletier
Today's report was requested by blog reader NotRocketSurgery. He's been watching the NSSF videos on You Tube about shooting in the Olympics, and the subject of dry-firing comes up repeatedly. He wanted to know why. I'll address this subject with enthusiasm, because this is something with which I actually have some experience.
Have you ever watched the Olympics and seen a slalom racer standing at the top of the course with his or her eyes closed, swaying as they envision running the course? We might have made fun of such behavior in the 1960s, but today we know that's what all the winners do. They're conditioning their minds to respond correctly to the course ahead of them.
Dry-firing a gun is like that, but it's more than a century older. We don't close our eyes, nor do we sway about, so onlookers don't have quite as much to comment on. When we shoot our guns without discharging a shot (dry-firing), we're conditioning our brains and many muscles to work together.
I don't suppose there's a machine the downhill skiers can get on to simulate the experience of skiing while standing still, but all world-class target air rifles and air pistols do have a dry-fire mechanism built in. To not have one automatically eliminates the gun from serious consideration.
Top target shooters spend much more time dry-firing their airguns than they do shooting pellets. How much more differs from shooter to shooter, but I've heard one Olympic air pistol shooter say the number is five times as much. So, for every shot that makes a hole in paper, the shooter has also fired five more shots without discharging the gun. And it's very common for a world-class shooter to shoot a full match every day, which would be 60 shots for a man or 40 for a woman. And five times that much dry-firing.
How do you dry-fire a gun?
You don't just pick up the airgun and start shooting. Practice in the dry-fire mode must be identical to shooting a match, though a target doesn't have to be in a bullet trap or even the correct distance from the shooter, since it's all a simulation. I am going to describe this from an air pistol shooter's perspective, but what I say applies equally to air rifle shooters. The moves are just different.
For those who are interested, I wrote an extensive blog on the subject of shooting a 10-meter target pistol. Part 3 demonstrates raising the pistol and sighting. You do it this way with both live-fire and dry-fire.
When you dry-fire, you first go through all the motions of raising the pistol and settling on the target. That is not a random movement! The gun is held on the shooting table in front of the shooter in a certain and repeatable way, and is raised to the same height each time. Some shooters like to raise the sights above the bull and then settle back down until the sights are aligned with it. Others like to raise the gun until the sights come in line with the bull on the way up and go no higher. Each shooter has a preference; but whatever it is, they always do it the same way.
Once the sights are on target, the shooter has up to about five seconds to get the shot off. Much longer and the gun will start to wander more than a little, so timing is very important. An amateur might hold out for the perfect sight picture for twice as long as a world-class shooter, but you'll see the top shooters lower their guns if they don't get the shot off within the time limit.
Many shooters, including me, take up the slack of the trigger's first-stage pull as the gun is settling into position. To someone who is not trained, this sounds dangerous, and it actually is — because their guns will go off at a time that is not entirely of their choosing. But a top competitor knows exactly where the trigger releases, and they can wait until the sights are perfectly aligned before applying the final few grams of pressure that cause the sear to release.
When the sear releases, the shooter continues to aim at the target, noting where the sights are. With some practice they learn to call their shots — which means they know exactly where each pellet went without seeing the hole it made in the target. This is something you can read about and never understand. As you train, it comes to you all at once. And when that happens, you never forget it. You'll be able to call your shots from that point on.
After the shooter has called the shot (to himself), the gun is lowered to the shooting table, reloaded and the cycle begins again. There are 90 seconds for every shot in a formal match. It sounds like a rush, but it's actually more than enough time for a well-trained shooter. You don't lower the gun without taking a shot more than a handful of times in a match, if that much, so time is never your enemy unless you have an equipment problem. I never thought about the time remaining in a match. What I concentrated on was how many pellets remained in my pellet tray, because that told me where I was in the match.
The dry-fire mechanism
I told you that all world-class airguns have a dry-fire mechanism, but now I'll tell you that some are better than others. Most of them have some sort of switch that is set one way for live fire and another way for dry fire. The guns that have that usually have a very realistic trigger-pull in the dry-fire mode.
I shoot a SAM M10 that was made through cooperation between Anschütz and Caesare Morini. I've never shot a full formal match with it; but back in the late 1990s, I did shoot it for the record several times. That was when I was shooting at my peak, so I noticed things more acutely than I do today. I found the trigger to be very nice, though by that time I'd tested enough FWBs, Steyrs and Walthers to know what a world-class trigger should feel like. The M10 has a good trigger, but it's not as nice as an FWB P34 trigger, which was the last FWB target pistol I tested.
The dry-fire mechanism on the SAM 10 is a lever on the right side of the action. Pull is straight back and the trigger is cocked, but the hammer isn't. When you pull the trigger, it releases the sear without releasing the hammer to strike the firing valve — hence the dry-fire. Those who own a gun with double-set triggers know the feeling of the set trigger breaking is not the same as the feeling of the gun actually firing. With an airgun, which doesn't recoil or make a lot of noise when it fires, this feeling is much more noticeable.

On the SAM 10 target pistol, the dry-fire lever at the top of the receiver is pulled back each time to cock the trigger. You can feel the sear release when the trigger is pulled; but since the hammer was not cocked, it doesn't strike the valve and no air is exhausted.
As nice as the M10 trigger is, the dry-fire device isn't as nice as the FWB or Steyr dry-fire devices. Both of those guns feel as though the hammer is dropped when they fire in the dry-fire mode.
Other 10-meter guns have to resort to a gimmick of some kind to get into the dry-fire mode. The IZH 46M, for example, requires the shooter to actually cock the trigger by pulling the breech up, then locking it back down. By omitting the pump stroke, there's no compressed air in the gun. When it fires, there's nothing to release. The effect is the same, but a little more work is needed for each dry-fire shot.
Other guns require the shooter to unscrew the compressed-air tank part way. They can be cocked and fired and the hammer will fall, but there's no air in the firing valve because the compressed-air reservoir has been disconnected.
What benefit does dry-firing provide?
Hold on to your hats, apartment dwellers! Dry-firing allows you to train in a tiny apartment without making any noise or having to stop any lead pellets. Do people really do that? You bet they do! Dry-firing can get you ready for a match just as well as shooting live ammo. It's probably good to shoot a few pellets from time to time; but if you can't, there will be at least a chance to shoot them when you sight-in before the match.
Another benefit of the dry-fire mechanism is that the trigger can be cocked for testing before a match without firing the gun. The trigger on every air pistol must pass a minimum 500-gram weight test before it can be permitted in a match.
But the biggest benefit of dry-firing is the practice it affords. When you do the same thing thousands of times in repetition, your muscles and nervous system become synchronized to a degree you must experience to understand. That's why competitive shooters can release the sear at the exact instant they desire.
Follow-through is the name of the game
You've read the phrase "follow-through" many times. What does it mean, and why do we talk about it so much? Follow-through is when the shooter continues to watch the target through the sights after the shot's been fired. If the gun is gentle enough, like an airgun or a rimfire, then follow-through lets the shooter see where the sights were in relation to the target at the instant of firing.
Follow-through is at the root of dry-firing. We dry-fire to train ourselves to follow-through; and it's follow-through — and all that it entails — that makes a better shooter. Dry-firing the gun many times is what reinforces follow-through in a shooter.
by B.B. Pelletier
I was in Wal-Mart the other day and a guy was looking at the airguns, so I struck up a conversation. He was looking at a Crosman M4-177 for eliminating pest birds; and when I tried to steer him toward a more powerful breakbarrel in .22 caliber, he had a fit over the price. Apparently $145 is the Rolls Royce of airguns for him!
So, today I thought I'd reflect a bit on the cost of things — some expensive and some cheap, but all very good. We have a growing contingent of firearms shooters who have found this blog and I'm doing this for them.
The most expensive?
Well, let's be realistic. There's only one air rifle that was carried by Lewis & Clark,  and Dr. Beeman has donated it to the U.S. Army War College museum. It's value is well over a million dollars; but since there's only one, it doesn't really count in today's discussion.
I'm also not talking about the collectible airguns that are available in greater numbers. A complete Plymouth Iron Windmill BB gun, the predecessor to the Daisy line, has commanded as much as $10,000. But second model Daisys are even rarer, because they were so prone to break. I've seen one change hands for $16,000, and that was close to a decade ago. But, for today, I want to talk about guns that are generally available.
Whiscombes
When Edith and I bought our JW75 with four barrels and the Harmonic Optimized Tuning System (HOTS) on each of them, the cost was $2,100. That was in 1996. The cost did increase after that; but when John Whiscombe stopped making his rifle several years ago, the price took off like a rocket. Today, it's hard to find a single-barrel Whiscombe rifle with no frills for under $3,000, and full sets like ours will certainly bring a lot more.

You can't buy a new Whiscombe rifle anymore, so used rifles command top dollar.
So, are Whiscombes the most expensive air rifles? Hardly. There are all sorts of custom airgun makers around the world who offer almost whatever the traffic will bear. I've seen single rifles in Europe priced at over $8,000, and that was five years ago. Who knows where it all ends? The point is, air rifles can cost a bundle if that's what you're looking for.
Back to earth, some of the more expensive production air rifles today are made by the target rifle companies, where top models retail for nearly $3,000. And they're built for a specific purpose — not for general shooting. The FWB 700 Alu, for example, is a very expensive air rifle that cannot be used for most popular airgun pursuits like hunting and plinking. But for punching holes in paper, it's one of the best. The same can be said for top target rifles from Steyr, Walther, Anschütz and a couple others.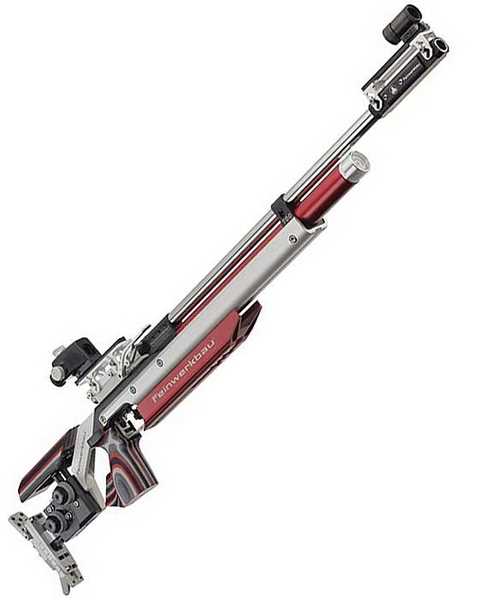 The FWB 700 Alu looks like an expensive air rifle!
For the sport of field target, it's difficult to top the Air Arms EV2 precharged competition rifle. It has won and placed at the world level many times in recent years and is one of those rifles shooters tend to covet.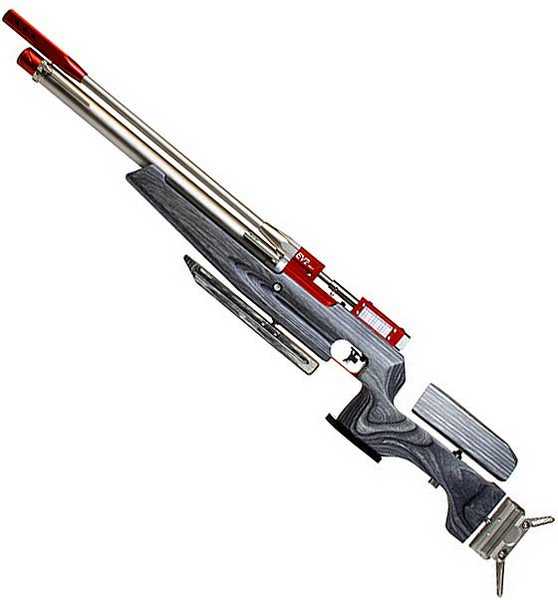 The Air Arms EV2 has won its share of top honors in field target.
In sporting rifles, Daystate and FX Airguns are among the most expensive brands. And now their top models are around $2,000 or less. Fifteen years ago, the number of makers of these rifles was much greater, but many brands have left the market.
Do you have to spend so much?
Of course you don't! There are plenty of fine air rifles that cost considerably less than those mentioned and still deliver a boatload of options and value. But that isn't today's topic. We're looking at the most expensive and the least expensive.
How low can you go?
Speaking of the least expensive, what can you get for very little money? How about a Beeman P17 pistol? For under $50, Pyramyd Air will sell you an air pistol that's so accurate you cannot outshoot it — I don't care who you are. This is a pistol that you can learn on and use to take your handgun shooting to the next level. For the life of me, I cannot fathom why Beeman doesn't triple the price and bring this out as a pseudo-10-meter target pistol! All the foundation is there. Gamo did the same thing with their Compact pistol, and this one costs one-fifth as much! They could easily add target grips and sights and have a wonderful, inexpensive target pistol, but I guess they just don't see the potential.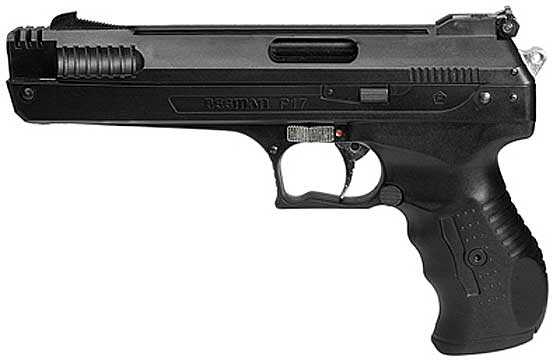 For the money, you can't buy a better air pistol than the Beeman P17.
I wish I had an air rifle to list for under $100. They exist, but none of them are what I would call really exemplary. But the Air Venturi Bronco is the finest low-cost air rifle I know of. It has accuracy equal to or better than a Beeman R7, a great trigger, nice size and is generally a fine rifle for older youth and adults.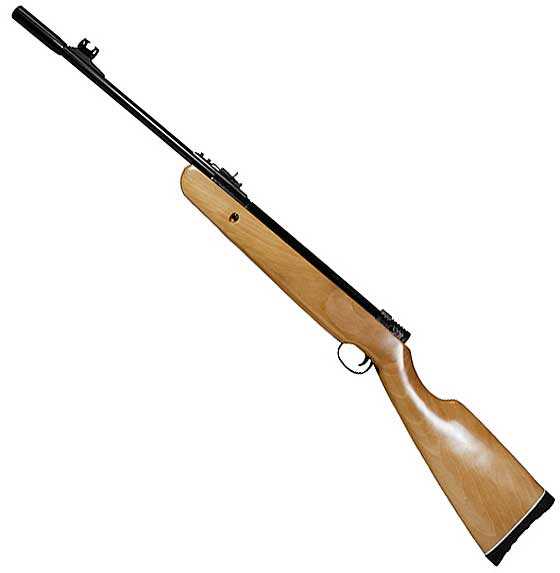 Air Venturi's Bronco is the air rifle to beat on the low end of the price spectrum.
The bottom line
And now you've guessed my agenda with this report. It wasn't just about the most expensive and the least expensive. The guns I listed are also among the best of their types in the world. Sure, I could compare the Benjamin Marauder to some of the expensive PCPs and make a case for it being just as good functionally, but that wasn't what this report was about. It was to define the limits of cost in our hobby for all the new readers who come over from the world of firearms.
by B.B. Pelletier
Photos by Earl "Mac" McDonald
This is the second of my reports on the 2012 SHOT Show. There will certainly be at least one more after this, and perhaps even more, as there's simply too much new information to pack into a single report.
The state of the airgun industry in 2012
Before I get to some specifics, I want to make a general observation. This year's SHOT Show was different for me in a major way, because I saw for the first time that firearms shooters are beginning to understand airguns as never before. In the past, I always had to start my explanations with the cooling of the earth's crust and then progress through the age of the dinosaurs because each firearms person I talked to thought of airguns as either toys or BB guns. This year, a lot of them were clued-in on what's happening. They weren't surprised by the accuracy we get, and they knew about big bores. A lot of them had some airgun experience and more than a few asked me the same kind of questions that I get from long-time readers of this blog.
That tells me the day of the airgun has finally dawned in the U.S. Instead of 25,000 to 50,000 active shooters (at best!), we will now see an influx from over 5 million active firearm shooters who are ready to augment their shooting experience with airguns. I'm already getting calls and emails from state departments of wildlife resources, asking about the issues of incorporating airguns into their hunting seasons.
It has been a long haul to get to this point, but we're now seeing the start of the harvest of all the work that's been done over the past 40 years — starting with Robert Beeman in the early 1970s. The job is now to manage this growth and provide useful information to the tens of thousands of new airgunners who are flooding in the doors.
Let me reflect on how the industry seems to be reacting to this trend. Some companies have been on board for many years and are poised to ride the new tidal wave of business as far as they can. Other companies are aware that airguns are very hot, but they're foundering, trying to understand them. Let me say right now that it's not as easy as you think!
The readers of this blog are among the most clued-in airgunners in the world. But they're unique, and they do not represent the true market. The demographic of a new airgunner is a man (usually) in his late 20s to late 40s who is most likely a fan of AR-type rifles and Glock-type pistols. He wants repeaters, semiautos and he thinks that a five-shot group is the gold standard of any gun. Velocity impresses him, and he isn't comfortable with the term kinetic energy.
Things like good triggers and good sights are not an issue with this customer until he experiences bad ones. His ARs have decent triggers off the rack, and he can choose from many drop-in triggers that are much better. When he encounters a spring-piston gun with a horrible trigger that cannot be easily modified, he's surprised.
He does not use the artillery hold, and he equates all airguns to be alike in terms of performance. When he learns about precharged guns, he's put off by the additional equipment he must buy. Spring-piston guns seem the best to him for their simple operation, and he doesn't appreciate the fact that they're also the most difficult airguns to shoot well.
That's the customer who's coming to airguns today, so that's the person airgun manufacturers have to deal with. If you have wondered why many of the new airguns are what they are — this new-customer profile is the reason.
Okay, I've talked about those companies that get it and those that are struggling to understand. There's one more type of company out there. I like to call them the "gloom and doom company" or the "zero sum company." They're firmly entrenched in the 1970s and cannot take advantage of this new windfall of business. They either fired their engineers years ago or they let them all retire, and now they couldn't build a new airgun to save their lives. As far as they're concerned, there are only 25,000 airgunners in the United States and it's the NRA's responsibility to identify and train them so these companies can sell them some guns.
They think of marketing in 1950′s terms, when a simple paint job and some sheet metal was enough to create a new product. Their "secret" business plan is to buy guns made by other manufacturers and have their name put on. If you're a collector, better buy up the guns these guys sell because in 10 years their name will be a memory.
That's enough of the big picture. Let's see some more products.
More from Crosman
Many of you saw the list of new Crosman products Kevin posted last week, so the few that I show here are by no means all there is, but they're the highlights. Crosman had about half the new airgun products at the entire SHOT Show.
New tan M4-177 and carry handle
The M4-177 multi-pump that I recently tested for you is going to be very popular this year. Crosman is also offering it as an M4-177 Tactical air rifle with a new carry handle that replaces the rear sight for improved sighting options. I think this gun will be in their lineup for many years to come.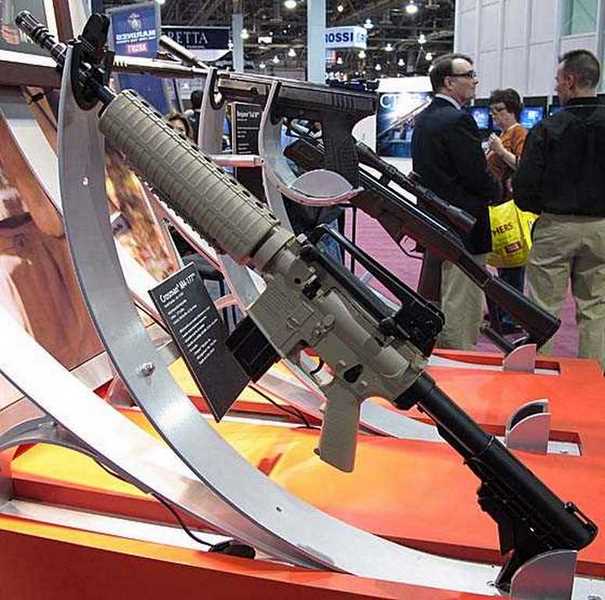 The M4-177 now comes as this tactical model in tan with a carry handle.
I mentioned to Crosman's Ed Schultz that this rifle looks like the A.I.R.-17 of the 1990s, but done better. He said he always wanted to update that design, and that is exactly what this is. So, what he said next came as no great surprise.
I shared my thoughts on a 2260 made as a multi-pump in .25 caliber, and Ed told me that was how the rifle was originally created (not in .25, however). The CO2 version was an afterthought that got put into production, while the multi-pump version languished in the Crosman morgue. I told him that I thought the time was ripe to bring it back as an upscale hunting rifle, and he seemed to agree. We can only hope.
Carbon fiber tank
As Crosman extends their capability into PCP guns, they know shooters are always looking for better options for their air supply. Besides the new butterfly hand pump I showed you last time, they'll also be adding a long summer-sausage black carbon fiber tank with increased capacity over their current tanks. This is a 300-bar tank that has 342 cubic-inch capacity. It comes in a black nylon carrying case with sling for field transport.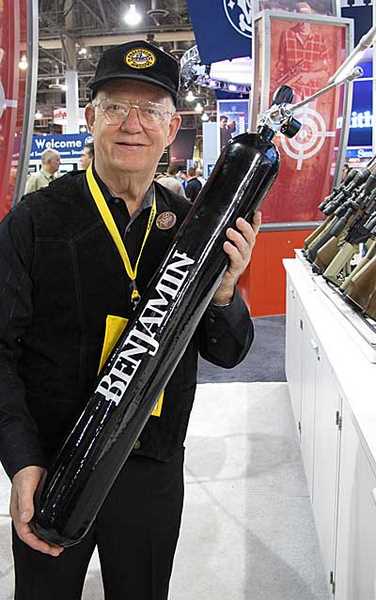 More air for you! New Benjamin carbon fiber tank will help you take your PCPs further afield.
Benjamin Nitro Piston breakbarrel pistol
The Benjamin NP breakbarrel pistol certainly has people talking on the internet. This is the first commercial gas spring application in a pistol, I believe. The most distinctive feature is a cocking aid that can either be detached or left in place while shooting. That reminds us that this pistol is going to be hard to cock, but I'll test one for you so we'll all know just how hard.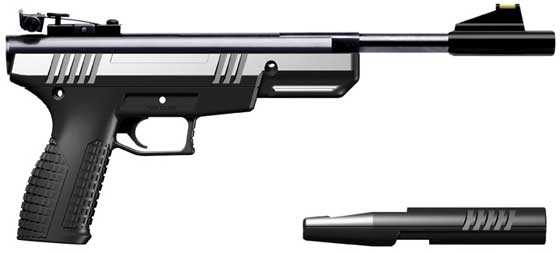 New Benjamin Trail NP pistol is a breakbarrel with a gas spring. The cocking aid can be detached or left in place while shooting.
Crosman 1720T PCP pistol
Everybody was ready to jump down Crosman's throat for creating the 1720T PCP pistol. They wondered with the .22-caliber Marauder pistol and the .177-caliber Silhouette PCP pistol already selling, why was this one needed? As Ed Schultz explained it to me — this one is for field target. It's a .177 (naturally) that produces just under 12 foot-pounds through a shrouded Lother Walther barrel. It can be used for hunting, but field target was its primary purpose. They worried about the shot count with the Silhouette; but with this one, power was the criterion. Look for about 800 f.p.s. with a 7.9-grain Premier. And the trigger is the same as the Marauder, so excellent operation there.


The new Crosman 1720T PCP pistol is meant for field target competition. It will also work well for hunting.
Crosman MAR 177 PCP conversion
The Crosman MAR-177 PCP conversion is another new product that has a lot of people talking. This AR-15 upper converts your .223 semiauto into a .177 PCP repeating target rifle. Because it's on an AR platform, almost everybody expects it to be semiautomatic — including those who should know better. This rifle is a bolt action that cocks and loads via a short pull on the charging handle.
This conversion is an Olympic-grade target rifle for a new official sport that Scott Pilkington and others have been promoting for several years. It will take the U.S. battle rifle back into the ranks of target shooting. However, the look of the gun has many shooters totally confused. I was even asked at the show if I thought Crosman should have come out with an "everyman's" version of the gun first. That would be like asking whether Feinwerkbau missed the boat by not first making their 700 target rifle in a $300 version for casual plinkers.


The MAR-177 PCP conversion is an upper for your target-grade lower. Plan on investing about another $1,000 in a good lower if you hope to compete.
Crosman TT BB pistol
It's all-metal and a good copy of the Tokarev pistol. The weight is good and the gun feels just right. This will be one to test as soon as possible.

Crosman's TT Tokarev BB pistol is realistic and looks like fun.
Benjamin MAV 77 Underlever
The Benjamin MAV 77 underlever rifle is going to force Crosman to recognize spring-piston air rifles instead of just calling them all breakbarrels. This is the TX-200 copy from BAM that was once sold by Pyramyd Air. When the quality dropped off, it was discontinued. Hopefully, Crosman will watch the quality on this one.
They didn't have a firm retail price yet, but hopefully it'll be significantly under the TX. Otherwise, why buy it? I may test one for you, but I already know that BAM can make a great rifle when they want to. I think it all comes down to price.


Benjamin MAV-77 is an underlever spring-piston rifle that looks and, hopefully, performs like an Air Arms TX-200.
TR-77
The Crosman TR-77 is a conventional breakbarrel spring-piston rifle in an unconventional stock. It's different enough that I want to test one for you. It appears to be a lower-powered rifle that probably sells at a bargain price because it's branded under the Crosman banner rather than Benjamin. Mac photographed one in a sand-colored stock for you.


Crosman TR-77 breakbarrel in a sand-colored stock also comes in black.
There was a lot more at Crosman that I could have mentioned, but now let's go over to the Leapers booth.
Leapers
I've watched Leapers grow from a relatively small company back in 1998 to a major player — blasting past older, entrenched companies as they grew. This year, they were playing a video about the company on a continuous loop in their booth. I was impressed to see their plant in Livonia, Michigan, where they build airsoft guns, tactical mounts, accessories and scopes right here in the U.S. The plant is filled with many CNC machining centers and testing facilities to keep close watch over their products during development.
American-made
Leapers owner David Ding told me he wants to get control over the production process so he can assure the quality of all of his products. In keeping with that goal, I was shown the new scope line for 2012 that now offers locking target knobs on all of the upscale models. Many of them feature etched glass reticles that are amazingly crisp and sharp.
Scopes
Mac was impressed by the reticle on the new 3-9x Bug Buster scope. He urged me to look through it; and when I did, I saw that the reticle is now fine and sharp — not the heavy black lines of the past.

David Ding shows me the new 3-9x Bug Buster scope (not out yet), with target knobs and a finer reticle.
But scopes were just the beginning at Leapers. Next, I was shown the whole line of tactical flashlights and lasers, including some mini lasers I will test on my M1911A1 for you. These are all made in the U.S. now and have more rugged internals, adjustments and optics than similar products from the Orient.
UTG 555 Long Range Light
One item I hope Pyramyd Air will consider stocking is a fantastic 500-lumen tactical light for law enforcement. It can be mounted on a rifle, handheld or even mounted on a bike! It comes with rechargeable lithium batteries and a smart charger…and believe me when I tell you it turns night into day!

The UTG Long Range light can go on your rifle, held in the hand or even mounted to your bike! The rechargeable lithium-ion battery pack will keep it shining at 500 lumens for 1.5 hours.
Fast Action Gun bag
Not all Leapers products are for airguns. They also make tactical and law enforcvement gear that rivals spec-built equipment but sells at a fraction the cost. As a result, many of their customers are ordering straight from the front lines of combat and from law enforcement agencies all over the country to get the products that their own supply lines cannot or will not furnish.
One of their latest developments is a Fast Action Gun bag that lets the wearer walk in public with a substantial firearm hidden from view. A quick pull of a strap, and the bag opens to reveal the weapon inside.

Leapers owner Tina Ding models their new Fast Action Gun bag. Here, it's concealed; but she's just pulled it over her shoulder from her back, where it looks like a tennis bag.

And in less than a second, the bag is open, giving instant access to the tactical shotgun or submachine gun inside.
11mm-dovetail-to-Picatinny adapter
Leapers has an entirely new range of quick-disconnect scope mounts coming this year, but there's another innovation that I think you'll find even more impressive. It's an adapter that snaps into a Picatinny scope mount base, turning it into an 11mm dovetail. So, your conventional air rifle will now also accept Leapers Picatinny scope mounts with this adapter.
11mm-dovetail-to-Picatinny adapter is small and doesn't raise the mount at all! This will be one to test!
Leapers is still the company to watch because the owners want to build a lasting corporation here in the U.S. They're poised to move to the next level of quality in their optics, which gives me a lot of hope for the future — they've always been receptive to the needs of airgunners.
Whew! That's a lot of products, and there are still many more to show. As I said in the beginning, there will be at least another report.
by B.B. Pelletier
Announcement: The California General Assembly requires your attention one more time. Several months ago, Senator de Leon wrote SB 798 in an attempt to make black airguns and airsoft guns illegal. All airsoft guns and BB and pellet guns would have to be clear or brightly colored. Because so many of you protested and signed Pyramyd Air's petition, Sen. de Leon and his cohorts in the Public Safety Committee were forced to pull SB 798. Unfortunately, they're very creative and have rewritten SB 798, and it could be even more disastrous than the original bill because it now allows any county or city to pass the exact bill they had to pull, resulting in a patchwork of legal and illegal areas around the state. Airgunners could end up being legal one moment and illegal the next. You'd never know when you're breaking the law as you drive along a street or highway.
You can read about the rewritten bill on Pyramyd Air's site. You'll have an opportunity to sign a petition that Pyramyd Air will send on your behalf and also download a letter that you can sign and send to individuals on the California General Assembly.
We won a battle on the first go-round, but the war against airguns is still raging. Click here to support the fight against SB 798. Now, on to today's blog.
Photos and all testing by Earl "Mac" McDonald
While I say this report is by me, it's really by Mac, who's been telling me about mini-sniping for almost a decade. It's one of his favorite sports.
Mac and I used to compete at field target with the DIFTA club in Damascus, Maryland, back in the 1990s. We also used to shoot 10-meter pistol every Monday evening in the league we set up there. So we got to see a lot of each other, though Mac lived in Silver Spring and I lived in Ellicott City.
Mac has always been the better rifle shot of the two of us, and his love of 10-meter rifles helps fuel his constant practice. When field target grew too difficult for many reasons, not the least of which was Edith and I moving to Texas, Mac started mini-sniping with a vengeance, though he had been doing it all along for many years. He has a weekend home on Maryland's eastern shore, where he can shoot his airguns safely on several acres without bothering the neighbors. One of his favorite sports on this property is mini-sniping.
What is mini-sniping?
Mini-sniping is a game that grew up without a governing body or rules of any kind. In its simplest form, it's shooting very small targets at long distances with airguns. There's no standard set of rules to follow, so what I'm about to describe is really just the essence of a sport that has no real definition.
The object is to shoot small objects that move when they are hit. You don't keep score, unless you want to, and a hit would be a point. But the fun comes not from the score but just from the sheer fun of shooting small targets and sending them flying.
Mac and I have noticed that the way the game is played changes from shooter to shooter or from one small group of guys to another. Some shoot at small plastic Army men (can you say, Toy Story?) while others such as Mac shoot at empty cartridges. And when I say empty cartridges, I do mean just the empty brass cases. Nobody in their right mind would ever shoot at a live round of ammunition.
The cartridges can vary from the common 9mm pistol case to the unbiquitous 12-gauge shotgun case. Mac prefers the 9mm case, so that's what he's written about.
The guns can be anything that's accurate, for mini-sniping is a game of accuracy. Mac chooses to use 10-meter rifles, but nothing prevents you from using a Slavia 630, an Air Venturi Bronco or even a TX200. And it shouldn't have to be said that the guns can also be pneumatics and even powered by CO2.
For sights, you can use open sights, target sights or even optical sights. With a scope, you can stretch the distance to the target considerably, but it doesn't have to become a chore. Mac uses ISSF-legal target sights and engages his targets out to as far as 30 yards. A 9mm case looks pretty small at 90 feet, so bear that in mind when setting up the range. Also, the choice of gun will govern how often you lose a case, because when you hit one squarely it'll fly. Of course a hit from a TX200 will put it into orbit, while a 10-meter rifle will keep it in the same county.
Mac picks an oldie
For this report, Mac selected a Feinwerkbau 300 that was tuned by Randy Bimrose. It lacks the barrel sleeve, so it's lighter than the typical 10-meter target rifle, though just as accurate. Mac says the action buzzes like a tuning fork after each shot, though he can't feel it because of the sledge anti-recoil system.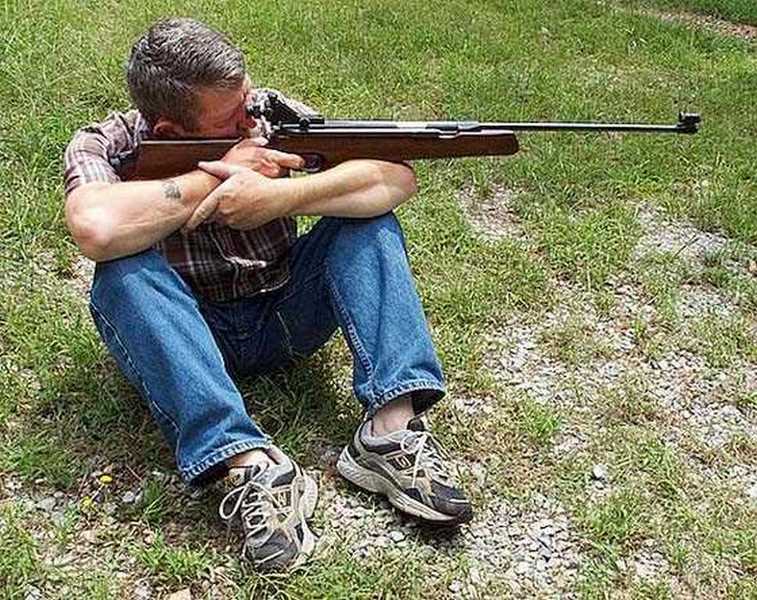 Mac is sitting in the classic international sitting position for field target. He has no support for himself or the gun. Just the triangulation of his body holds the gun steady on target.
For sights, he uses the standard FWB 300 rear aperture, augmented by a Gehmann insert that magnifies the front sight element like a reading glass. The insert provides a variable aperture hole from 0.5mm to 3.0mm wide for different lighting conditions. It also magnifies the front sight 1.5 times.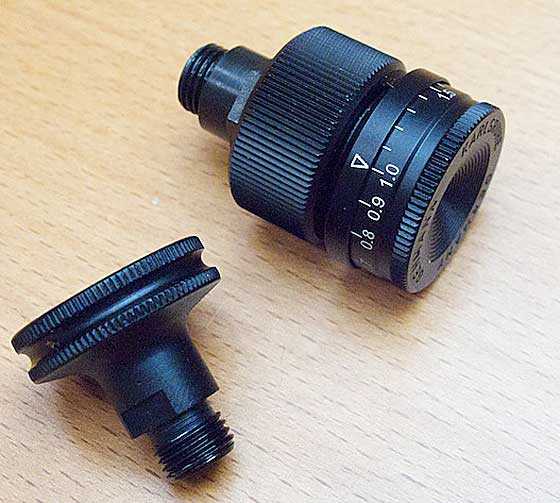 The Gehmann insert (top) contains a lens that sharpens the image of the front sight element for the shooter. It replaces the standard aperture insert in the FWB 300 rear sight, as well many other 10-meter target rifle sights.

You can see the lens at the back of the Gehmann insert.
The reason he uses this insert is because in the front globe he also uses a clear plastic insert with a 2.0mm hole. That's a smaller hole than you usually get when you buy a set of clear inserts, but the Gehmann rear insert magnifies the tiny hole so the shooter can see it better against the target. When the target is a 9mm cartridge case 90 feet away, you need all the help you can get to see it without a scope.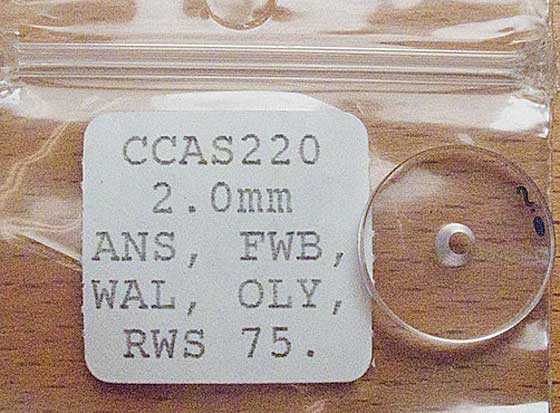 The front sight insert is clear and has a smaller hole than normal. Together with the rear sight insert, it makes for greater precision.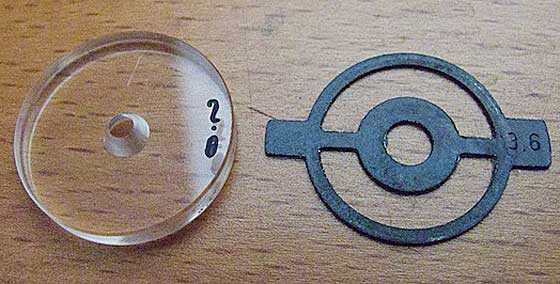 You can see the big difference between the 2mm hole in the clear insert and the standard 3.6mm hole in the black insert.
The Gehmann insert lengthens the rear sight. Even so, Mac still positioned the rear sight as far back on the gun as it would go.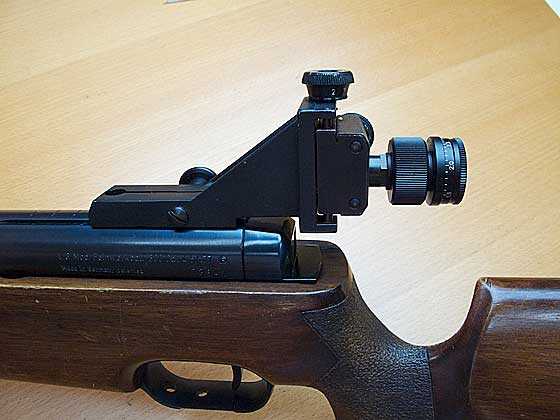 Even though the Gehmann insert lengthened the rear sight, Mac still positioned the sight as far back on the rifle as it would go.
Mac suspects that the target sights are giving him less problems with holdover because they're mounted closer to the bore than a scope would be. Given the loopy trajectory of the slow-moving .177 pellet this rifle uses, he wants all the advantages he can get.
Performance
Mac tells us that he didn't waste any time sorting though pellets to find the best one. Instead, he went straight to the 8.4-grain JSB Exact dome that proved so accurate in his Diana model 60 target rifle that I wrote about a few weeks ago. Because all these rifles shoot premium pellets well, he knew he could count on that pellet to work well in this FWB 300, which he's never really tested since it was repaired.
This pellet gave a velocity averaging 580 f.p.s., with a spread of just 3 f.p.s. It doesn't get much better than that — ever!
Targets
For targets that would mean something in a print report, Mac decided to use a paper target that showed the results. Of course, in real mini-sniping the target is always an object that moves when hit. He cut a 9mm case in half lengthways and laid it on the target paper, then spray-painted black paint around it. It then appeared to him as a bright aim point (the white paper directly under the 9mm case that didn't get painted) surrounded by dark areas. He says that's the way a real 9mm case appears.
Mac fired two shots at the target from each distance of 10 yards, 15 yards, 20 yards and 30 yards. For all shots, he used the center of the cartridge silhouette as the aim point. What he discovered was that all pellets were in line with the target, but those fired at 20 yards and 30 yards landed below the aim point.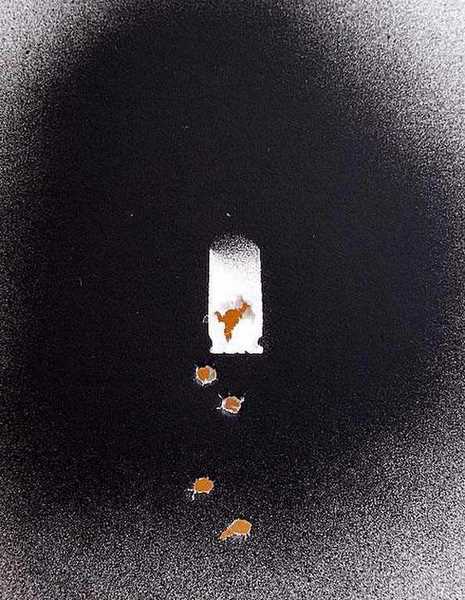 This one target was used at all ranges. Both the 10-yard and 15-yard pellets landed in the same place on the silhouette of the cartridge case. At 20 yards, the pellets landed a little low and at 30 yards they were about one inch low. Had Mac held his sights high to compensate for the drop, all pellets would have hit the target.
You can do this
Mini-sniping has been going on for decades, and I suspect for longer than we know. It's really just a type of plinking where the targets are standardized instead of random. If you don't have 9mm cases laying around, you can use clothespins or plastic caps from soda bottles. Some shooters who don't want to have random targets laying around substitute Necco wafers as targets. These sugary candies are completely biodegradable, whether they are hit or not.
Mini-sniping is a great way to enjoy your airgun. And though the accent of this article has been on rifles, there's no reason you can't do the same thing with an air pistol.
I wonder how many of you readers are already doing something like this and just not calling it by this name? I would enjoy hearing from you about how you do it in your neck of the woods.
by B.B. Pelletier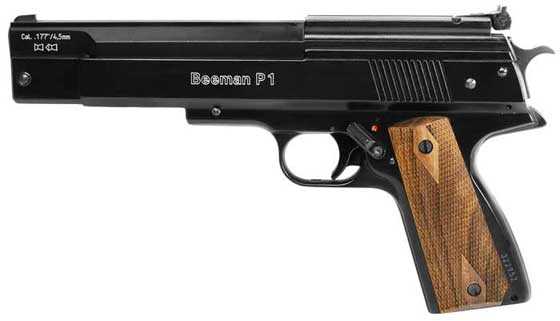 The Beeman P1 sits in the top tier of air pistols for power and quality.
Today is accuracy day; before we begin, I'd like to share a Beeman P1 anecdote with you. I interviewed Robert Beeman for the podcast that will go live in the near future. After we were finished, he told me some stories about the old days, when Beeman Precision Airguns was getting started. This one relates to the P1 and the gun that was never designed.
After the success of the R1, Robert and his wife, Toshiko, embarked immediately on the design of the P1 pistol. They wanted a powerful spring-piston pistol made with the handling characteristics of the M1911A1 pistol. They also wanted dual power levels. They had sketches drawn and took their ideas to Hans Weihrauch for implementation.
Several months passed, and the Weihrauchs called the Beemans to Europe to see the new gun. When they arrived, they were ushered into a conference room where both Hans and his wife, Christa, were waiting along with both their sons. Everybody was hopeful that the design would blow away the Beemans.
When they showed the gun to Robert, he said, "What is this?" This is a single-stroke pneumatic. We wanted a powerful spring-piston pistol with dual power."
"But you left the firing mechanism blank on the sketch!" was the reply.
"Yes. Because we aren't airgun designers. We figured you would know what to put in that space to make the gun we wanted."
"We thought you left it blank to indicate an air reservoir!"
Needless to say, the meeting did not go the way the Weihrauchs had hoped, but they asked for a few more months and would deliver the Beemans exactly what they wanted.
When the Beemans returned home, they had an artist sculpt a chalk model of the pistol to better guide the effort. It was darkened with finish and sent to Germany. A couple months later, they flew back to view what we now know as the P1.
A year after that, Hans Weihrauch caught Robert and said, "Herr Beeman, would you like to see the pistol you designed?"
Beeman knew he hadn't designed any other air pistol, but he said yes out of curiosity. The Weihrauchs brought him the single-stroke pistol we now know as the P2. It was nearly an exact copy of the P1, but of course it operated entirely different. Beeman was so impressed that he added it to his growing line of airguns.
Pyramyd Air no longer imports the Beeman P2 pistol, but they still carry the Weihrauch HW 75, which is the same gun.
Accuracy test
I'm still not strong enough to hold the pistol properly, so I shot off a rest with my shooting arm rested on a sandbag and the pistol extended out in front of the bag. I held the gun as I described in the last report, and it made a huge difference. The distance was 10 meters.
My eyesight has improved to the point that I was able to shoot with my prescription shooting glasses. With a 500-watt light on the target, the bull was very sharp, and with concentration I could bring the front sight blade into sharp focus, too.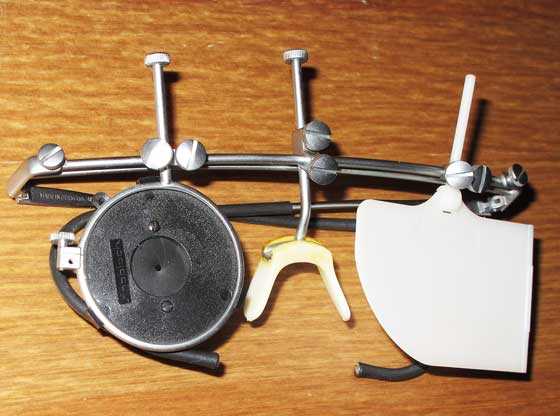 These shooting glasses have my prescription lens in the sighting eye. I used them when I competed in 10-meter pistol, and they still do the job.
Not surprisingly, the gun shot to a different point of aim, so it had to be resighted for this rested hold. I used a conventional 6 o'clock hold on the target.
I shot 5-shot groups instead of 10-shot groups, for reasons you will soon see. In a match, a competitor only shoots one pellet per bull because of the difficulty of scoring multiple hits stacked so close to each other.
RWS R 10 Match Pistol pellets
The first pellet I tried was the RWS R 10 Match Pistol pellet. It's always been good in this P1.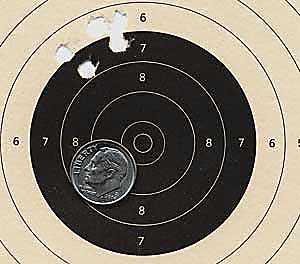 The sight-in target was five RWS R 10 pellets. It showed promise, but the sights needed adjustment.
The sights needed to come down and to the right, which was easy to do since the P1 sights are so adjustable. All it takes is a thin-bladed screwdriver. It took several more targets to get the sights dead on, but that was good practice for this unconventional hold I was using.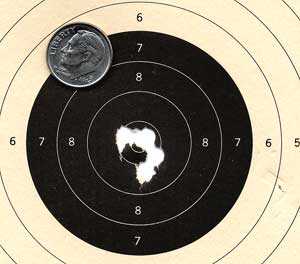 Five R 10 pellets score a perfect 50. This is why I don't shoot 10 pellets at the same target. When they clump together like this, it's difficult to see the individual holes. Back when I was competing, I could sometimes do this with my target pistol in a conventional one-hand hold, though I don't think I ever did it with a P1.
The best target really is a great one. Ask any 10-meter pistol shooter how hard it is to shoot five 10s in a row like that. Of course, my arm was resting on a bag in this test, so this wasn't that difficult.
H&N Match Pistol pellets
Next, I tried some H&N Match Pistol pellets. They do well in P1s, though in the past I've used the Finale Match Pistol pellets that are a little more expensive.

Five H&N Match Pistol pellets also produced a good target, though not quite as tight as the R 10s.
The bottom line
The Beeman P1 is an exceptional air pistol. If you don't believe me, just read all the comments from other owners who have had the same experience.
The one thing I wish I hadn't done was lighten the trigger-pull, because now the pistol is too sensitive. Air pistols need triggers that have at least 1 lb. of resistance, and this one now breaks at just 11 oz., making it too sensitive. You can control that in a rifle, but not in a pistol.
I've tried this gun with both red dot sights and scopes. It works fine with both, but being a veteran handgunner, I do not care for optical sights. As long as my eyes can still see the front sight, I'm not going to use them.
The power of this pistol is legendary. And I've shown you in this report that the power doesn't diminish over time. The lube tune I did was probably unnecessary and cost me some velocity, so I would just start shooting a P1 as it comes from the box and leave it alone. Remember to dry-fire the gun two times on high power if it ever starts detonating.
Dr. Beeman said this is one of the four airguns he would rather not do without, and I can see why. It's an heirloom airgun that will perform well throughout the years for both you and those to whom you pass it when you are through.
by B.B. Pelletier
Well it's Friday again, and it's time to have some fun. When I tested the TF 79 competition air rifle, I mentioned that I also shot several vintage 10-meter rifles the same day, just to make sure I was still able to shoot a good group. Well, we heard from a lot of readers who apparently like these oldsters just as much as I do, so I thought I would take today and report on how they all did.
I've owned most of the better-known classic 10-meter target air rifles over the years, but I didn't hold onto them because I was always chasing some other dream. Long-range accuracy or big-bore prowess were always competing with these quiet target rifles, and there's only a finite amount of money to go around. So, over the years I've both shot and given up some real vintage beauties.
A couple years ago, I decided that I had to always have at least one vintage 10-meter target rifle on hand at all times for when those assignments — like testing target pellets — came along. At the Little Rock airgun expo, I searched for an HW55 — a rifle that I knew from experience would be right for the job. Well, there was one in my price range. What I didn't know at the time was that it was a very rare version of the HW55 that not too many collectors have ever seen. It was the HW55 SF, the only HW55 ever made without the positive barrel latch on the left side of the action. In reality, it's just an HW50 with a target sight, but Weihrauch had marked the barrel as an HW55, and I was able to find a listing for the model in a vintage catalog from Air Rifle Headquarters. Technically, it's a 55, even without the barrel latch, because the manufacturer says it is.
I've owned most of the better-known classic 10-meter target air rifles over the years
That rifle sparked a renewed interest in vintage 10-meter target rifles; and over the course of the next two years, another four guns have come into my possession. They are, in order of acquisition, a Walther LGV Olympia, an HW55 Custom Match, an FWB 300S and, most recently, an FWB 150. The 150 is off to the airgunsmith getting overhauled right now, but the other three are on hand and are part of today's testing.
From the comments I received, I knew that I would not only have to report on how these guns shoot, but also on their particular weaknesses, because many of you seem to want to acquire one for yourselves. Today's report is not meant to be a detailed report on each of the rifles. There is no time for that here. I've already reported on the HW55 SF and the Walther LGV Olympia in separate reports that you can read, so there are only the FWB 300, HW55 CM and the FWB 150 yet to get their own three-part evaluations at some time in the future.
I'll shoot four of the five target rifles for you to compare their accuracy against what you've seen from the TF79, not to mention the Crosman Challenger PCP and the AirForce Edge. Be sure to read the reports on the Crosman Challenger PCP and the AirForce Edge, too. And, also, please know that Crosman made another target rifle called the Crosman Challenger 2000 that was a CO2 rifle with a Benjamin 397 barrel. That rifle was never as accurate as the Challenger PCP, but you can easily get confused by the similar-sounding names.
The HW55 SF
As I mentioned, this was the airgun that kicked off my renewed interest in vintage 10-meter target rifles. As you can see in the picture, it's just a simple breakbarrel that happens to have a target sight. In its day, which was around 1968, Weihrauch was making the finest breakbarrel rifles they ever produced, so there's a lot to this rifle that you won't see in an airgun made today.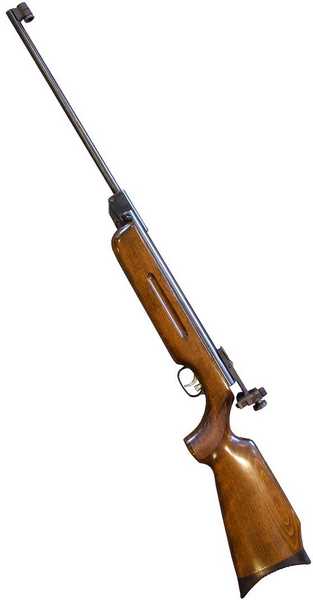 The HW55 SF was an unexpected find. It was supposed to be a work-a-day test-bed rifle. Instead, it rekindled old interests.
Also, because this is a model 55 in the eyes of the manufacturer, they installed the special target version of the Rekord trigger. While the standard Rekord trigger is something to behold, the target version has a much lighter trigger return spring and can be set to release safely at just ounces of breaking pressure. So there's not much difference in feel or performance between this trigger and the one found on the FWB 300.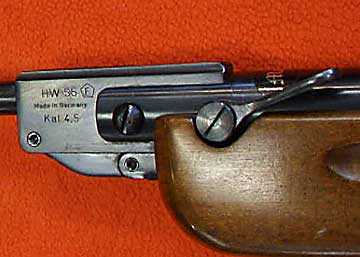 Nearly all HW55 rifles have this locking lever for the barrel on the left side of the gun. It's the most easily recognized feature of this model.

Only the rare HW55 SF is without a barrel-locking lever. The baseblock is marked "HW55."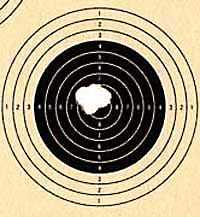 Five Hobbys made this incredibly tight target with the HW55 SF.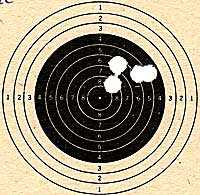 Five H&N Finale Match Rifle pellets made this somewhat mediocre target.
So, the old 55 likes inexpensive RWS Hobby pellets, too. What a plus! Sometimes, that's exactly how it goes. I also shot RWS R10 Heavy pellets, but they weren't as accurate as the H&N Finale Match Rifle pellets. The rifle is a bit buzzy when it fires, which I don't like. But the accuracy is almost too good to do anything to the powerplant except use it as it is.
The two weaknesses an old HW55 can have are a bent mainspring and worn seals. The early seals were leather and can be handmade by the owner, but later guns used the synthetic HW50 seals that seem to last a long time. If the breech seal is synthetic, there's a good chance the piston seal will be, too.
Walther LGV Olympia
The next rifle I tested was the Walther LGV Olympia. This old classic was one I bought from collector Tom Strayhorn, at what I thought was a super price. Tom sold it so low because of some finish loss on the forearm, but color me purple if that matters one iota! I'm a shooter. While I like a good-looking air rifle, if it shoots well it can look like a dog. Besides, I don't think this one looks that bad! Finally, there's a real advantage to my low standards!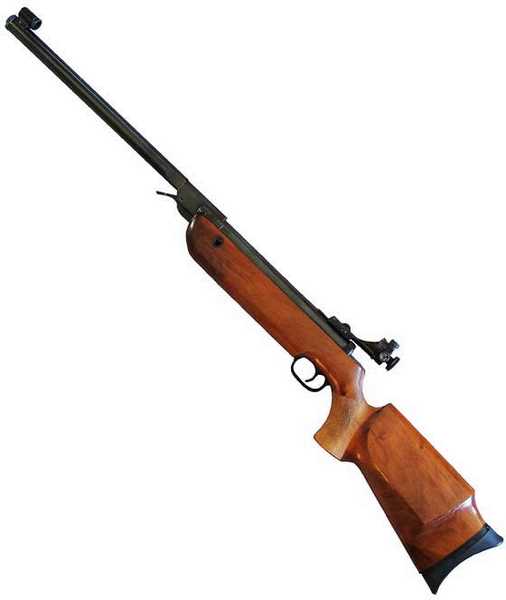 Isn't the Walther LGV Olympia a gorgeous air rifle?
The LGV has a beautiful firing behavior. It's smooth and free from vibration. I like the way the heavy rifle cocks, as well. It's so smooth that it's like watching a bank vault door operate. The trigger is the equal of the HW55 target trigger.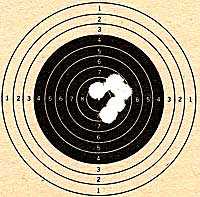 A sort of mediocre group of RWS R10 Match Heavy pellets from the LGV.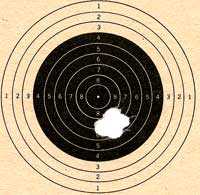 This target was shot back in January of this year. It's the same R10 Heavy pellet and the same rifle. I just did better that day.
The Walther LGV series guns have two flaws. First, they tend to crack their stocks at the pistol grip where the wood grain is aligned wrong for strength. Second, all of them were made with seals that crumble in time, but the replacement seals of today seem to last forever. So, check on the grip and seals before buying. Most airgunsmiths can work on an LGV because it isn't too intricate.
HW55 Custom Match
This is a rifle that deserves a complete three-part report of its own. Although I've owned it for several months, I haven't shot it that much. I know I got some good groups from it in the past, but to tell the truth, it was the ugly stepsister in this test. The firing behavior is harsh and jarring — not at all what I expect from an HW55. It feels like the rifle was tuned by someone who only wanted power. I think I need to open it up and calm it down.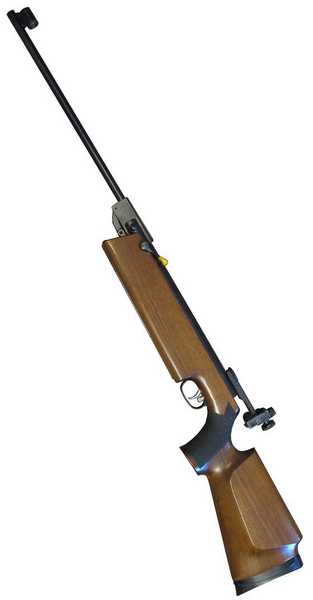 The HW55 CM represents the finest technological advance of the entire series of rifles.
I have so much to say about the HW55 CM because it represents Weihrauch's high-water mark with the 55-series rifles. Even rarer than the Tyroleans that everyone covets, the CM was around for only a very few years at the end of the half-century-long production run of the HW55. It was the finest "buggy whip" they ever made, though my rifle needed some fixin' to get to that point.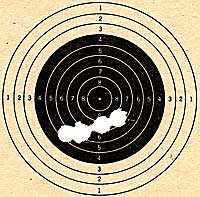 An embarrassing target! These H&N Finale Match Rifle pellets should have grouped in less than half this space. I really need to tune this rifle to reduce the harsh firing cycle. I also shot the gun with the R10 pellets but won't show it because it's even worse than this one.
Compared to the other rifles, the 55 CM feels thin and spindly. It has the thinnest barrel of all; in this crowd of heavyweights, it's a definite pipsqueak. The lower-grade 55 SF feels so much more substantial. Of course, that's not how it's supposed to be, and I think the harsh firing behavior is causing me to project bad feelings on the rifle. I really need to calm it down. When I do a separate report, I'll tune the rifle and hopefully get it shooting like it should. If I can't, this one will have to hit the road.
The 55 CM has the same flaws as the other 55 rifles. Mine has a leather breech seal, so I assume the piston seal is also leather.
FWB 300S
The last vintage rifle is the one all the others are always compared to — the venerable FWB 300S sidelever target rifle. It features a sledge anti-recoil system in which the powerplant slides a fraction of an inch on steel rails in the stock when the gun fires. The shooter senses only the slight rearward movement of the rear sight, but absolutely no recoil.

Feinwerkbau's 300S is the standard against which all vintage target rifles are compared.
This is another rifle that will get a separate three-part report sometime in the future. I got it from Mac at the Roanoke airgun show last fall. Bought it for cash right off the table after looking at it for one whole day.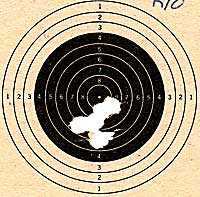 Five R10 Match heavy pellets gave this somewhat open, yet well-centered group from the FWB 300S.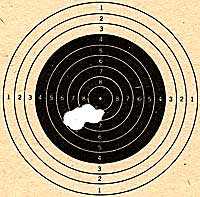 This group of 5 H&N Finale Match Rifle pellets shows the fine pedigree of the 300S.
This rifle shoots good groups in spite of the person on the trigger. You almost can't make it do otherwise. Together with the LGV Olympia, it's the easiest 10-meter spring rifle to cock. I can't wait to see what the FWB 150 feels like because this one has prepared me for a winner!
The FWB 300S is real prone to break at the wrist. And the seals will wear out. In this case, the No. 1 repair station in the U.S. is Randy Bimrose. I wouldn't use anyone else.
The bottom line
I had a wonderful time shooting these four veteran target rifles. Each has its own personality and feel, but they all were at one time the best air rifles in the world.
It's very relaxing shooting these old guns, because I don't have to work hard to get good results. The lower velocity comes with reduced recoil and lower noise that makes the whole experience one worth repeating many times.
If I were to pick winners at this point, the FWB 300S would be the overall leader, followed by the LGV Olympia as the best breakbarrel.
by B.B. Pelletier

The Walther LGV Olympia is a beautiful breakbarrel spring-piston target rifle from the 1960s.
Wow! It's been two-and-a-half months since I did the last report on this rifle. A lot has happened since then, plus I had to wait until I was strong enough to lift the heavy rifle. Cocking it was easy, because the barrel breaks with just 15 lbs. of effort, but I was under a 10-lb. weight restriction after my last operation. I didn't want to break apart in the middle, so I waited!
We learned in part 2 that this particular rifle is on the zippy side for an LGV following a recent tuneup (sorry, twotalon). It still has just a hint of twang when it fires, though compared to most breakbarrels it seems extra smooth.
The stippled pistol grip fits my hands very well. It's a pleasure to grasp when shooting. However, being a rifle made primarily for offhand work, the Olympia doesn't fit especially well when you shoot it off a bench. The trigger is a Goldilocks baby bear special, in that it feels just right. Though it releases at 12 oz., it feels like less to me. Not too light, not too heavy.
Remember how I gushed over the rifle in part 1? Well, gush, gush, gush all over again. One of the drawbacks of being an airgun writer is I often don't have any time to play with the real beauties. Awww. Poor me! But, this rifle is so sweet that it really deserves to be shot way more than I have time for. [Let the offers to relieve me of this terrible burden commence.]
In Part 1, I mentioned that this was my steadiest target rifle, which it was at the time. But, as I also mentioned, Mac did bring an HW55 CM to show me when he came out to Texas in November, and I managed to get it away from him. So, that'll be another vintage 10-meter rifle I cover some time in the future. Because of it, I now cannot say the LGV is the steadiest in my closet. But it is steady.
I also shot the TF79 Competition rifle at 10 meters on the same day as the LGV. While the TF79 remains on target through the shot, the LGV does not. It moves just enough that you lose the target in the front aperture every time the shot is fired.
The test
Because the Olympia is a 10-meter rifle, I tested it as such. I shot 5 pellets at each 10-meter rifle target, and with one exception I will tell you about in a moment, I shot only wadcutters. The rifle was rested using the artillery hold. I initially sighted-in the rifle with RWS Hobby pellets. Once the shots were landing in the 10-ring I didn't adjust the sights again. So, the Hobbys are sighted-in and all the other pellets land close, but no attempt was made to get the highest score for any of them. We're just looking at the size and shape of each group.
Speaking of the sights, I should mention that each click of the adjustment knobs in either plane (up/down or left/right) moves the strike of the pellet very little. I guess that's what you need for the best precision in a target rifle; but when you have to move 40 clicks to move the pellet a half-inch on target, it seems excessive. And, the clicks are extremely well-defined. There's no mistaking when the sight has moved.
RWS Hobbys
Let's see what this beauty can do! The first target, which was fired right after sight-in, was shot with RWS Hobby pellets. While Hobbys are not premium target pellets by anyone's definition, they often deliver startling performance, especially at lower velocities.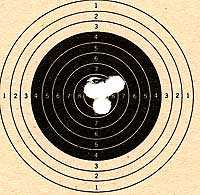 RWS Hobby pellets were used to sight-in the rifle. They produced this 5-shot group at 10 meters. It measures 0.218 inches between centers. Not bad!
H&N Finale Match Pistol pellets
Next, I tried H&N Finale Match Pistol pellets. These would be more appropriate for air pistols because of their lighter weight of just 7.56 grains. As you can see very clearly, they didn't group as well as Hobbys. And make no mistake, there were no called fliers. Every shot was calculated to be the best I could make it. These pellets have a head size of 4.50mm.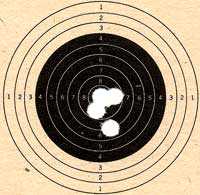 H&N Finale Match Pistol pellets are not right for the Walther LGV — at least not this one. The group measures 0.315 inches between centers.
RWS R10 Match heavies
Then, I tried the pellet that might be considered the best overall for this rifle. It's certainly one of the two pellets I would spend more time testing. The RWS R10 Match heavy pellet weighs 8.2 grains and is meant for use in target air rifles. This pellet has a head size of 4.50mm.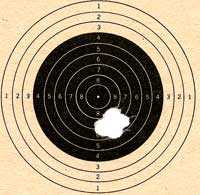 The RWS R10 Match heavy pellet turned in the best group of the test. Five pellets went into this group that measures 0.143 inches between centers.
RWS R10 Match Pistol pellets
After the R10 Match heavies, I tried the R10 Match Pistol pellet that weighs only 7 grains. The difference between it and the heavy R10 was like night and day. The head size is not indicated on the tin.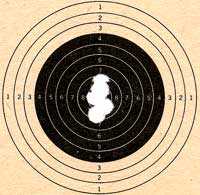 The lightweight R10 Match Pistol pellet produced a group measuring 0.281 inches between centers. It was close to the worst performance of the test and is also a very good illustration of just how much performance can vary with different pellets in the same gun. Compare this group to the one made by the R10 heavies.
Vogel pellets
Next, I tried some of Scott Pilkington's Vogel Match pellets. Scott, who is America's airgun technician for the U.S. Olympic team, makes these pellets right here in this country. Vogel is a well-recognized, world-class pellet that was made in Germany before Scott took over the reins. These pellets weigh 8.18 grains and have a head size of 4.50mm.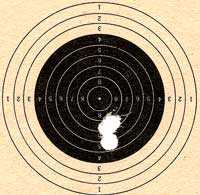 Vogel pellets produced this 5-shot group that measures 0.164 inches between centers. It was the second-best pellet I tested and certainly deserves more testing in this rifle.
Gamo Glow Fire pellets
Finally, I tested a pellet that really doesn't belong in this report, but it's one I've had on my desk for the past 10 months, awaiting the right moment. One of our readers touted the new Gamo Glow Fire pellets in a comment in early 2010, and his enthusiasm drove me to acquire a tin for testing. My thought was always to test them separately, but my illness intervened, and I reckoned that if I don't work them in somehow I'll never test them at all. So, I'll include them in several accuracy tests in the future to make a comparison on the fly.
The Glow Fire pellet has a luminous, pointed synthetic tip that glows in the dark. I suppose under the right lighting conditions they look like tracers, but I didn't test for that. At just 10 meters, though, there isn't enough time to acquire the pellet in flight before it smashes into the pellet trap. But the blog reader who mentioned them was impressed with their accuracy, not their appearance in flight, so I added them to this test knowing that we already had a very accurate rifle to shoot them.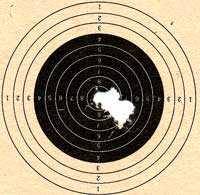 Lo and behold, the Gamo Glow Fire pellets went into this group measuring 0.225 inches at 10 meters! That's very good performance for a non-target pellet.
I can't say the Glow Fires are not premium pellets, because Gamo sells just 150 of them for $11. So, from the standpoint of cost, they're certainly among the costliest pellets around. At that price, 500 would cost you $36.67, which is beyond even the price for the finest R10s in the individual package. From a production view, they're not as uniform and regular as most of these target pellets.
Of course, 10 meters is not the range at which to determine a pellet's accuracy for anything other than target pellets. So, I'll try to test the Glow Fires at longer range next time.
The last word
This has certainly been an interesting journey with the LGV Olympia. As I mentioned in Part 1, I owned one of these a long time ago, but I let it get away. I don't think I'll make that same mistake with this one. It's a delightful shooter, and every time I pick it up a smile breaks out. I think I'm at that age where quality matters more than anything else, and this is one high-quality air rifle!