by Tom Gaylord, a.k.a. B.B. Pelletier
This topic was received well last week, so I'm doing the second list today. Several readers have reminded me of other gifts I should mention, and some of them will make today's list. If I don't list something you suggested, there's a reason. These are the things I recommend without question.
Stocking stuffers/small, neat gifts
Gifts in this category don't cost a lot but will have great meaning to airgunners. Some of them are things that shooters won't buy for themselves.
Air Venturi Pellet Pen and Seater
Someone suggested the Air Venturi Pellet Pen and Seater, and I have to agree. This is a great gift, and it's one that a lot of shooters won't buy for themselves.
EyePal Peep Sight Master Kit
The EyePal Peep Sight Master Kit is another gift that people may not think about; but when they have one, they'll love it. I chose the Master Kit so you can use it with both rifles and pistols (and bows if you're an archer, too). Even if you don't wear prescription glasses, the EyePal is a great aid for your safety glasses to sharpen your vision and make that front sight clear!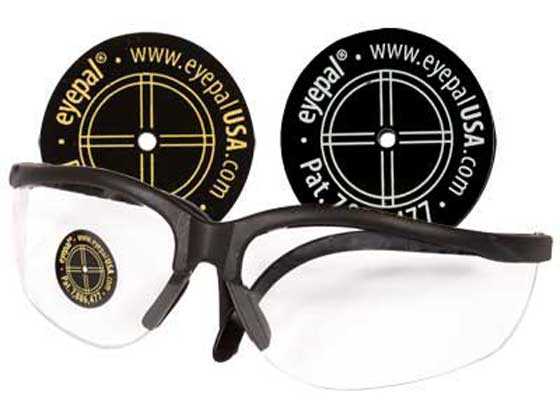 The EyePal makes the front sight appear razor sharp. Use it on prescription glasses and non-prescription safety glasses, alike.
Pellet selection
Here's a gift I'm putting in this section, although it will cost you some money. Pyramyd Air offers 4 tins of pellets for the price of 3. Your favorite airgunner has pellets he or she really likes, but they don't buy them all the time because they may cost too much.
Consider this gift similar to one of those fancy boxes of candies or Christmas smoked meats that are given this time of year. Nearly everybody likes them, but we don't spend money on them for ourselves. So, this is an opportunity to buy something your airgunner wants but will never buy himself. The one problem you have is finding out which pellets to buy. Rather than try and guess what your airgunner wants, I'm going to leave this up to you. You need to do a little investigation, maybe look at the pellets that he has on the shelf, or just talk to him and find out what he really wants but hasn't bought.
Gifts under $50
Crosman 357
For a pistol shooter the Crosman 357W is a great idea. It's a revolver, so you get multiple shots per loading; and for the money, it's an accurate little air pistol.
Walther Multi-Tac tactical knife
If your airgunner is a gadget junkie, you can't do much better than a Walther Multi-Tac tactical knife. It's a tool kit for your pocket. And it has a 440C stainless steel blade to cut whatever you need.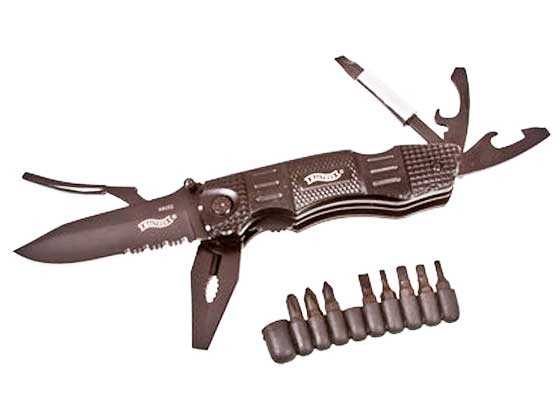 Walther's Multi-Tac knife is a toolkit in your pocket!
Walther Xenon Tactical flashlight
Can't have too many flashlights! Not when you need one! The Walther Xenon Tactical flashlight uses two CR123A batteries to cast a 60-lumen light. That means you get both good battery life and a powerful light.
Gifts under $100
Some of these gifts are just over the $50 mark, so look at them carefully. This category holds some of the most surprising values in airguns.
Legends Makarov
The Makarov from Umarex is a wonderful BB pistol that I just can't stop talking about. I bought one for myself after testing it! It's extremely accurate for a BB pistol, which means you really can use it for target practice. It runs on CO2, so don't forget to get some CO2 cartridges if you give this gun as a gift.
Simply one of the best BB pistols you can buy at the price, the Legends Makarov is accurate, well-made and inexpensive.
Crosman 2240
Another fine CO2 pistol is the single-shot Crosman 2240. It's a .22-caliber, bolt-action pistol that's powerful and accurate, plus it serves as the basis for many aftermarket modifications.
Ruger Mark I
The Ruger Mark I air pistol is powered by a spring-piston. It isn't very powerful, but it's a great companion for the handgun shooter who only wants to poke holes in targets and plink with a pistol that's easy to cock and accurate.
Stoeger X5 air rifle
The Stoeger X5 air rifle is a wonderful, youth-sized, spring-piston rifle that has enough quality to make my list. The trigger is a little stiff, but the accuracy is there. It reminds me of the Hämmerli 490 that is, sadly, no longer available.
Gifts a little over $100
I created this category for those items that are a few dollars over $100 but are still within the realm of economy. Sometimes, the things you want are just over the line — no matter where you arbitrarily draw it.
Shooting Chrony Alpha chronograph.
The Shooting Chrony Alpha chronograph is the instrument I use to document 98 percent of the work I do. I use it because it's small, portable and very reliable. Sure, there are reasons to use my Oehler 35P chrono, sometimes; but most of the time, this is my choice.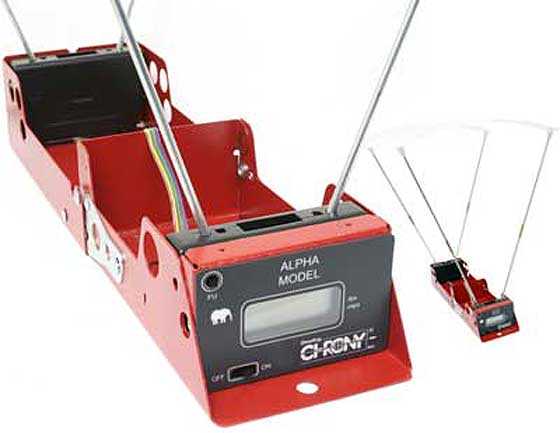 Though it's just $10 over a hundred, the Shooting Chrony Alpha has everything you need!
Daisy Avanti Champion 499 BB gun
I have to recommend the Daisy Avanti Champion 499 BB gun because it is the target shooter's dream. Where other BB guns will put 10 shots into three-quarter of an inch at 16 feet when all is right, this one will put 10 into a quarter-inch at the same distance. This is a shooter's tool, not a hunting gun or bragging-rights gun. Be sure to stock up on the special Avanti Precision Ground Shot if you get this gun because it definitely adds accuracy! And order some special 5-meter BB targets that are sized right for this gun!
IZH 60 air rifle
I am also going to put the IZH 60 air rifle on my list this year. Though the accuracy slipped when the gun's design was changed several years ago, this is still a delightful youth rifle that's easy enough for even smaller kids to cock. It has reasonable accuracy, and the sidelever design means that fingers can't be pinched in the mechanism like they would on guns having sliding compression chambers. I recommend the single-shot over the repeater for reasons of safety.
Daisy 953 TargetPro
I normally don't recommend combo guns, but I'll make an exception for the Daisy 953 TargetPro. It's a pellet rifle with enough accuracy to get you into the game without spending a bundle.
Gifts under $300
Gifts in this category start to take on the aura of personal taste. My recommendations may not be what your airgunner wants, so you need to find out if they are before you buy anything.
Benjamin 392 pump
This one is very personal. You airgunner will either like it or not. So, check first. The Benjamin 392 pump is the best multi-pump rifle going, these days. Its heritage dates back to the late 19th century, so there's a lot of history there. I also chose the .22-caliber 392 for its power; but if your airgunner only wants to shoot at targets, then the 397 is the same rifle and shoots cheaper .177 pellets.
Daisy Avanti 853
The Daisy 853 is right at $300, but its a great buy even at that price. It features a Lothar Walther barrel and has been used by millions of kids for competition in the decades it's been around. The trigger is rough, but there are several websites that tell you how to fix it. To get anything with better accuracy, you're going to need to spend several hundred dollars more.
Diana RWS LP8
Want an air pistol that shoots like a rifle? The Diana RWS LP8 is the one to get. It just may be the best value in a really good air pistol these days. It has plenty of power and is very accurate. The breakbarrel cocking is on the heavy side, but an adult male shouldn't have a problem.

For the price, the Diana RWS LP8 air pistol can't be beat.
Gifts without limit
Now, we can spread our wings a little. This is where many of the better airguns live.
HW 30S
Let's start with the HW 30S. You know this rifle as the Beeman R7 when it's in a different stock, but airgunners know the HW 30S has the same powerplant and the same adjustable Rekord trigger as the R7. If your airgunner likes the styling of the HW 30S, it's less expensive; but if he wants an R7, it's also a wonderful spring-piston air rifle.
Diana RWS 48
If you want a big bruiser spring-piston air rifle, the Diana RWS 48 is one I would recommend. And, I recommend it in .22 caliber, where you get all the power it can develop. The 48 is a sidelever that's surprisingly easy to cock, despite the level of power it delivers. It's also very accurate. One thing, though, the 48 is a big air rifle, so be sure your shooter knows what he's in store for. Definitely for adults, only.


Diana 48 sidelever from RWS is large and in charge!
TalonP air pistol
There's no other smallbore air pistol that can hold a candle to the TalonP air pistol from AirForce Airguns. It comes in .25 caliber and has 10 shots per fill at over 50 foot-pounds of muzzle energy! Many rifles can't equal it! When I tested it for accuracy, I got sub-one-inch groups at 50 yards. It's a hunting air pistol extraordinaire.

The TalonP pistol from AirForce Airguns leads the pack for power and accuracy.
Walther LGV Challenger
If you want a really fine breakbarrel spring rifle, you can't do better than the Walther LGV Challenger. I recommend the .22-caliber gun because it was so smooth when I tested it.
by B.B. Pelletier
Today, I'll venture into an area where style and function can clash violently. Also, because every person is built differently, the things I say will not apply equally to all people. That is not to say they are untrue or vague enough to just be opinions; but because of differences in our bodies, each of us will have slightly different needs, and sometimes they won't even be that slight!
1903A3 Springfield
As most countries do, the United States has a rich tradition of fielding infantry rifles with "one size fits none" stocks. I could criticize all of the Mosin Nagants or the K31 Schmidt-Rubin rifle of Switzerland, but I don't need to look any farther than the dear old M1903A3 that was the last gasp of the famous Springfield rifle used at the start of World War II. The pull of this rifle is a ridiculous 12-3/4 inches in length that guaranteed to sock anyone in the kisser when the big round goes off. As if that weren't enough, the stock also drops away from your face steeply to get a running start at your cheek when the recoil begins!
Even men of very small stature find the Springfield stock uncomfortably short. The spin doctors at the arsenal dreamed up an excuse: "The stock is designed for men wearing field jackets and winter uniforms." Ha, ha!
[Parenthetically, I will say that two vintage U.S. battle rifles have had stocks of decent proportions -- the 1917 Enfield (the American Enfield) and the Garand. Both have acceptable pull lengths and good pistol grips. The Enfield's comb is a little low, but overall, it's a rifleman's stock. The Garand is as close to stock perfection as the United States ever came in the 20th century -- in my opinion. That's in spite of having a short pull of 13 inches.]
The Soviets said their Mosin stock had its short pull because "The Soviet Union is comprised of many different countries with soldiers of widely varying stature. The rifle was designed to fit as many different men as possible." Again — ha, ha!
Why the Swiss skimped on the length of their buttstocks and dropped their combs so low is a mystery to me, because they do not have nearly the problem the Sovs did with ethnic differences. In sharp contrast to the too-short K31, their model 1911 rifle had a stock of more correct proportions.
What these nations really mean is that they build their battle rifles on a budget, and the bean counters thought the savings of an inch or two of wood, spread over millions of stocks, was worth it. Besides, making soldiers miserable is a time-honored right of passage.
Good stock equals reduced recoil
When I bought a German-made Mark V .270 Weatherby Magnum rifle for hunting, I was prepared to be laid low by the recoil. I had recently suffered with a Remington 788 in .308 Winchester caliber that about knocked me flat every time it went off. So, imagine my shock to discover that the Weatherby, with its more powerful belted magnum cartridge, did not kick as hard as the Remington! It actually kicked a lot harder, but the straight lines of the Weatherby stock coupled with the very shallow slant toward the butt kept the comb firmly in contact with my cheek the entire time. The rifle didn't have the opportunity to get a running start at my face when it went off. I wound up loving the gentle Weatherby that others, who don't know it, regard as a monster!
I was about 24 years old when this discovery took place, and that was when I started paying attention to the shape and size of rifle stocks. I found that I liked a pull (the distance from the center of the butt to the center of the trigger blade) of 14-3/4 inches, which is a tad longer than most other men my size (5'11″ at the time). I guess my arms and neck were a little longer than the norm for my height.
What I'm trying to tell you is that you may not have the same body dimensions as me, but we will both do better with a stock that is straight versus one that drops low at the toe. And we will also do better with a stock that has the right length of pull for our frames — whatever that may be.
Correct length of pull is hard to measure
There's an old method of measuring the correct length of pull on a rifle. The butt is rested on the crook of your arm and the trigger is supposed to come about halfway up your index finger when the finger points straight up.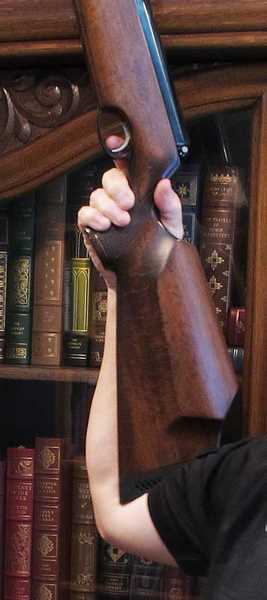 This is the traditional way people measure the correct length of pull on a rifle. It works after a fashion, but only by holding the rifle offhand will you know for sure.
Hooey! This old method is ingrained into most shooters at a tender age, but I find it often doesn't work. A better way to find the right length of pull is to shoulder the rifle and see how easily your trigger finger finds the trigger blade and your hand finds the pistol grip.
What fits feels good
Blog reader Kevin Lentz once asked me if I'd ever had a rifle whose stock fit me well. He knows that because I test so many different air rifles all the time that chances are that most of them don't quite fit me. I answered him that my Weatherby was the best-fitting rifle I ever owned, and he understood — because he also owns a Mark V Weatherby in .300 Weatherby Magnum.
As far as airguns go, the TX200 fits about as well as a Weatherby. It has a very vertical pistol grip that invites a good hold, and the flat forearm helps stabilize the heavy rifle. The butt drops a bit far, but the TX recoils so soft that it doesn't matter.


The TX200 has a very high comb. The stock drops quite a bit, but the low recoil and high comb combine to cancel that.
So, where does this leave us? Well, if we know that length of pull and the drop of the stock are important, it seems that we should be able to design stocks that fit us well. Enter the Air Venturi Bronco!
Air Venturi Bronco
Several years ago, I became exasperated by all the air rifles that were near-misses for stock fit, as far as I was concerned. I knew from conversations with other airgunners that what the world really wanted was another Diana 27. But Diana only wanted to make powerful spring rifles that were hard to cock.


The Bronco has a western-style stock with a high comb, no cheekpiece and a straight wrist.
The other airgun many shooters wanted was the Beeman R7, but for one-third the current price — the old five-cent cigar thing. There were long debates on this blog about whether this or that HW30 was equivalent to the R7. Remember that?
One day, I was sharing my feelings with the president of Pyramyd Air. I lamented that a company like Mendoza that made accurate barrels and good triggers didn't have a nice youth airgun we could sell. That was when he told me that they did, indeed, have a youth airgun, but that it was too ugly to sell. I asked him to send me his sample, and a few days later I had it in my hands. It was called the Bronco. [Note from Edith: I always thought Tom made up that name. Now, I find out he didn't. What other things is he taking credit for that are not deserved?] It was exactly what I was looking for, only it had a stock so ugly that you needed a tetanus shot just to hold it!
The Bronco was an RM10-barreled action in a stock that had a huge kidney-shaped cutout in the butt. It was a stock by Salvador Dali that could only exist in an acid-trip fantasy, yet Mendoza had somehow managed to turn it out for real. The pull was just over 10 inches, as I recall.
Remembering the success of the Beeman C1 carbine, I suggested to Pyramyd Air that we have a stockmaker build a Western-style stock and that we make other changes to the powerplant at the same time. I was tasked with getting the stock made, and I found a custom stockmaker to do the work. We produced a stock in American maple that had a strawberry blonde finish and a 14-3/4 inch pull. I fell in love with it; but when we discussed the project at Pyramyd Air, we decided the stock had to be shorter to accommodate older kids and adults, alike. We settled on a 12-3/4-inch pull. The blonde finish was kept, though many people disliked it.
Mendoza took the sample we sent them and produced a gun for us to examine. A couple small changes were made to that prototype, and we were done! The result is the Air Venturi Bronco that you see today.
What's good about the Bronco is that the comb is high without needing a Monte Carlo profile or a raised cheekpiece. It comes up to the shoulder fast and naturally for most shooters, and the sights are right in line with your eyes when your head is erect. Also, you don't have to hold your head in a different place to use a scope. That's the advantage of a straight-line stock that has very little drop at the toe.
The classic stock
Many times, I've mentioned the classic stock in the past. What is it? What makes it classic?
A classic stock is one that has a straight comb with no Monte Carlo profile. The stock line is very straight, so the toe doesn't dip very low. That allows the recoil to be transmitted in a straight line instead of in a downward angle when it first comes back, then it rotates off the shoulder to rise upward and hit your cheek.
A classic stock has a pistol grip in a place where you can grasp it when holding the rifle to your shoulder. Many larger air rifle stocks, such as the one on the Hatsan Torpedo 155, have pistol grips — but their proportions are too large for 95 percent of the population, with the result that the shooter cannot grasp the grip when holding the gun normally. The grip is set too far to the rear and out of reach for most people. A TX200, in contrast, has a pistol grip in exactly the place where most shooters' hands expect it to be. The result is that the rifle seems to fit better and is easier to hold, even if the shooter isn't aware of the reasons why.

The Hatsan Torpedo 155 has a large drop at the toe of the butt, plus the comb is also low, despite being a Monte Carlo profile. The result is a hard-kicking air rifle.
Perhaps the best example of a classic air rifle stock I can give you is the wood stock that comes on the RWS Diana 34 breakbarrel. There's no Monte Carlo comb and the pistol grip is in pretty much the right place.
For an even better example of a classic stock done right, you need look no farther than the Ruger M77 rifle. While their pistol grips come back a bit too far, these stocks are about the best ones on today's market. Sako of Finland is another maker that had a remarkable line of good stocks in decades past; and in recent times, they've taken the classic proportions and put them into synthetic stocks. And I must include the iconic Winchester model 70 in the small list of classics.
No thumbholes
A classic stock does not have a thumbhole. Instead, the pistol grip is proportioned so well that it feels good in the hand. I personally don't like thumbhole stocks because they usually prevent my thumb from being placed where I like it. On the whole, I do find that most thumbhole stocks fit better than most non-thumbhole stocks. That's because most of those stocks without thumbholes are cut with the wrong angles and proportions.
A Western-style stock like the one found on the Bronco and the Walther Lever Action rifle is not a classic rifle stock. The straight wrist isn't as easy to hold as a well-formed pistol grip. But the Western-style stock does fit more people better, because there are so many classic-cut stocks that miss the mark.
The bottom line
I wrote this article for those new airgunners who are researching airguns to buy right now. The size and shape of the stock plays an important part in how well your gun will fit; and that, in turn, affects how much you enjoy shooting it. Don't just buy an airgun based on the velocity, because that will lead you astray. Unless the gun also fits you and feels good, it will not do well in your hands.
If you don't know how different guns feel, you might try visiting a gun store or pawn shop and try a few different rifles for their fit. Your friends may have different guns than you do…so try on some of those to see which ones fit you better. Yes, you can even try firearms and transfer their fit over to air rifles. If you have no other frame of reference, this will at least give you a starting point. And don't forget to read everything you can about the fit of a good rifle, because this is an area that will never stand out but will make a big difference in how much you like or dislike a particular rifle.
by B.B.Pelletier
Every airgun show is unique. I've said that many times before, but it's always true — and this one was no different. What I look for when I try to describe an airgun show is how it stood out from all the others. That's what I'll do today.
An airgun show is small, in comparison to0 a regular gun show, but there are more airguns on a single table then you'll see at most big gun shows. And the guns range from inexpensive Daisys and Crosmans to then most exotic airguns imaginable. So go to gun shows for and crowded aisles, but to airgun shows to find airguns.
I didn't get away from my table for the first half of the first day. When I finally did, the show immediately began to reveal itself. It was jam-packed with big bore air rifles! I mean jammed! Dennis Quackenbush and Eric Henderson are always the mainstays of the show; but this time I met Robert Vogel, whose business is Mr. Hollowpoint. Robert casts each bullet by hand from lead as pure as he can make it. His bullets mushroom on game perfectly and rip huge holes in living flesh, making the most humane kills possible. I bought a bag of 68-grain .308-caliber hollowpoints for the Quackenbush .308 test I'm conducting, and he threw in a second bag of .22 pellets for free. These will have a special debut in a smallbore test in the near future.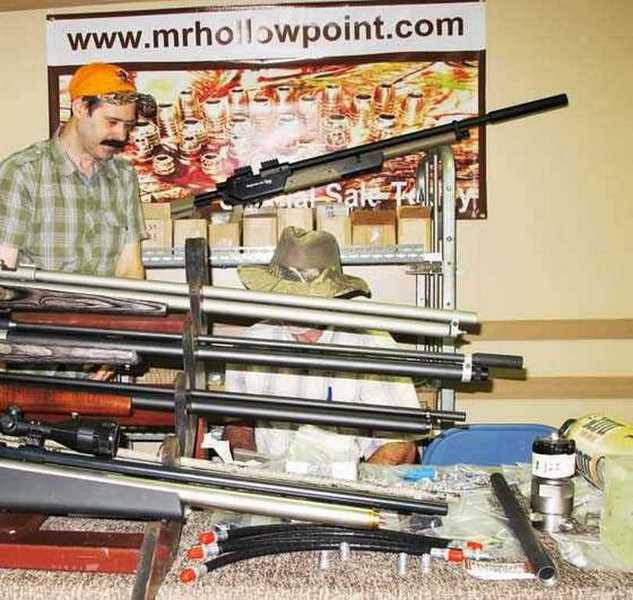 Robert Vogel (standing) is Mr. Hollowpoint. He has thousands of different bullets for big bore shooters to try.
But Mr. Hollowpoint wasn't the only bullet maker at the show. Seth Rowland, the show's host and promoter, also supplies the big bore airgunning community with cast bullets in numerous sizes and shapes. And their customers can hardly appreciate the untold hours they spend at the lead pot, casting and sizing these silver slugs one by one.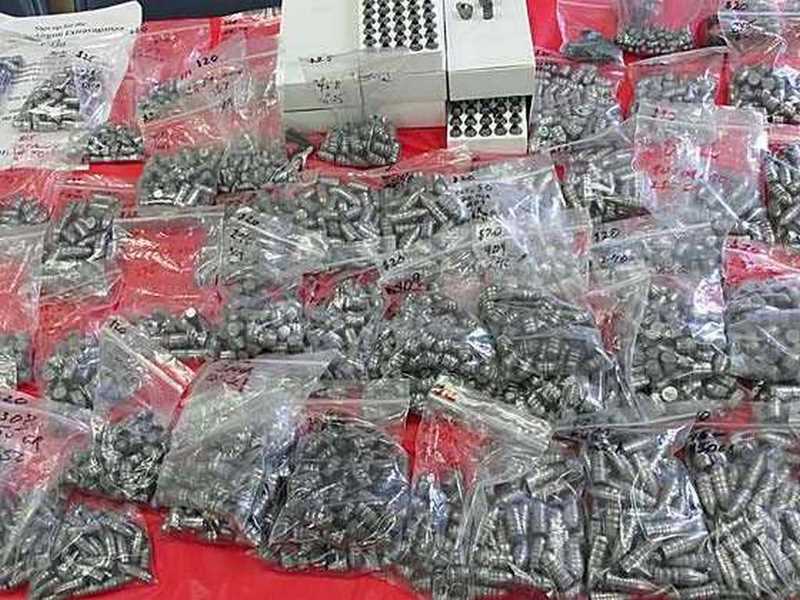 Need bullets? Seth Rowland has them in different sizes, shapes and weights.
10-meter guns
Another theme that's common to all airgun shows is 10-meter target guns. This year's Arkansas show had plenty of them, both from dealers like Scott Pilkington of Pilkington Competition Equipment in Tennessee, as well as numerous private individuals. I mentioned several weeks ago that Mac was bringing some recently overhauled FWB rifles to this show, and on day one an interested buyer sought him out. This man was serious about buying a target rifle, and he had done his research on the internet. But this was the first time he'd seen, felt and shot these rifles.
Mac took him out to the shooting range to try out an FWB 150 and a 300; and from his testing, he decided the 300 was the gun he wanted. Because it lacks the barrel jacket, it's lighter than a standard 300S. He was buying the rifle for his wife to shoot in competition. They made a deal, and he went home with the exact target rifle he wanted — an overhauled ex-club rifle at a price that was several hundred dollars below what he would have paid for a gamble on the internet. For this man, driving all the way to Arkansas made good sense.
I'm sure that same scenario was played out numerous times at this show, because that's what happens at an airgun show that also has a shooting range. You get to try out the guns before you buy — something that's impossible at a regular gun show.
The odd and wonderful
You never know what you're going to see at one of these shows, but there are a few people who always seem to have interesting things. Larry Hannusch, the top airgun writer for the past 30 years, is one person who can always surprise you. This year, our tables were together, giving me the opportunity to look at his guns more closely than normal. He had a Crosman 113 bulk-fill CO2 rifle, which isn't unusual, except the owner of this one had inlet a pellet box into the right side of the stock — much like the patchbox found on certain muzzleloading rifles.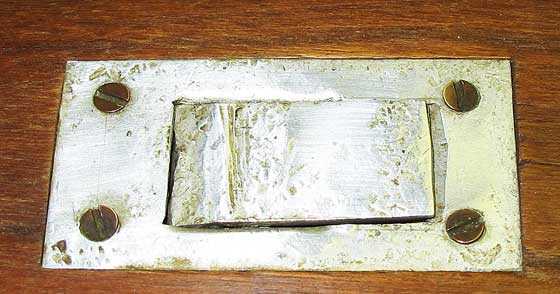 Some owner made this patchbox in the stock of his Crosman 113 bulk-fill rifle.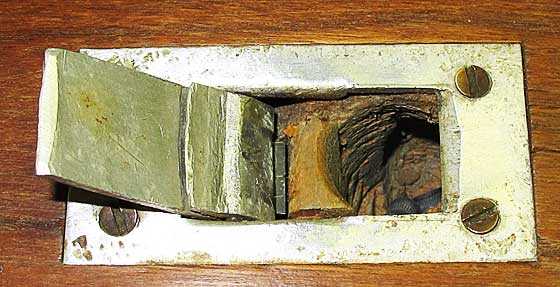 He built the "patchbox" with a built-in spring. There were pellets inside.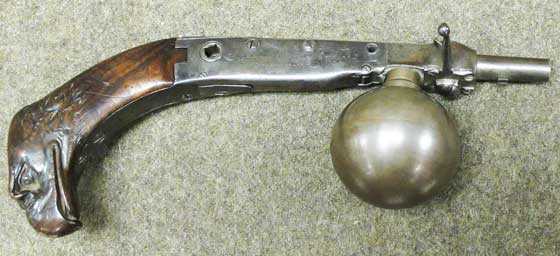 When was the last time you saw one of these? A French ball-flask pistol from the 1700s.
The big find
Often there will be a big find of some certain airgun that shows up at a particular show. I remember one year someone was selling piles of brand-new-in-the-box S&W 78G and 79G pistols. There were at least 50, but as my memory serves there might have been as many as 100 brand-new guns that were at least 20 years old at the time. Another year, it was Scott Pilkington who brought almost 300 club target guns for sale. You could buy an FWB 300 for $150-$200! Of course, it would have been a beater and would have needed to be resealed, but it certainly was the budget way into a 10-meter gun.
Then there was the year that someone had over 20 Johnson Target Guns, the submachinegun-looking plastic catapult BB gun from the late 1940s. They were all new in the box, and the cloth backstop that was in the box to stop the BBs inside the box lid that also served as a backstop had turned to dust. But they were complete. To collectors, they were a wonderful find. I actually saw two of these at this year's Arkansas show; so even after more than 10 years, they're still slowly dissolving into the collector population.

Two brand-new Johnson Target Guns in the box with all the literature and accessories.
When I walked into the second large room in this show and turned the corner, I ran into Randy Mitchell's booth, where he was selling a pile of recently discovered TS45 sidelever air rifles for $20 each! I blogged this rifle several years ago, and Vince also wrote a guest blog about the same rifle. Until now, there were no new guns you could buy. You had to find one by chance and would always be one somebody had owned and possibly modified. Now, Randy Mitchell, who runs his Adventures in Airguns store, has a huge pile of these rifles to sell. They aren't very safe and are the very guns that chopped off thumbs when their anti-beartraps failed; but if you cock them safely and load while restraining the sidelever, they're fun to shoot and are often accurate.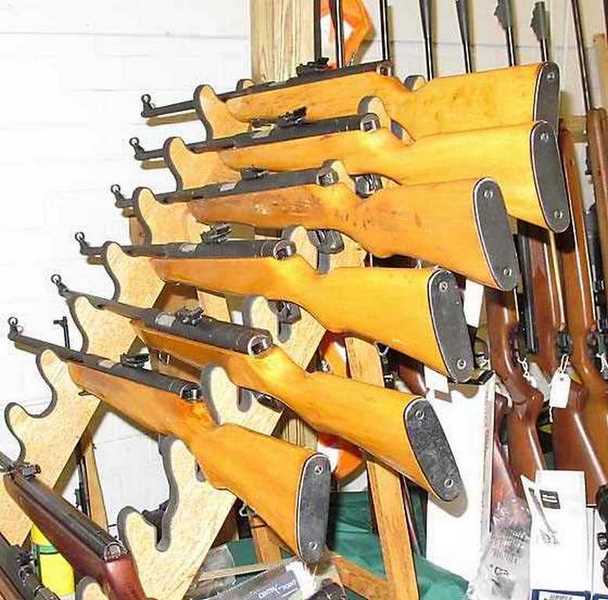 Randy Mitchell found these old/new TS45 sidelevers and brought them to the show. It's stuff like this that keeps me going to every airgun show I can make!
Collectibles
Of course, there are too many modern guns to name here, but know that at any show you'll find almost every modern classic airgun for sale. If you're looking for good TX200s or old R7s, they're usually available — and they were at this show, too. But what you also see are airguns that are so rare and hard to find that some of them won't even be seen in airgun books. This yearm Ingvar Alm had both a Winsel CO2 pistol in the box and a Giffard CO2 pistol from the 1870s on his table. Giffard invented the application of CO2 for gun use, and Winsel made only 50 guns in the early 1950s. Neither gun is represented well in any airgun book I know.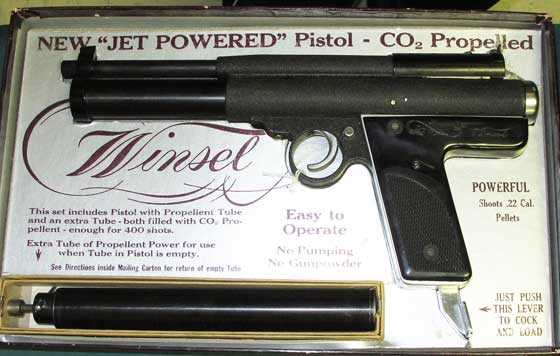 The Winsel pistol was a bulk-filled CO2 pistol that required the owner to mail his tank back to the company to be filled. Yeah, that's going to work! They made 50 and quit. Today, they're a prized collectible.

Giffard pioneered the use of CO2 in guns in the 1870s. His pistols are many times rarer than his rifles. The empty pop bottle is for contrast — like Cindy Crawford's mole.
Big bores
There were more big bores at this show than I see at other shows. Perhaps, that's because the focus of big bore airgunning seems to center around Texas, where the LASSO match is held. Dennis Quackenbush delivered his guns to eager buyers, but the only rifle he had to show was his own .308, which he doesn't want to sell. Eric Henderson and Big Bore Bob Dean were both there with some guns to sell, as well as Robert Vogel. But the one maker with a lot of guns on display was Jack Haley, whose table was a rainbow of laminated stocks.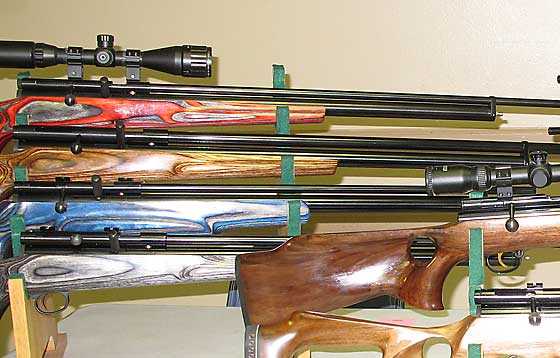 Jack Haley's table was a colorful display of big bore rifles.
Oops!
Then there was the big bore that has been a joke in the airgun community for many years. The gun itself is fine. It was made back in the 1980s by Ben Patron, whose name is clearly on the side of the receiver. Somewhere along the line, some person got ahold of it and displayed it at the Springfield, Missouri, gun show as a "U.S. military .50-caliber sniper air rifle." The label for that display was still inside the guitar box that held the gun, and Dennis Quackenbush remembers seeing it at the Springfield show. After that, it somehow ended up in an Arkansas pawn shop where Big Bore Bob found it and bought it.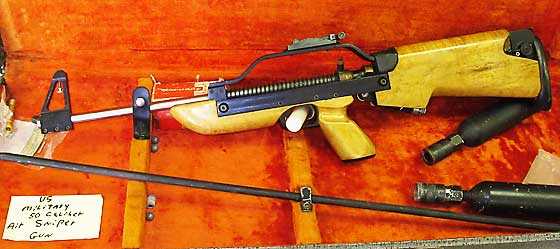 Some previous owner had concocted a colorful background story for the Patron big bore of the 1980s.
The drawing
Many shows have a drawing, but airgun shows are so lightly attended that you actually have a chance of winning! This year, they gave away several very nice prizes at the close of the show, including a scoped TalonP pistol from AirForce! Then came the drawing for the frame-extended silencer for the Talon SS. I knew before the little girl picked my ticket that I would win it. How ironic is that? I'm testing a Talon SS with a bloop tube right now, so of course I'm going to win another one! But the supreme irony came when Randy Mitchell, a big bore hunter, won the .50-caliber Dragon Claw donated by Pyramyd Air.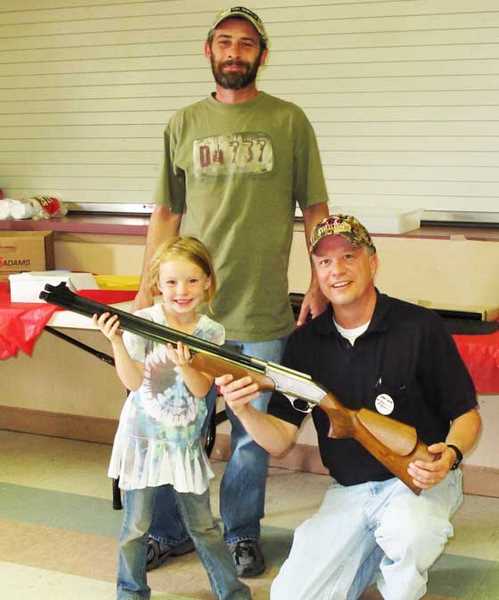 Randy Mitchell (right) won the Dragon Claw. Show host, Seth Rowland, standing, ran the drawing. The young lady added a lot of sparkle and enthusiasm to the show. I see an airgunner in the making!
On the trip home, Mac and I relived the show many times. That's another benefit. I can remember snippets from most past shows, and this one will now be filed away in the library.
by B.B. Pelletier
I was in Wal-Mart the other day and a guy was looking at the airguns, so I struck up a conversation. He was looking at a Crosman M4-177 for eliminating pest birds; and when I tried to steer him toward a more powerful breakbarrel in .22 caliber, he had a fit over the price. Apparently $145 is the Rolls Royce of airguns for him!
So, today I thought I'd reflect a bit on the cost of things — some expensive and some cheap, but all very good. We have a growing contingent of firearms shooters who have found this blog and I'm doing this for them.
The most expensive?
Well, let's be realistic. There's only one air rifle that was carried by Lewis & Clark,  and Dr. Beeman has donated it to the U.S. Army War College museum. It's value is well over a million dollars; but since there's only one, it doesn't really count in today's discussion.
I'm also not talking about the collectible airguns that are available in greater numbers. A complete Plymouth Iron Windmill BB gun, the predecessor to the Daisy line, has commanded as much as $10,000. But second model Daisys are even rarer, because they were so prone to break. I've seen one change hands for $16,000, and that was close to a decade ago. But, for today, I want to talk about guns that are generally available.
Whiscombes
When Edith and I bought our JW75 with four barrels and the Harmonic Optimized Tuning System (HOTS) on each of them, the cost was $2,100. That was in 1996. The cost did increase after that; but when John Whiscombe stopped making his rifle several years ago, the price took off like a rocket. Today, it's hard to find a single-barrel Whiscombe rifle with no frills for under $3,000, and full sets like ours will certainly bring a lot more.

You can't buy a new Whiscombe rifle anymore, so used rifles command top dollar.
So, are Whiscombes the most expensive air rifles? Hardly. There are all sorts of custom airgun makers around the world who offer almost whatever the traffic will bear. I've seen single rifles in Europe priced at over $8,000, and that was five years ago. Who knows where it all ends? The point is, air rifles can cost a bundle if that's what you're looking for.
Back to earth, some of the more expensive production air rifles today are made by the target rifle companies, where top models retail for nearly $3,000. And they're built for a specific purpose — not for general shooting. The FWB 700 Alu, for example, is a very expensive air rifle that cannot be used for most popular airgun pursuits like hunting and plinking. But for punching holes in paper, it's one of the best. The same can be said for top target rifles from Steyr, Walther, Anschütz and a couple others.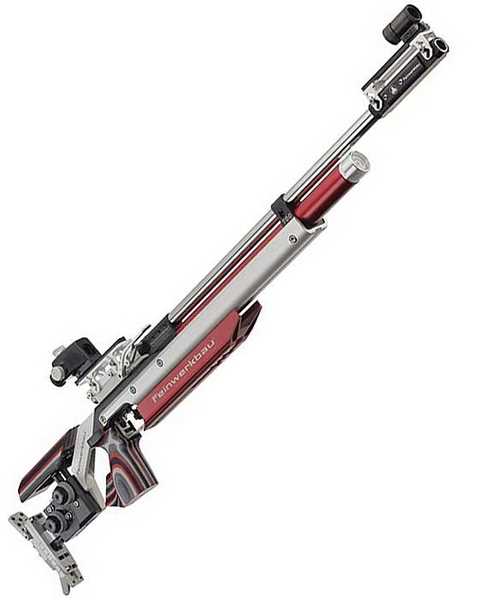 The FWB 700 Alu looks like an expensive air rifle!
For the sport of field target, it's difficult to top the Air Arms EV2 precharged competition rifle. It has won and placed at the world level many times in recent years and is one of those rifles shooters tend to covet.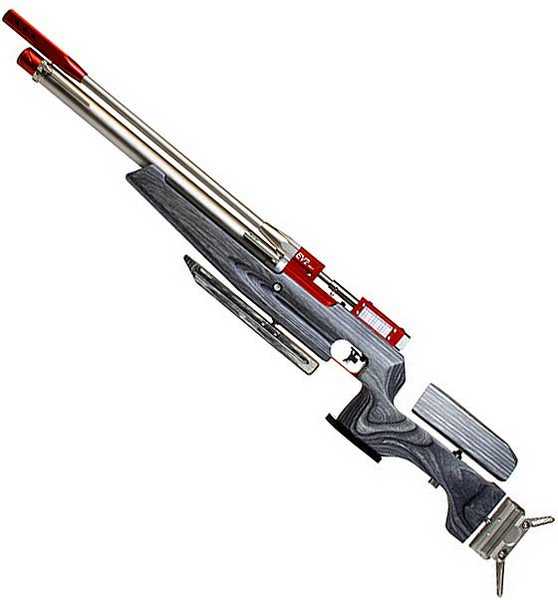 The Air Arms EV2 has won its share of top honors in field target.
In sporting rifles, Daystate and FX Airguns are among the most expensive brands. And now their top models are around $2,000 or less. Fifteen years ago, the number of makers of these rifles was much greater, but many brands have left the market.
Do you have to spend so much?
Of course you don't! There are plenty of fine air rifles that cost considerably less than those mentioned and still deliver a boatload of options and value. But that isn't today's topic. We're looking at the most expensive and the least expensive.
How low can you go?
Speaking of the least expensive, what can you get for very little money? How about a Beeman P17 pistol? For under $50, Pyramyd Air will sell you an air pistol that's so accurate you cannot outshoot it — I don't care who you are. This is a pistol that you can learn on and use to take your handgun shooting to the next level. For the life of me, I cannot fathom why Beeman doesn't triple the price and bring this out as a pseudo-10-meter target pistol! All the foundation is there. Gamo did the same thing with their Compact pistol, and this one costs one-fifth as much! They could easily add target grips and sights and have a wonderful, inexpensive target pistol, but I guess they just don't see the potential.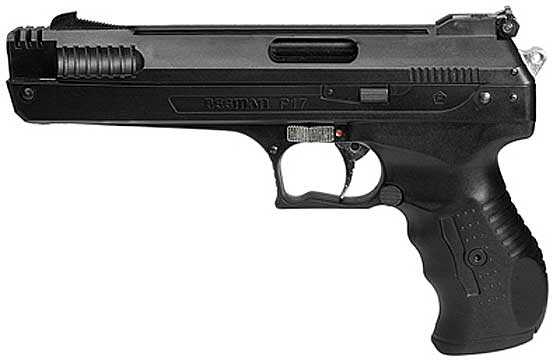 For the money, you can't buy a better air pistol than the Beeman P17.
I wish I had an air rifle to list for under $100. They exist, but none of them are what I would call really exemplary. But the Air Venturi Bronco is the finest low-cost air rifle I know of. It has accuracy equal to or better than a Beeman R7, a great trigger, nice size and is generally a fine rifle for older youth and adults.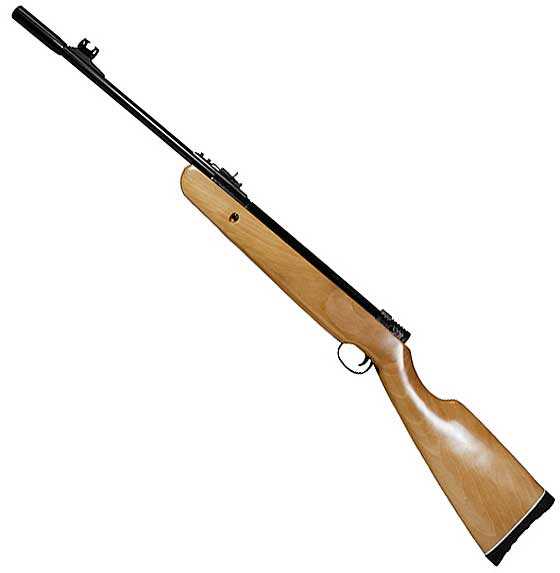 Air Venturi's Bronco is the air rifle to beat on the low end of the price spectrum.
The bottom line
And now you've guessed my agenda with this report. It wasn't just about the most expensive and the least expensive. The guns I listed are also among the best of their types in the world. Sure, I could compare the Benjamin Marauder to some of the expensive PCPs and make a case for it being just as good functionally, but that wasn't what this report was about. It was to define the limits of cost in our hobby for all the new readers who come over from the world of firearms.
by B.B. Pelletier
Okay, Grasshopper, enough Wax on! Wax off! It's time to use your skills.
If you've been following the discussions over the past month about accuracy, you should now have the tools to be a pretty good judge of the potential accuracy of an air rifle and the relative ease with which that accuracy comes — even before taking the first shot. We'll confine today's discussion to just spring-piston guns, since they're the most difficult to shoot.
How a spring-piston airgun works
This is a review for many of you, but we have enough new readers that perhaps it's good to go over the points of how the spring-piston gun works. What I'm about to say holds true for guns with gas springs as well as guns with coiled steel mainsprings. They all work the same when it comes to their operation.
When the sear releases the piston, the piston starts moving forward rapidly at 50-60 miles per hour or 73-88 f.p.s. Unless there's something like an anti-recoil mechanism to prevent it, the gun starts moving in the opposite direction. Since the piston weighs but a fraction of the weight of the whole gun, the gun's movement is very slight.
Within a few hundredths of an inch of the end of its travel, the piston has compressed the air in front of it as high as it will ever go…given the piston diameter and length of the piston stroke. Due to this compression, the temperature of the air has also increased to a very high point. The piston wants to slam into the end of the compression chamber, but the thin cushion of highly compressed air actually slows it down and can even stop it. The pellet in the breech is sealing the air in front of the piston, and it hasn't started moving yet.
However, at some point — and that point changes with each pellet used, the pellet can no longer remain stationary. There's too much force pushing on its tail and it begins to move down the bore. The piston can now go all the way forward and rest against the end of the compression chamber, or it may have done so already and rebounded off the air cushion and now needs to go forward again. Each different type of pellet will determine exactly how this relationship of movement plays out, which is why some pellets feel good when you shoot them and other pellets seem to make the gun buzz and vibrate and even make noises that you may never have heard before.
When the piston reaches the end of its travel, it stops suddenly. When that happens, it imparts a hammer blow to the airgun, sending it in the same direction the piston was traveling. This is the second recoil, and it's much more noticeable. At this point in time, the pellet is probably between three and six inches down the barrel and the entire gun's moving.
The movement is in several forms. First, there's high-speed vibration running through all the parts of the gun. You can't see this vibration, even on a high-speed camera, but you can feel it. This is the buzz that you feel from some guns, and it can be so sharp that it actually hurts to hold the stock against your cheek.
Next, there's a lower-speed vibration that's both larger and much slower. If you had a high-speed camera, you could actually see the various parts of the rifle moving. The pellet is still inside the barrel when this happens.
Finally, there's the recoil in both directions. Both are visible on a high-speed camera; and the forward movement, assuming we're talking about a conventional spring-piston setup, is by far the largest. The gun starts moving forward before the pellet leaves the muzzle, but completes the movement after the pellet has gone.
Which spring-piston guns will be accurate?
Simply stated, breakbarrel spring guns are the most difficult to control. They may be just as accurate as underlevers and sidelevers, but they're almost always more sensitive to the movement of the gun when it fires. That's not to say that sidelevers and underlevers are not sensitive; but in comparison to breakbarrels, they're less sensitive.
Let's stay with breakbarrels for now. The ones with the longest piston stroke have the longest period of time for movement. That includes the high-speed vibration, the low-speed vibration and the recoil in both directions. As a rule, long-stroke spring-piston guns are the most sensitive to hold, and long-stroke breakbarrels are the most sensitive of all.
Then there's the weight of the piston to consider. A heavy piston causes more rearward recoil when it begins moving and more forward recoil when it comes to a stop. You tend to find heavier pistons in guns with more power.
Put this all together, and you know that a breakbarrel spring-piston rifle that has a long piston stroke and high power will probably be the most sensitive airgun, as far as hold goes. It may be potentially very accurate; yet also be so sensitive that unless the hold technique is perfect, it'll spray pellets everywhere.
Listen to this!
When I was doing the testing that lead to my R1 book, I tested my .22-caliber Beeman R1 with the factory tune and then with four different custom tunes. One of the tunes — from Venom — increased the power of the 18 foot-pound rifle to 23 foot-pounds, but it also removed nearly all vibration. It was by far the smoothest tune for that rifle. As a result, the rifle became easier to hold and shoot.
I then destroyed all of the mainsprings used in the testing by leaving the rifle cocked for a month with each of them, so the Venomac Mag-80 LazaGlide tune went away. While I had it and used it, I learned that it's the vibration and not the power of a gun that determines how difficult it is to hold.
That tells us that if the gun is powerful without vibrating, it can be easier to shoot. You might think that a gas spring would give you exactly that, but they don't always do so. The more powerful gas springs, while smoother than most steel springs of equal power, still vibrate a lot and require compensation with the hold.
What do we know?
If you believe what I've said to this point, then you know what it takes for a breakbarrel spring-piston air rifle to be the least sensitive to hold. It must have the following:
Low vibration
Short stroke
Low recoil
Put all of that together and you'll have a lower-powered, spring-piston rifle. Time for a short story.
Several years ago, I tested a Mendoza breakbarrel called the Bronco, oddly enough, that was very low powered. It had a strange-looking Euro-styled stock with a too-short pull (about 10 inches) and a hideous kidney-shaped cutout in the center of the butt. The stock was firewood, but the action was good. No, it was better than good. It was great!
The gun cocked easily, had a very short piston stroke, a wonderful crisp trigger and an accurate barrel. I proposed to Pyramyd Air that we have this rifle restocked with a western-style stock, like the old Beeman C1 carbine. They agreed, so I found the stockmaker and had the job done.
We then sent the newly-stocked rifle to Mendoza and asked them to create a model that had a similar stock, though with a pull suited to older youth as well as adults and a couple other important changes. Voila! The Air Venturi Bronco that you all know was born. You can call me an airgun designer if you like, but what I really am is someone who knows what it takes to make the right kind of airgun. Mendoza was already making most of it, but they needed prompting to change those few important details that turned their oddball Bronco, which wasn't selling, into our Bronco, which is now a best-buy. It's the same gun, with just a few important things changed. Think of it as the Jeep with the V6 engine that everybody loves, as opposed to the same Jeep with the underpowered 4-cylinder powerplant that someone buys because, on paper, it gets two miles per gallon better mileage. In real life, the details matter.
The Bronco is very insensitive to hold for a breakbarrel and as a result, deadly accurate in the hands of almost everybody. Contrast that with the guy who has to have the absolute last foot-second of velocity, so he buys the air rifle that's guaranteed to make his life miserable — hard to cock, violent when shot and requiring the skill of a concert airgunner to shoot well. He may have some bragging rights; but at the end of the day, the Bronco owner will shoot a lot more and have more fun doing it.
There are many more stories, but I think my point has been made. You now know how to select a spring-piston breakbarrel that will be the least hold sensitive when shot. Now you know why I went bonkers over the Crosman TitanGP (Lower Velocity) that's a really fine shooter.
On to other springers
Let's talk about the underlevers and sidelevers. Within these, there are the underlevers that use a sliding compression chamber, like the Beeman HW97K, and those that have a loading tap, such as the Hakim (made by Anschutz). There are sidelevers with loading taps, as well, but they're not common. Sidelevers usually have sliding compression chambers, like the RWS Diana 48.
For whatever reason, both underlevers and sidelevers are less sensitive to hold than breakbarrels. Of these, the taploaders seem to be the least sensitive of all, though the TX200 Mark III from Air Arms has a sliding compression cylinder and is also very insensitive to hold.
The hold sensitivity for both underlevers and sidelevers does increase as the stroke length and vibration increase. Notice that I didn't say anything about the power. The TX200 Mark III is very powerful, yet still very smooth and insensitive to hold. I would describe it as having a shorter piston stroke.
The RWS Diana 460 Magnum, in contrast, has a very long piston stroke and does need a lot of hold technique to shoot its best. The RWS Diana model 48 sidelever has a shorter stroke than the 460 Magnum and is also less sensitive to hold.
It seems that the same things that drive the hold sensitivity for breakbarrels also affect underlevers and sidelever guns. It's just that these types of airguns start out with an advantage over breakbarrels in the sensitivity to hold.
What does that leave?
I have not discussed any of the other types of spring guns, such as the overlevers (they act just like underlevers) or those that cock via a lever that works in a different way, like the Haenel 310 and the VZ 35. All of these airguns are low-powered enough that they have good characteristics to begin with; as a result, they don't cause any of the hold problems we've discussed.
Other issues
To this point, I've said nothing about the quality of the barrel, the breech lockup, or the overall fit and finish of the working parts of the powerplant. These items do affect the performance of an airgun and will break your heart if they're not taken into account. Some air rifle barrels, for instance, look like 40 miles of rough road and will never deliver pinpoint accuracy no matter what's done to the rest of the gun. Some barrels are crooked from the factory and can never be fully straightened. You can put lipstick on the pig, but that won't change its manners!
The bottom line
What all of this means is that no one has to go into the airgun selection process blind. If you can determine the three important characteristics I've discussed here — vibration, piston stroke and recoil — you can generally know how difficult it will be to shoot each airgun well.
If you want to hunt with your new rifle, then by all means pick one that has plenty of power. But choose it to use it! Now that you've been informed, don't buy a mega-magnum spring rifle, then whine that it's too difficult to cock or too hard to shoot accurately.
Many of the veteran readers on this blog seem to keep harping on the low-powered springers for a reason. Guys like Kevin and others keep going back to rifles like the Beeman R7 and the HW50S because they know what wonderful shooters they are. Don't kid yourself that these guys are not experienced with the powerful springers, too. Most of them have tried the big guns and found they didn't enjoy all that it took to make them do their jobs.
There's a place for the RWS Diana 350 Magnum and the Walther Talon Magnum, but some thought has to be given before purchasing either of them or any other spring-piston air rifle of equivalent power. Both rifles are built for a specific purpose, which is hunting. They're hard to cock and take a lot of technique to shoot to their potential. Neither rifle is the best choice for a first airgun for someone who is either new to airguns or new to shooting altogether.
I hope this report helps some of our newer readers narrow their selections of possible air rifles to purchase next. As always, there will be exceptions to what I have said, but they only serve to prove the general rule.
by B.B. Pelletier
Announcement: JrSquirreler is this week's winner of Pyramyd Air's Big Shot of the Week on their facebook page. He'll receive a $50 Pyramyd Air gift card.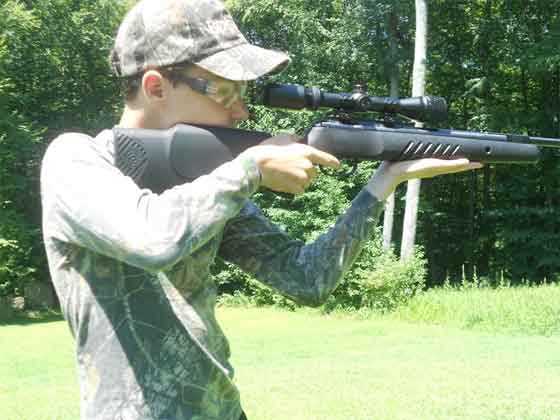 JrSquirreler shooting his Crosman Nitro Venom Dusk .in 177 caliber using the artillery hold.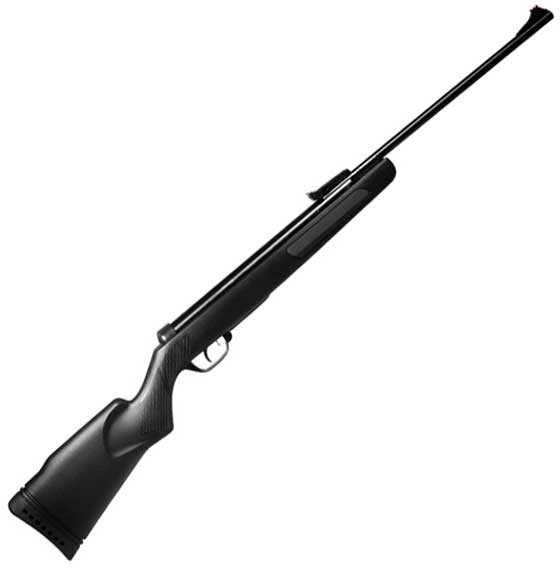 It's medium-sized and lightweight. The velocity in .177 is 825 f.p.s. The BSA Comet is a different air rifle.
Today is velocity day, and I must say there have been a lot of comments about this BSA Comet. Many people believe that it's nothing more than a Gamo in disguise, and they're prepared to see Gamo performance, which wouldn't be up to the same standard as BSA in days gone by. The gun was made for BSA rather than by BSA and it looks a lot like a Gamo, so these folks are probably right about who made it. But for the price tag it carries, I expect to see a lot more performance.
Cocking effort
The first thing I did was measure the cocking effort, because as I mentioned in the first report, there was no number given in the specs. I measured the effort on a bathroom scale. If you're interested in how this is done, watch this Airgun Academy video.
The BSA Comet cocks with 33 lbs. of force. The cocking stroke is rough, as though the inner parts are not well-lubricated or are roughly finished. It felt like a gun that has a lot more power potential than what s advertised.
7.9-grain Crosman Premiers
The first velocity test was with Crosman Premier lites, the 7.9-grain dome that we usually use as a standard test pellet. In this rifle, they averaged 793 f.p.s. with a spread that ran from 787 to 796 f.p.s. There were a couple powerful detonations in the beginning before the rifle settled down to normal. At the average velocity, the rifle generates 11.03 foot-pounds with this pellet.
7-grain RWS Hobbys
Next, I tried the 7-grain RWS Hobby pellet. Before the non-lead pellets were around, this was the standard pellet we used for high velocity in airguns. In the Comet, Hobbys averaged 850 f.p.s. The range went from a low of 840 f.p.s. to a high of 874 f.p.s. I noticed an increase in vibration when Hobbys were shot, so they're probably not the best pellet for this rifle. They generated an average of 11.23 foot-pounds.
By the time I was finished shooting the Hobbys, my office smelled like a lumberjack kitchen where bacon has been frying for hours. I haven't smelled that odor for many years, but it put me in mind of all the Chinese spring airguns I've tested. They always dieseled a lot and smelled this way, too.
JSB 8.4-grain Exact domes
The last pellet I tried was the JSB 8.4-grain Match Diabolo pellets. Despite the misleading name, these are not match pellets at all, but domes. They're usually very accurate in most spring-piston airguns, and I'll be sure to try them in this Comet.
They averaged 766 f.p.s., and the spread went from 758 f.p.s. up to 774 f.p.s. At just 16 f.p.s., that was the tightest spread I saw in this test and it's indicative of a pellet the powerplant likes. It's also a sign that the gun is settling down and not detonating as much. The gun vibrated a lot less with this pellet than with the Hobbys. This pellet generates an average 10.95 foot-pounds of energy.
Trigger-pull
And a pull it is. This trigger, which is supposed to be adjustable, really doesn't adjust so you would notice it. The two-stage pull is one that allows you to remove a part of the stage two pull by pulling part way then relaxing your finger. When you come back on the trigger, the second stage is now where you left it. So, the loooooong creepy second stage can be pulled off progressively, if you like.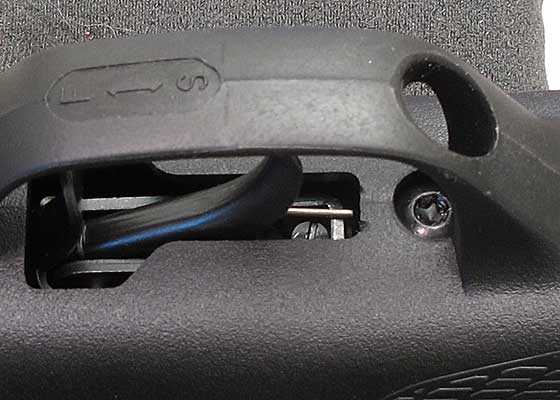 The single trigger adjustment screw is buried so deep inside the trigger unit that you have to remove the stock to get at it. I did, but despite gross adjustment, I felt no change in the trigger-pull.

The BSA Comet trigger that I promised to show you. It's definitely descended from a Gamo trigger, but it appears more modular and modernized than Gamo triggers I've seen. The large bar that extends off the the left at the top of this trigger is part of the anti-beartrap device.
It felt much heavier than it is. My RCBS trigger-pull gauge says the sear releases at 3.5 lbs. every time. Of course the fact that the safety is entirely manual and does not come on during cocking is a big plus.
Current observations
I'm now feeling ambivalent about this rifle. I still like the light weight, but the buzzy firing cycle and creepy trigger don't do justice to an airgun in this price range. It'll redeem itself if it turns out to be accurate without the need for a lot of technique.
by B.B. Pelletier
Before we start, I wanted to let you know that there are two new videos on Airgun Academy. We've started a series on airgun maintenance. Episode 27 is about properly maintaining pneumatics, and episode 28 is CO2 gun maintenance.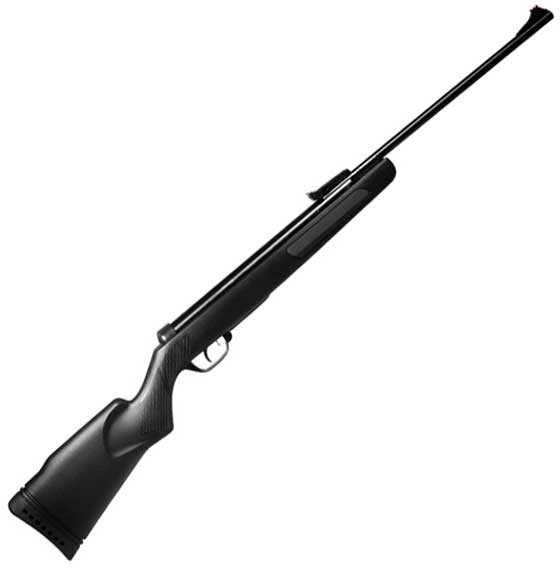 It's medium-sized and lightweight. The velocity in .177 is 825 f.p.s. The BSA Comet is a different air rifle.
Before I start today's report I'd like to say a couple words about yesterday's test of some non-lead pellets. There were several early comments that ranged from observationa that an FWB 150 will shoot anything accurately to why don't I test these pellets in a more real-world type of rifle? Those comments, as well as my own curiosity, will probably drive me to fashion some sort of test that is more encompassing than what I did yesterday.
I'm leaning away from the test that uses the more common type of pellet rifle, simply because it's endless. And, what would we learn — except that some guns do well with non-lead pellets while others don't? If I can set up a controlled test where I test the same pellets at two or even three power levels in the same gun using the same barrel, then we might learn something useful.
It seemed to me that perhaps these non-lead pellets perform well at lower velocities, but from my past experience they don't do as well at higher velocities. Is that true? Many readers seem to think so. I have a way to find out. I can set up my Whiscombe rifle in .177 caliber to shoot the subject pellets at very low velocity, then at a medium velocity and, if they're still grouping okay, perhaps bumping them up to supersonic. That can all be done in the exact same barrel, which is the benefit of using the Whiscombe. I have air transfer port limiters that control the velocity of the rifle. If you recall, my Whiscombe came to me with a 12 foot-pound limiter installed, and I freaked out until learning about the limiter and the reasoning behind it. That's discussed back in 2006, in Part 2 of the Whiscombe report.
I'm aware that a test like this will not be of interest to everyone. As always, I'll serialize it and put some space between the reports. It seems to me that we might be able to really learn something important this way, and I'd like to pursue it. Okay, that's all that was on my mind. Let's move on to today's report.
I'll tell you exactly why I chose to test the BSA Comet (serial number CD-398513-09). It was the velocity. This is a .177 breakbarrel spring rifle that sells for over $300, so what velocity would you expect it to have? Over 1,000 f.p.s., right?
"Me too," seems to be the most popular slogan in the world of consumer goods today. Once the market is defined, every manufacturer rushes to make the same product and sell it for less. If they can't do that, they pack it with "features" that justify the extra expense. Not so for the BSA Comet.
In a forest of 1,000 f.p.s. air rifles, here's one that touts 825 f.p.s. Are they out of their minds? Or are they marching to the beat of a different drummer? Only a thorough test will reveal which is the case. At this time the Comet is available only in .177 caliber.
Like the others?
In many respects the Comet is a cookie cut from the same sheet of dough as all other modern breakbarrels. It has a synthetic stock, the metal is not finished bright (excuse me, sir, that's a hunter matte finish) and it has the requisite green and red adjustable fiberoptic sights that guarantee minute-of-pop-can accuracy.
One look at the rifle tells you that it probably wasn't made in the United Kingdom. Look at the Gamo-style trigger for starters. Oh, and do the words, "Made for BSA" lasered on the right side of the action sound a little non-specific to you?
Okay, we know that the Spanish airgun maker Gamo owns BSA. It's not much of a stretch to think that the Comet was made in Spain for BSA. That's not bad because Gamo has come a long way in the past decade. They've upgraded their airguns to the point that they're very nearly on par with German guns at the lower end of the cost spectrum.
BSA also has the reputation of making some of the finest barrels in the world. They're on par with Lothar Walther when they want to be, and their barrels have ended up in some very expensive top-end airguns.
Here's what I hope. I hope the Comet is a diamond in disguise. I hope that the lower muzzle velocity and the (possibly) BSA barrel combine to make this one heck of a good shooter. At this price, they're $100 more than the RWS Diana 34, so the rifle needs to be accurate, smooth and have a decent, adjustable trigger. These are things I'll be looking for in this evaluation.
The rifle
The Comet is lightweight, at 5.9 lbs without a scope, and it's medium-sized, at 42.5 inches overall. Given its power, could it be positioned against the Beeman R7? This is all speculation, and only thorough testing will reveal what the Comet is really like. I'm curious to discover this rifle's secrets, if it has any.
The shape of the stock and location of controls such as the safety make the Comet a 100 percent ambidextrous rifle. The breakbarrel design lends itself to that. Looking underneath the stock, I was surprised to see a two-piece articulated cocking link. That means the cocking slot in the stock can be shorter, which helps reduce vibration.
The triggerguard is cast into the stock as one piece, and there are side panels on either side of the forearm that remind me of many Gamo rifles. I know the forearm screws are located beneath those panels because I've already had them off the gun.
The breech seal is located on the end of the spring tube instead of the rear of the barrel. That shouldn't make any difference in the performance, but it's worth noting.
The pull of the stock is 13.75 inches, which is compact. The 17.5-inch barrel offsets that a little. It also biases the weight forward for a muzzle-heavy balance.
The trigger is two-stage and adjustable for engagement. I will find out what that means in Part 2. The manual safety blade is located in front of the trigger and is pulled back to set and pushed forward to release. The safety blocks the trigger blade from moving and can be set and released whether or not the gun is cocked.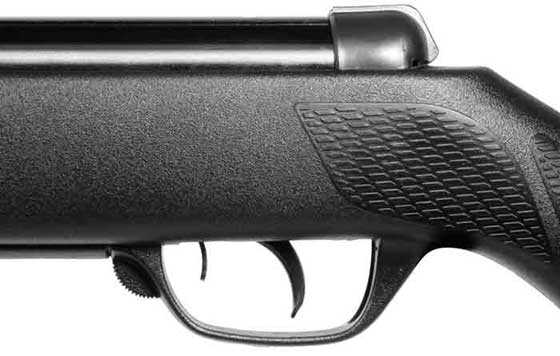 There is no denying the Gamo heritage when you look at the Comet's trigger.
I had to remove the stock to adjust the trigger because the one adjustment screw is not conveniently placed. Once the action was out of the stock I could see that this trigger is changed and improved from the Gamo triggers of a decade ago. I'll show pictures next time.
These's no mention of the force required to cock the Comet, but I'll measure it in Part 2. I shot the rifle a couple times just to familiarize myself with its operation and can observe that it cocks easily enough.
An 11mm dovetail is cut directly into the top of the spring tube, and there's an appropriate hole at the rear to accept a vertical scope stop pin. But BSA has a reputation for having some of the widest dovetails on the market, sometimes pushing 14mm, so I'll look at that when I mount a scope for you.
First impression
I like the smaller size, lighter weight and lower power of this breakbarrel. If it also producea some good groups, we may have something here.
One more observation. In the few (10?) times I've fired the rifle, it seems to be dieseling pretty aggressively. I think a break-in period may be necessary before good performance can be realized.