by B.B. Pelletier
Announcement: Dammion Howard is this week's winner of Pyramyd Air's Christmas Big Shot on their facebook page. He'll receive a $50 Pyramyd Air gift card plus another $50 in goodies!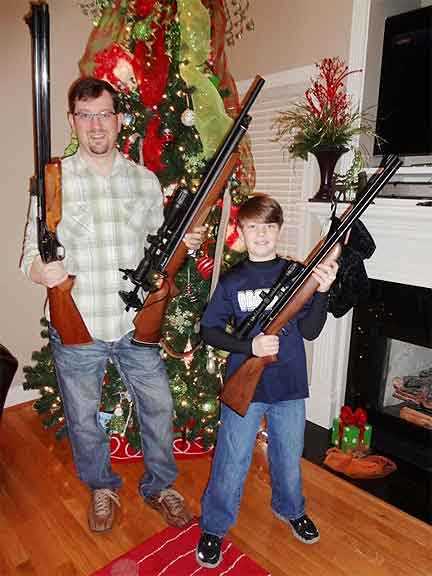 Dammion Howard (left) shows off some new airguns he found under the tree this year!
Part 1
Part 2
Part 3
Part 4
Part 5
Part 6
Part 7
Part 8
Part 9
Part 10
Happy New Year from Tom & Edith!
One nice thing about watching a TV program is that it only takes an hour or less to view. You have no sense of the man-weeks of work that go into a short production on screen. Sometimes, the same thing happens in the world of airgun blogs.
I won't say I've been dreading today's report; but from past experience adjusting the HOTS on the Whiscombe rifle, I knew it might take longer than anyone could imagine to get a good result. It's easy to say, "Adjust the HOTS for optimum performance with a certain pellet." Actually doing it is where you discover if it'll be easy or hard. The report I have for you today was very hard.